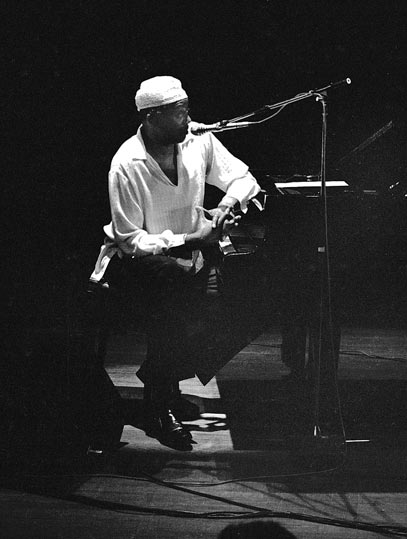 RANDY WESTON

The Jazz Griot: a Tall Gentle Giant
WE REMEMBER
RANDY WESTON
The magnificent Randy Weston, still around in Paris last May and in Nice this summer, his expression still dazzling at 92, joins a number of his peers in the great eternal jazz legend, but also in the Pantheon of humanity. He was not only a virtuoso pianist, an artist in the most universal sense with an unequalled expression, but also a man of the memory of jazz in his dimension of civilisation and human history, explaining that a century of jazz could not be understood without a century of creative solidarity in jazz, without centuries of slavery and human solidarity for freedom, and without the millennial memory of Africa and the dignity of its people.
These tributes of such reverence to Randy Weston demonstrate that his message has passed onto his peers –at least those who have spoken– who are not only saying it but all are curiously adopting the tone of the narrative, the history, in the style of the African storytellers who, like Homer, possess in their memory the legend of the Continent which they transmit by voice and song. It is also in this manner that jazz must continue to be transmitted, not by musical scores, technique, improvisation and technology but by what makes the mystery of its creation: the spirit of struggle from this music that reveals its humanity and exchanges between human beings, the attention of one towards another and their solidarity.
If we read attentively, many evoke these qualities of Randy Weston as the source of their art.
Jazz Hot loses a great friend, a brother, an elegant, generous and wise man, who was the archetypal jazz artist in his expression as in his life, on stage as much as off stage. His recorded work is vast, rich and infinite like the landscapes of Africa that he dreamed of without losing a grain of his jazz expression anchored in swing and the blues, never to forget the waltz and the melody, the harmonies in the style of Debussy, never isolating the voice of ancestral drums, an art eternally modern, universal in its roots whose serene strength, the formidable synthesis, resembles the man who was Randy Weston.
The rereading of his interviews in Jazz Hot is a reminder of this musician's particular path between his Brooklyn, that saw him from the cradle to the grave, Africa and Europe. The (re)discovery of his recorded work is a dream for all music fans (see the discographies of numbers 576 and 673, and the rereading of recently published disc reviews, the last one, unpublished from 2001 in Montreal edited with his care and his companion Fatoumata). He also published an autobiography, Randy Weston: African Rhythms, available, in French and English, at the bookshop Présence Africaine in Paris (25 rue des écoles, Paris 5e).
Beyond our sadness to lose the warm touch of a friend, a big brother, the expression to come from an artist of high rank, beyond the pain of Fatoumata Weston and of all the musicians who surrounded him, rubbed shoulders with him, Randy Weston leaves a memory of generosity to all who approached him. He was already, in his lifetime, an eternal giant of artistic expression, jazz, an African sculpture when he presented his splendid costumes from the great continent.
.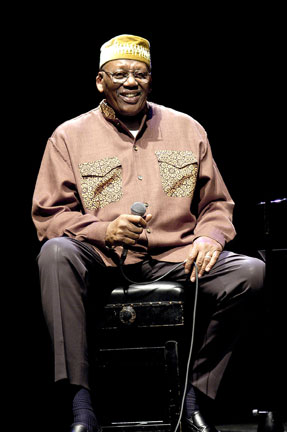 Rather than retrace the route so eloquently told by himself in multiple interviews in Jazz Hot and in his autobiography, a path that he has marked out with splendid recordings (see the discography), and as many stories, that renders it eternal in our memory, we have collected from his peers, artist-musicians and personalities, the first reactions to his parting... they are many, even if many certainly had been able and wanted to add more words to this tribute, Randy Weston had gathered as much, federated, elevated, synthesised and gave. Like a kaleidoscope, they detail all the qualities of this artist beyond the norm, with leitmotiv, his concern for memory (that of his parents in particular), history, transmission, his expression without artifice, his generosity in all fields: the portrait of an artist of which one of his specialities was to draw true portraits of the great musicians that he rubbed shoulders with, the landscapes that he explored, the men that he met, because there's no doubt that in the great Randy Weston we have a great explorer, a man of light, one of the great storytellers of a century that ends with him, even if some jazz artists still carry the message. His voice and his music, one as profound as the other, have definitively and permanently marked the history of jazz, art and the people who had the chance to meet him, rub shoulders and to listen...He is not the only one, nor the first, but he is amongst the greatest. As a preamble, we have extracted a few lines of introduction from his autobiography to listen to his voice again, to understand the profound coherence, its timeless dimension, universal, its power, and to better appreciate this portrait that everyone draws of him...
Yves Sportis
translation by Sandra Miley


Interviews by Jérôme Partage, Mathieu Perez, Hélène Sportis, Adrien Varachaud et Yves Sportis
Photos: Ellen Bertet, Cynthia Sesso CTS Images, Jose Horna, Pascal Kober, Jacky Lepage, David Sinclair
Thanks to Todd Barkan (Keystone Korner, in Jazz Hot No671) for the poster et for the splendid picture for our use
Thanks for all the contributions, texts and photos
Translation by Sandra Miley and Yves Sportis

© Jazz Hot No685, Autumn 2018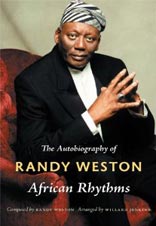 Some extracts from the introduction of his Autobiography:
Randy Weston: African Rhythms

, p. 1 à 3

, Duke University Press, 2010




«I'm really a storyteller through music and I've had some amazing and unique experiences. When it comes to consideringthese experiences together, my quest is always in the spirit of our ancestors.»
«But the constant theme of my life that came directly from my mom and pop and our neigh borough in Brooklyn… was the fight for black people, for the liberation of our minds and spirits.»
«I have always worked to be a part of that collective uplifting, I grew up in a truly vibrant time in the twentieth century, when such peerless giants as Paul Robeson, Adam Clayton Powell, Sugar Ray Robinson, Langston Hugues, Joe Louis, Duke Ellington, Billie Holiday, Jimmy Lunceford, Hazel Scott, and other great black masters walked on the earth; all every powerful, proud black men and women.»
«I was endowed with the belief that "I know that no man is better than me", so as a result I grew up spiritual but irate at our collective condition as a people.»
«This music is my way of continuing the struggle of James Reese Europe, Marcus Garvey, Malcolm X, Dr. Martin Luther King, Cheikh Anta Diop…»
«Even if I didn't play music I'd still be Fighting and Striving for black people. Music has been a way for me to convey that struggle.»
I loved Mr. Randy Weston greatly -A beautiful and kind spirit lived in his being -a man deeply dedicated to his Art and the Legacy he was a big part of. A Gentle Giant among us. Randy one of the truly magnificent larger than life loving humans ever in our great community. A man who never ceased from sharing his high regard and value for his great cultural heritage and his musical heritage. His powerful music shook any venue where he played. His piano artistry with its Echoes of Duke Ellington and Thelonious Monk but mainly great love for Africa was, is like no other.



J'adorais M. Randy Weston: un esprit bon et magnifique, un homme dévoué à son Art et à la Mémoire dont il était une part importante; un Gentil Géant vivant parmi nous. Randy était, dans notre communauté, de ces êtres extraordinaires, plus grands que la vie. Un homme qui n'a jamais cessé de partager sa haute estime et sa valeur pour son grand héritage culturel et musical. Sa musique puissante secoua tous les lieux où il jouait. Son art du piano, avec ses échos de Duke Ellington et de Thelonious Monk, mais surtout son grand amour pour l'Afrique était, est unique.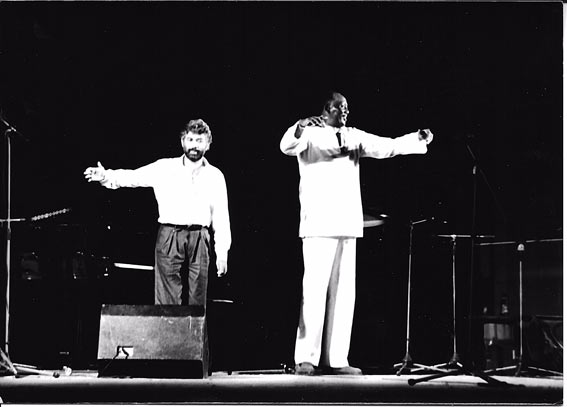 Monty Alexander et Randy Weston partageant la scène à Montreux © photo X by courtesy of Monty Alexander
MARSHALL ALLEN (as), SUN RA ARKESTRA
I knew Randy Weston for years back in Chicago and in New York. He was friends with John Gilmore, Pat Patrick and Sun Ra. He always liked the Arkestra. He was a very good musician and composer. I especially liked the approach he had with the piano - so very rhythmic. The world lost a wonderful person and a great musician.

Je connaissais Randy Weston depuis des années à Chicago et à New York. Il était ami avec John Gilmore, Pat Patrick et Sun Ra. Il a toujours aimé l'Arkestra. C'était un très bon musicien et compositeur. J'ai particulièrement apprécié l'approche qu'il avait avec le piano -très rythmée. Le monde a perdu une personne formidable et un grand musicien.


TODD BARKAN (producteur, fondateur du Keystone Korner, cf. Jazz Hot n°671)

Randy Weston actually "edged out" Dexter Gordon by only a few centimeters when we had an informal contest at the Keystone Korner for "biggest feet in bebop" in the mid-1970s.
Like Dexter, Randy Weston was one of the most beloved and light-filled souls who graced and uplifted our lives and souls at Keystone Korner, where he played for twelve full weeks in 11 years in a variety of settings - solo, duo, trio, and quartet with John Handy and Big Black.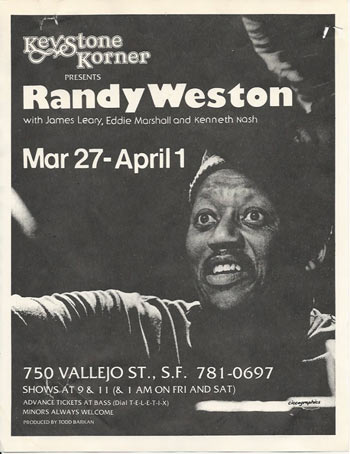 Nobody brought more warmth and all-embracing humanity to our music, and our lives, than the Gentle Giant we liked to address with a salute and a hug as "The Prime Minister of Joy." We have luminous memories of both his magical music and captivating conversations.
Randy Weston created an artistic universe and language all his own out of many disparate elements all the way from Tangier, Morocco to Tuscaloosa, Alabama. He made the diaspora our living room. He always danced to the song in his heart.

Randy Weston a en fait «délogé» Dexter Gordon de seulement quelques centimètres quand nous avons eu un concours informel au Keystone Korner pour «les plus gros pieds du be-bop» au milieu des années 1970.
Comme Dexter, Randy Weston a été l'une des âmes les plus aimées et pleine de lumière qui a honoré et élevé nos vies et nos âmes au Keystone Korner où il a joué pendant douze semaines complètes en 11 ans dans une variété de formations: solo, duo, trio et quartet avec John Handy et Big Black.
Personne n'a apporté plus de chaleur et n'a réuni autant d'humanité dans notre musique, et nos vies, que le «Gentil Géant» comme nous aimions le nommer, avec un salut et une caresse au «premier ministre de la joie». Nous avons des souvenirs lumineux de sa musique magique et de ses conversations captivantes.
Randy Weston a créé un univers artistique et un langage qui lui est propre à partir de nombreux éléments disparates, de Tanger au Maroc à Tuscaloosa en Alabama. Il a fait de la diaspora notre salon. Il a toujours dansé avec une chanson dans son cœur.


Randy was a big influence on me through way of Monk and Duke Ellington. I loved to play some of his compositions. "Little Niles," "Hi-Fly" and "Congolese Children" were a part of my repertoire. There was also a personal connection. My brother Bill was in the US Army band together with Randy during WWII. In addition to being a great musician, he was also great human being, always welcoming, always warm, and always a big hug.

Randy a eu une grande influence sur moi grâce à Monk et Duke Ellington. J'ai adoré jouer certaines de ses compositions. «Little Niles», «Hi-Fly» et «Congolese Children» faisaient partie de mon répertoire. Il y avait aussi une connexion personnelle. Mon frère Bill était dans l'armée américaine avec Randy pendant la Seconde Guerre mondiale. En plus d'être un grand musicien, il était aussi un grand être humain, toujours accueillant, toujours chaleureux et toujours une belle étreinte.


Randy Weston was a hero, a friend, a master composer, and an innovator. I will miss this gentle warrior!



Randy Weston était un héros, un ami, un maître compositeur et un innovateur. Ce gentil guerrier va me manquer!




I was truly blessed to have met on several occasions the great in many ways Randy Weston and he visited my sister when she was directing the Smithsonian Museum of African Art. Great in experience and heart as well as size, he had the gentleness and generosity of spirit that often goes with people of physical greatness and being around him was a joy always. His political and musical stature were formed by his upbringing in Brooklyn like his childhood friend and neighbor Max Roach and they were nurtured by that profound environment deeply rooted in Africa where Randy lived for a while. They are both icons of the consciousness that has been the root of what this music is about and, as Randy said in the interview «music is life itself».

J'ai eu beaucoup de chance de rencontrer, en plusieurs occasions, le grand –sur plusieurs plans– Randy Weston. Il rendait visite à ma sœur quand elle dirigeait le Smithsonian Museum of African Art. Grand par l'expérience autant que par la taille, il avait la gentillesse et la générosité d'esprit qui accompagnent souvent avec les physiques imposants. Etre auprès de lui était toujours une joie. Sa stature politique et musicale a été formée par son éducation à Brooklyn, tout comme son ami et voisin Max Roach. Ils ont été nourris par cet environnement très enraciné et faisant référence à l'Afrique où Randy a vécu un moment. Ils sont tous deux des icônes de la conscience qui a donné sens à notre musique. Randy avait dit, dans une interview, que «la musique est la vie elle-même».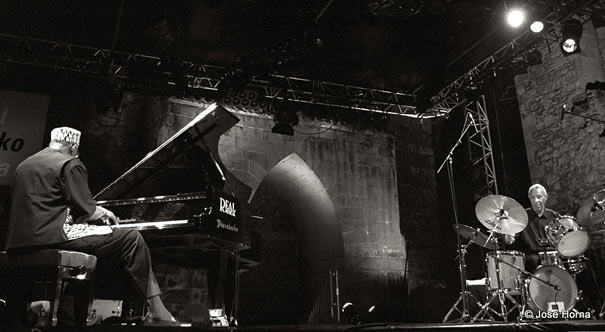 Randy Weston et Max Roach, Jazzaldia San Sebastian 1999 © Jose Horna
We always in the group said playing with Randy was not just a journey but an adventure.
His music and his writing was amazing. I loved working with him.
I met Randy when I was working with Dizzy Gillespie. I was either 16 or 17 years old. So I've known Randy for many, many years.
Randy was very consistent about his beliefs about the contribution to the world of African American Classical music that we have given the title "Jazz" to, and the influence of the music of Africa and its once past great civilizations the many rhythms of Africa in so much of the music we hear today, such as Latin, samba, rock, reggae, calypso, blues, and so on; and how it's influenced so many great musicians, such as Duke Ellington, Dizzy Gillespie, and many others.
Randy was a giant as well as a historian when he talked about the music to his audiences. He never talk down to them. He drew them in, in the sense that when he finished he made you think and you wanted to go and possibly research what he was talking about, like when he would talk about James Reese Europe, the first African American to introduce jazz to France in the early years of World War I, back in the early 1900s with his infantry, the 369th, and others that came after him. So he would get your curiosity going to find out about the different people that had a very heavy impact historically and development in the history of this music, and many times people you may never have heard of.
I would recommend getting his autobiography, African Rhythms, very much to tell you whom Randy Weston was and his incredible life and musical journey.
Randy's music touched everyone. It didn't matter where you were from or who you were.
Myself and members of the group traveled the world with Randy and everyone loved his music.
Yes, Randy was an incredible person. He left a lasting impression on whomever he met around the world.
I feel I've been very blessed to have work with him and known him. A person that I will very much miss.
May the Great Spirit bless him always.
Thank you Randy for the musical journey

Nous avons toujours dit dans le groupe que jouer avec Randy n'était pas seulement un voyage mais une aventure. Sa musique et son écriture étaient incroyables. J'ai aimé travailler avec lui.
J'ai rencontré Randy quand je travaillais avec Dizzy Gillespie. J'avais 16 ou 17 ans. Donc, je connais Randy depuis de nombreuses années. Randy était très cohérent sur ses croyances dans la contribution au monde de la musique classique afro-américaine que nous avons intitulée «jazz» et sur l'influence de la musique africaine, de ses anciennes civilisations passées, de ses nombreux rythmes de l'Afrique sur une grande partie de la musique que nous entendons aujourd'hui, comme le latin, la samba, le rock, le reggae, le calypso, le blues, etc.; et comment cela a influencé tant de grands musiciens comme Duke Ellington, Dizzy Gillespie et bien d'autres.
Randy était un géant et un historien lorsqu'il parlait de la musique à ses auditoires. Il ne faisait pas que leur parler, il les attirait à lui au sens où lorsqu'il avait fini, il les avait fait réfléchir pour qu'ils veuillent peut-être faire des recherches sur ce dont il parlait, comme quand il parlait de James Reese Europe, le premier Afro-Américain à introduire le jazz en France lors de la Première Guerre mondiale, au début des années 1900, avec son infanterie, le 369e, et d'autres après lui. Ainsi, il suscitait votre curiosité pour découvrir les différentes personnes qui ont eu un impact très important sur l'histoire et le développement de l'histoire de cette musique, et souvent des personnes dont on n'avait jamais entendu parler.
Je recommanderais de prendre son autobiographie, African Rhythms, essentiellement pour savoir qui était Randy Weston, sa vie incroyable et son parcours musical. La musique de Randy a touché tout le monde; peu importe d'où vous veniez ou qui vous étiez. Les membres du groupe et moi-même avons parcouru le monde avec Randy et tout le monde a aimé sa musique. Oui, Randy était une personne incroyable! Il a laissé une impression durable sur tous ceux qu'il a rencontrés dans le monde entier.
J'ai le sentiment d'avoir été béni d'avoir travaillé avec lui et de l'avoir connu. Une personne qui me manquera beaucoup. 

Que le Grand Esprit le bénisse à jamais. 

Merci Randy pour le voyage musical.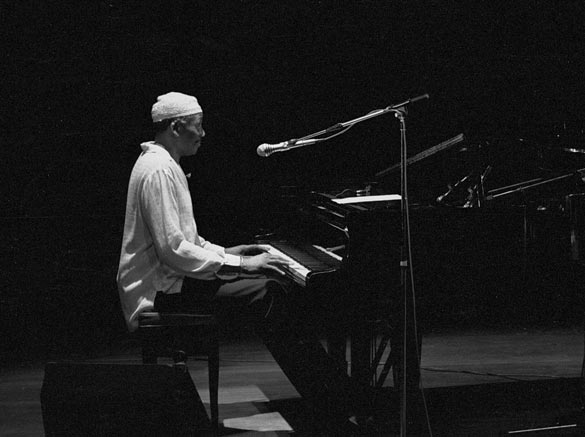 Randy Weston, Avignon 1983 © Ellen Bertet
In the last few months we have seen the deaths of several fascinating pianists, Geri Allen, Cecil Taylor, Aretha Franklin, and now Randy Weston.
I'll never forget my meeting with Randy Weston in late July 1957. He was employed at the Avalon Restaurant Hotel in Lenox, MA. At the time, I was a student at the Lenox School of Jazz, my first of the four summers.
I'll always remember Randy's spiritual and musical guidance. I only had four lessons with him at the most, but I remember we looked at his written music, talked about rhythm, the essence of life, the need for kindness… About that time, he released a 10-inch LP for Riverside on the music of Cole Porter and he seemed well known in the Berkshire community.
One time, I tasted some of the delicious food he cooked. This was either at the Avalon or the Wheatley Music Inn. Throughout the years, we would meet in passing and he would always acknowledge me, and later in life, by first name.
Randy has no bigger fans then two important musicians, Hankus Netsky, co-chair of the Contemporary Improvisation Department at New England Conservatory and Danilo Pérez, founder of the Global Jazz Institute for Berklee School of Music. Hankus invited Randy many times as a guest since the department's inspection in 1973.
It was an incredible delight and experience to hear Randy's wonderful collaborations with one of the greatest trombonists, Melba Liston. I've also never heard a solo piano concert like what I heard from Randy for the Global Jazz Institute- only a few years ago.
He's appeared everywhere in Boston, MIT, Berklee, New England Conservatory, Regatta Bar, Scullers, etc. and all over New York with marvelous groups. But, to hear him play solo with his array of sounds! His concessive collages where the rhythms of Africa would collide with New York City, and there was always the country and nature, whether the sounds of crickets in the Berkshires or the beloved sounds of Africa.
He never used ornaments that are gratuitous. They always came from his soul. There is a fantastic clarity, a beat of spirituality, and appreciation of earthly pleasures in his music.
There was no one quite like Randy Weston. He will be deeply missed.

Ces derniers mois ont vu la disparition de plusieurs pianistes fascinants: Geri Allen, Cecil Taylor, Aretha Franklin et maintenant Randy Weston.
Je n'oublierai jamais ma rencontre avec Randy Weston à la fin de juillet 1957. Il travaillait à l'Avalon Restaurant Hotel de Lenox, dans le Massachusetts. A l'époque, j'étais étudiant à la Lenox School of Jazz, mon premier été des quatre années.
Je me souviendrai toujours des conseils spirituels et musicaux de Randy. Je n'ai eu que quatre leçons avec lui au plus, mais je me souviens que nous avons regardé sa musique écrite, parlé de rythme, de l'essence de la vie, du besoin de bienveillance…
À cette époque, il avait sorti un album 25cm pour Riverside sur la musique de Cole Porter, et il semblait bien connu dans la communauté de Berkshire.
Une fois, j'ai goûté quelques-uns des plats délicieux qu'il préparait. C'était à l'Avalon ou au Wheatley Music Inn. Au fil des ans, nous nous rencontrions en passant et il me reconnaissait toujours, et plus tard dans la vie, par mon prénom.
Randy n'a pas de plus grands fans que deux musiciens importants, Hankus Netsky, co-président du département d'improvisation contemporaine du New England Conservatory et Danilo Pérez, fondateur du Global Jazz Institute pour Berklee School of Music. Hankus a invité Randy à plusieurs reprises depuis l'inspection du département en 1973.
Ce fut un plaisir et une expérience incroyables d'entendre les merveilleuses collaborations de Randy avec une tromboniste parmi les plus grands de l'instrument, Melba Liston. Je n'ai jamais non plus entendu de concert de piano en solo comme celui de Randy pour le Global Jazz Institute, il y a seulement quelques années.
Il est apparu partout à Boston, au MIT, à Berklee, au New England Conservatory, au Regatta Bar, aux Scullers, etc., et dans tout New York avec des groupes merveilleux. Mais, l'entendre jouer en solo avec son éventail de sons! Ses collages concessifs où les rythmes de l'Afrique entraient en collision avec New York, et il y avait toujours la campagne et la nature, que ce soit le son des grillons dans les Berkshires ou les sons chéris de l'Afrique.
Il n'a jamais utilisé d'ornements gratuits. Ils venaient toujours de son âme. Il y a une clarté fantastique, un beat de spiritualité et une appréciation des plaisirs terrestres dans sa musique.
Il n'y avait personne comme Randy Weston. Il nous manquera beaucoup.
I was honored to be a part of the Tangier Jazz Festival in 1972, which included Hubert Laws, Odetta, Mandrill, Dexter Gordon, Kenny Drew, Ahmed Abdul-Malik. There were problems with the organizers paying every one and Randy had to compensate us himself, which wiped him out from proceeds from his LP Blue Moses. The kingly approach from Randy and how he managed the issue was nothing less then masterful. I consider Randy's Pan Africanism inspiration is what helped evolved the American jazz idiom to where it is today. Only a godly Giant like Randy Weston would bend to help others.
I also recall when Randy's beloved son Azzedin made his transition before his father, and how Randy handled it with the upmost compassion and strength.

En 1972, j'ai eu l'honneur de faire partie du festival de jazz de Tanger, avec notamment Hubert Laws, Odetta, Mandrill, Dexter Gordon, Kenny Drew, Ahmed Abdul-Malik. Il y avait des problèmes avec les organisateurs pour le paiement de tous, et Randy a dû nous indemniser lui-même, ce qui lui a fait perdre les gains de son disque Blue Moses. L'approche royale de Randy et la manière dont il a géré le problème n'étaient rien moins qu'une maîtrise absolue. Je considère que l'inspiration panafricaine de Randy a contribué à faire évoluer l'idiome du jazz américain aujourd'hui. Seul un géant divin comme Randy Weston peut se pencher pour aider les autres.
Je me souviens aussi du moment où le fils adoré de Randy, Azzedin, est décédé, avant son père, et comment Randy s'en est occupé avec la plus grande compassion et la plus grande force.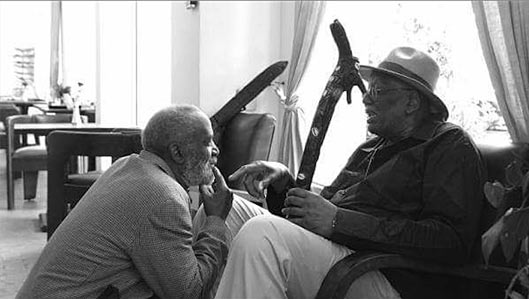 El Gourd et Randy Weston © photo X by courtesy of El Gourd
MAALLEM ABDELLAH BOULKHAIR «EL GOURD». DAR GNAWA. (Guembri)
Cher Randy,
M. Mathieu Perez m'a demandé de dire quelque chose sur toi pour Jazz Hot et je lui en suis très reconnaissant.
Mais je ne sais pas. Le silence. Je ne sais pas, mon ami... Il m'a fallu quelques jours pour être capable de dessiner des mots posthumes pour toi. Comme tu le sais, mon langage est le son des cordes guembri comme pour toi les doigts sur le piano. Et voici mes petits mots, comme des accords de guembri pour toi. Et pour ta famille.
Quelques jours avant ta mort, le 1er septembre, nous avons parlé au téléphone de ton nouveau tour du monde à 92 ans. Et je t'ai parlé de mon voyage d'août pour porter notre culture aux terres sœurs et voisines de Malaga. Cependant, tout a changé soudainement. C'est un coup dur, un choc que j'ai reçu de ta Fatoumata adorée, la nouvelle… Cette tragédie n'était pas dans ma tête. Mais seulement pouvoir se revoir bientôt.
Randy, tu es parti mais tu as apporté ta propre conscience, unique. Et toute ta générosité pour la musique afro-américaine et pour tant de musiciens, tu nous as pris par la main pour parcourir le monde. Tu t'en souviens, nous nous sommes rencontrés à Tanger, en 1967, dans la maison que tu as aménagée. Ta résidence de la rue Hôtel Rembrandt et le restaurant Marco Polo, qui existent encore aujourd'hui. Je ne te connaissais pas, cependant, un professeur de l'école américaine nous a présentés. Ton souci était de pénétrer les racines de la musique africaine. Surtout celles issues des couleurs de la paix, celles de nos ancêtres. Tu savais, conseillé par ton père, que l'origine d'une bonne partie de ta sensibilité musicale était ici: «N'oublie pas l'Afrique, fils. Je le répète.» De la négritude, humaine et musicale, de notre continent. Et tu l'as cru. Après, je t'ai suivi dans tes propositions de jouer avec ce mélange d'expériences et d'instruments. Dès le premier instant, nous avons senti un feeling musical profond. Toi moderne et évolué; Moi, dans le nord de mon pays, le Maroc, préservant et protègeant la culture spirituelle gnawa du mieux que mes parents me l'ont enseignée.
La première chanson Gnawa que je t'ai transmise était «Sidi Mousa» à laquelle j'ai fait de nouveaux apports. Une aventure.
Plus tard dans ce voyage, tu as ouvert le premier club de jazz de Tanger, l'African Rhythms Club, où des célébrités telles que Dexter Gordon, Ahmed Abdul-Malik, Marvin Gaye, Billy Harper, James Brown, Stevie Wonder, Cecil Bridgewater
, et beaucoup d'autres,
ont été présentés. A moi, il incombait d'être enraciné dans la mémoire terrestre et gnawa pour établir des liens avec tous les maîtres Gnawa dispersés dans le pays. Notre projet était de les rassembler, la reconstitution de l'histoire de la musique gnawa de cette génération. Et tous ces sons se sont mélangés à ton piano et à d'autres instruments pour que le monde sache. De là est né le concert de 1972 sur la Plaza del Toros de Tanger, pour ce qui était le 1er Festival International de Jazz de Tanger. On en est maintenant à la 19e édition, sous le nom de Tanjazz, mais sans trop compter sur nous, les Gnawa de Tanger. Les choses…
Et le sommet, le disque The Splendid Master Gnawa Musicians of Morocco, enregistré en direct, le 17 Septembre 1992, à la lumière des bougies dans le célèbre hôtel La Mamounia (Marrakech). Travail qui a été nominé pour les Grammy Awards. Randy, nous avons réalisé notre rêve de rassembler les anciens maîtres Gnawa, neuf au total, sur un seul album pour l'histoire de la musique spirituelle africaine. Alors, toi, si grand en musique et au physique, tu as continué à ouvrir les rythmes, les chansons et les frontières internationales en inspirant de nouvelles œuvres.
Je t'admire tant. Tu as été mon ami, mon professeur et mon guide. Peut-être que la photo que je joins témoigne bien de ce sentiment: nous nous regardons tous les deux. Je me baisse. Tu te lèves. Si nous avons contribué pour quelque chose, avec nos connaissances, à la musique du monde, c'est peut-être de faire connaître le patrimoine Gnawa à l'humanité. J'ai dû suivre les traces des sons originaux, t'emmener aux cérémonies intimes et familières, vers les sons noirs de la famille gnawa. Tu devais déployer nos ailes et nous faire voyager à travers le monde. Porter la musique spirituelle africaine sur les grandes scènes, dans les cieux. Où maintenant tu vas sûrement écouter un piano gnawa universel imaginaire. Nous avons tous deux tant aimé jouer ensemble, tu te souviens? Tant de moments importants vécus: au concert gospel de New York, la Fallet Church, toi et Baba Kunda, le chef de la culture Yoruba, ou la grande réunion à la Cathédrale de Canterbury en Angleterre, l'Institut du Monde Arabe à Paris, le Théâtre Trianon à Bordeaux avec Archie Shepp, Dakar, Tunis, Madrid...
Petit plus, cher ami de l'âme. Dis-toi simplement que des choses importantes se passent dans ces temps nouveaux. Comme tu le sais, nos femmes ont fait un pas en avant, et après avoir contribué à la préservation de nos traditions, ont osé chanter et jouer avec leur propre personnalité féminine. C'est important. Nous devons continuer à avancer. Mon prochain rêve ou chemin est de relier les Gnawa africains et le flamenco espagnol. De ce que je sais de l'art flamenco, je pense qu'il y a des choses en commun avec les Gnawa, beaucoup de choses en commun depuis les temps anciens entre les deux rives musicales. Et je veux tout simplement enquêter et savoir.
Randy, que Dieu te récompense pour la générosité et la gloire que tu as, dans ta vie, données à l'Afrique et à l'humanité.
Merci, Maître Randy. Mon chant et mon guembri porteront toujours ton souvenir. Inshaa'allah
Maallem Abdellah Boulkhair «El Gourd». Dar Gnawa. Tanger, 26 septembre 2018

CECIL BRIDGEWATER (tp, fh)
Randy was a giant among men! He encompasses the art that we call America's contribution to the world's music. Because he spent so much time in Africa, he's music was infused with the rhythm of the continent and its people. Randy and I would talk about the fact that people didn't understand where the music came from the Field Hollers, the Work Songs, the Blues, etc. All came from Africa. One concert we did included music from all over Africa and America.
A great man and a great human being.

Randy était un géant parmi les hommes! Il englobe l'art que nous appelons la contribution de l'Amérique à la musique du monde. Comme il a passé beaucoup de temps en Afrique, sa musique était imprégnée du rythme du continent et de ses habitants. Randy et moi parlions du fait que les gens ne comprenaient pas d'où venait la musique des Field Hollers, des Work Songs, des Blues, etc. Tous venaient d'Afrique. Un concert que nous avons fait comprenait de la musique de partout en Afrique et en Amérique.
Un grand homme et un grand être humain.
DEE DEE BRIDGEWATER (voc)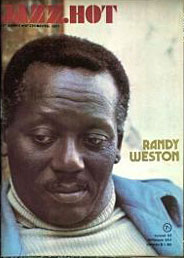 I remember a beautiful moment in the Bordeaux region of France, Randy had a concert at a vineyard, which was hosting jazz evenings, that had been organized by an ex-convict who's incarceration was eased by his discovery of jazz. (I believe this happened in 1989 or 1990.) His name was Fabrice Rose, and we called him the Robin Hood of Jazz. Fabrice and I corresponded for several years during his incarceration. He made me the 'marraine' (godmother) of his jazz series (after his release of course). For Randy's concert, I was invited to attend with my then husband, Jean-Marie Durand. I was formally introduced to Randy, invited to sit in on the concert, and dined with Randy and his band afterwards. Talib Kibwe was in the group then, and remembers this happening today. I remember taking a picture with Randy outside of the venue, and remember just passing his waistline. His composition "Hi-Fly" is one of my absolute all-time favorites!
Randy was a 'gentle giant' of a man, soft spoken, with a love for Africa that made me proud... and gave me my first desire to discover my African ancestry. I admired his courage and conviction to live in Morocco and create a jazz club there, in Tangier, I believe.

Je me souviens d'un beau moment dans la région de Bordeaux, en France, Randy a fait un concert dans un vignoble qui accueillait des soirées de jazz, organisé par un ex-détenu incarcéré après sa découverte du jazz. Je crois que cela s'est passé en 1989 ou 1990. Il s'appelait Fabrice Rose et nous l'appelions le Robin des bois du jazz. Fabrice et moi avons correspondu pendant plusieurs années lors de son incarcération. Il m'a fait la marraine de sa série de jazz (après sa sortie bien sûr). Pour le concert de Randy, j'ai été invitée avec mon mari, Jean-Marie Durand. J'ai été officiellement présentée à Randy, invitée à assister au concert et à dîner avec Randy et son groupe par la suite. Talib Kibwe était dans le groupe à l'époque et se souvient encore de ce qu'il s'est passé. Je me souviens d'avoir pris une photo avec Randy à l'extérieur de la salle, et je me souviens seulement que mon bras atteignait à peine sa taille. Sa composition «Hi-Fly» est l'un de mes favoris absolus!
Randy était un «gentil géant» d'homme, à la voix douce, avec un amour pour l'Afrique qui me rendait fier… et me donnait mon premier désir de découvrir mon ascendance africaine. J'ai admiré son courage et sa conviction de vivre au Maroc et d'y créer un club de jazz, à Tanger, je crois.


«Hi-Fly», the rhythmically animated and straight-ahead composition by Randy Weston is a piece of music that Archie Shepp, Charles Majeed Greenlee and I practiced diligently in the mid-1970s. Our goal was to become completely familiar with the complex structure while soloing for long periods of time. Archie, as I recall ended up recording the composition a few years later with my friend Karin Krog, the Norwegian singer.



«Hi-Fly», la composition straight-ahead très riche sur le plan rythmique de Randy Weston, est une œuvre qu'Archie Shepp, Charles Majeed Greenlee et moi-même avons répétée avec attention au milieu des années 1970. Notre objectif était de nous familiariser complètement avec la structure complexe, en nous exerçant en solo pendant de longs moments. Archie, je m'en souviens, a fini par enregistrer la composition quelques années plus tard avec mon amie Karin Krog, la chanteuse norvégienne.




Randy Weston was a giant of a man - in every way. His music speaks for itself but when he played, the music was filled with his presence. When I listen to bands with horns led by pianists, for me it could be a horn player's band. But I didn't get that with Randy. And of course, he made us all mindful of the African roots of jazz.
As a person, Randy Weston had a warmth that was as big as he was. You just wanted to be around him, even if didn't have anything to say. I can remember being in Malaga after a musical event and Randy had to get the airport right away. I got the okay to tag along (which was a thrill for me). There was some concern about getting there in time, but one look at Randy we knew everything was going to be okay.
This world could use more Randy Westons.

Randy Weston était un géant fait homme –à tous points de vue. Sa musique parle d'elle-même mais quand il jouait, la musique était remplie de sa présence. Quand j'écoute des groupes avec des cuivres dirigés par des pianistes, pour moi ça peut être un groupe de cuivres. Mais je ne sens pas ça avec Randy. Et bien sûr, il nous a tous sensibilisés aux racines africaines du jazz.
En tant que personne, Randy Weston avait une chaleur aussi grande que lui. Vous vouliez juste être autour de lui, même si vous n'aviez rien à dire. Je me souviens à Malaga après un événement musical, Randy a dû se rendre à l'aéroport tout de suite. J'ai eu le droit de suivre (ce qui était très excitant pour moi). Il y avait une certaine inquiétude pour arriver à temps, mais un coup d'œil à Randy, nous savions que tout irait bien.
Ce monde pourrait utiliser plus de Randy Weston.


La première fois que j'ai vu Randy Weston, c'était en 1977, j'avais 17 ans. C'était un concert en piano solo, en Martinique. Ça a été un vrai choc car ce n'était pas le jazz que je connaissais. Le lendemain, un ami musicien, plus âgé que moi, m'a emmené chez Marius Cultier (p) pour faire sa connaissance. J'étais déjà très impressionné d'être chez cette légende locale, et voilà qu'au bout d'une heure est arrivé Randy Weston avec Bib Monville (s), un autre grand musicien de l'île. Et j'ai assisté à leur discussion, dans mes petits souliers. Trente-cinq ans plus tard, je l'ai retrouvé lors du festival Vibrations Caraïbes, à Paris, rue Raspail, où je jouais sa première partie avec Jacques Schwarz-Bart. Et nous avons reparlé de cette rencontre avec les musiciens martiniquais dont il se souvenait très bien. Deux ou trois ans après, en 2015, je l'ai revu à l'inauguration du mémorial sur l'esclavage, en Guadeloupe, pour laquelle il a été également invité. Là, on a eu le temps de discuter, de prendre des photos. Enfin, la dernière fois où nous nous sommes vus, c'était lors de son passage au Duc des Lombards, en mai dernier. Je lui ai dit: «Maître, vous ne vous souvenez probablement pas de moi.» Et il m'a répondu: «Comment ça? Bien sûr! le pianiste de la Martinique!». J'ai mis du temps à comprendre sa musique, car ce n'était pas un jeu de piano qui m'attirait au départ. Aujourd'hui, je le considère comme l'un des plus grands. Un musicien authentique, avec un vrai discours.
The first time I saw Randy Weston, it was 1977, I was 17. It was a concert for solo piano in Martinique. It was truly a shock because this wasn't the jazz that I knew. The next day, a musician friend, older than me, took me to Marius Cultier's (p) place to meet him. I was already very impressed to be at the home of this local legend, suddenly, after about an hour Randy Weston arrived with Bib Monville (s), another great musician from the island. I witnessed their discussion, with unease. Thirty-five years later, I found him again at the Caribbean Vibrations festival in the rue Raspail, Paris, where I played the first section with Jacques Schwarz-Bart. We spoke about that meeting with the Martiniquais musicians, which he remembered well. Two or three years later, in 2015, I saw him again at the inauguration of the slave memorial in Guadeloupe, to which he was also invited. There we had time to talk and take photos. Finally, the last time we saw one another was during a trip to Duc des Lombards, last May. I said to him, «Master, you probably don't remember me», and he answered, «How's that? Of course! The pianist from Martinique!». I took some time to understand his music, as it wasn't to play the piano that attracted me in the beginning. Today, I consider him as one of the greats. An authentic musician, with true words.
One of the first gigs I had in New York was with the Randy Weston group: Cecil Payne (bs), Ray Copeland (tp) (sometimes) and Clifford Jarvis (dm). What an amazing intro to the New York music scene. And to play the Randy Weston songbook every night, what an education!

Un des premiers engagements que j'ai eu à New York a été avec le groupe de Randy Weston: Cecil Payne (bs), Ray Copeland (tp) (parfois) et Clifford Jarvis (dm). Quelle intro' incroyable sur la scène musicale new-yorkaise. Et pour jouer le songbook de Randy Weston tous les soirs, quelle éducation!


I have been very blessed to have spent a part of my journey with Master Randy Weston. His words of wisdom to me carry me to this day. He had a strong voice that emanated from the piano.
Bill Cosby hosted a Jazz Piano Christmas on NPR. Different pianists came and recorded solo at Clinton Studios in NYC. After I recorded my segment, Bill played me Randy's segment. It was INCREDIBLE!!! I never heard such a majestic sound before. I asked where he recorded his segment and Bill, laughing, said he recorded at the same studio, playing the same piano. All I could say is WOW!!

J'ai été vraiment béni d'avoir passé une partie de mon voyage avec Maître Randy Weston. Ses paroles de sagesse me portent jusqu'à ce jour. Il avait une voix forte qui émanait du piano.
Bill Cosby a présenté un Noël du piano jazz sur NPR. Différents pianistes sont venus et ont enregistré en solo aux studios Clinton à New York. Après avoir enregistré ma partie, Bill m'a fait écouter celle de Randy. C'était INCROYABLE!!! Je n'ai jamais entendu un son aussi majestueux. J'ai demandé où il l'avait enregistrée et Bill, en riant, a dit qu'il avait enregistré dans le même studio, sur le même piano. Tout ce que j'ai pu dire, c'est: WOW !!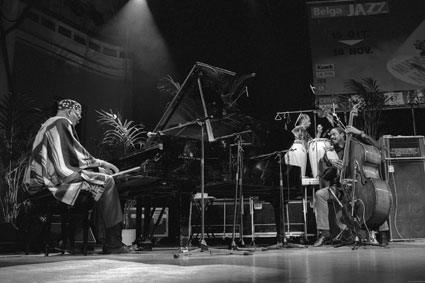 Randy Weston Trio: Neil Clark, Alex Blake, Bruxelles, 1994 © Jacky Lepage
CHIEF BABA NEIL CLARKE (perc)
In seeking to speak of Mr., Dr., "Chief" Randy Weston, as we referred to him, words seem to fail me as never before. Not so much regarding the emotional impact of his departure from this physical plane, which is enormous to say the least, but rather the absence of the expanse of his presence, like a great Baobab tree on the landscape of our lives musically, culturally, socially and spiritually, that is now definitively barren. Hopefully as a global community we will come to terms with Randy Weston's physical departure and nurture the seeds that he planted, looking toward a better world for everyone. He left so much behind to which we can continue to refer. Randy Weston was/is a "Font from which one's Soul is continually nourished".



Si on cherche à parler de M., Dr., «Chief» Randy Weston, comme nous l'avons nommé, les mots semblent me manquer comme jamais auparavant. Pas tellement l'impact émotionnel de son départ sur le plan physique, qui est énorme pour le moins, mais plutôt l'absence de l'étendue de sa présence, comme un grand Baobab dans le paysage de nos vies, musicalement, culturellement, socialement et spirituellement; il est maintenant définitivement aride. Avec un peu de chance, en tant que communauté mondiale, nous accepterons le départ physique de Randy Weston et nourrirons les semences qu'il a plantées, cherchant un monde meilleur pour tout le monde. Il a laissé tellement de choses auxquelles nous pouvons continuer de nous référer. Randy Weston était/est une fontaine dont l'âme de chacun se nourrit continuellement.




Randy Weston was a great man and a great source of inspiration. My experiences working with him are very small in terms of time. But we did collaborate in one production for CTI, Blue Moses, and I performed in his band at the Kongsberg Jazzfestival at the beginning of the 1970s. Both are experiences that I treasure.

Randy Weston était un grand homme et une grande source d'inspiration. Mes expériences de travail avec lui sont très limitées en termes de temps. Mais nous avons collaboré à une production pour CTI, Blue Moses, et j'ai joué dans son groupe au Kongsberg Jazzfestival au début des années 1970. Les deux sont des expériences que je chéris.

I discovered Randy Weston's music while studying at Oberlin College, 1958-62. His recordings taught me much about the history and evolution of jazz. We met in New York in 1963 at the old Five Spot where he had come to hear Roland Kirk's band. After I was introduced to him by Kirk's bassist, Vernon Martin, Randy asked me to go onstage and play from some of the music lead sheets. Over the years since that meeting, I have had the pleasure of experiencing his music at clubs, concerts and festivals. His focus on African roots in his music and life was special and timely, and served to make his Monk and bebop amalgam unique. The big man will be missed for all the examples of encouragement, love and sounds he added to our lives.

J'ai découvert la musique de Randy Weston pendant mes études à l'Oberlin College, 1958-62. Ses enregistrements m'ont beaucoup appris sur l'histoire et l'évolution du jazz. Nous nous sommes rencontrés à New York en 1963 à l'ancien Five Spot où il était venu écouter le groupe de Roland Kirk. Après que je lui ai été présenté par le bassiste de Kirk, Vernon Martin, Randy m'a demandé de jouer sur certaines des partitions de musique. Au cours des années qui ont suivi cette rencontre, j'ai eu le plaisir de faire l'expérience de sa musique dans des clubs, des concerts et des festivals. Sa focalisation sur les racines africaines dans sa musique et dans sa vie était spéciale et opportune, et a servi à rendre sa synthèse entre Monk et le bebop unique. Le grand homme nous manquera pour tous les exemples d'encouragement, d'amour et de sons qu'il a ajoutés à nos vies.


I knew Randy Weston around New York during the 1950s when we were both on the New York jazz scene. I got to play with him a few times, and spent some pleasant hours with him, listening to other jazz musicians in New York nightclubs.
After my first book was published (Jazz Anecdotes, 1990), I was invited to a press party in a Times Square building where the room was absolutely jammed with people from the jazz and Broadway theater world, sipping cocktails, nibbling canapés and chatting with each other. I was standing next to Randy, but couldn't talk to him comfortably because he was so tall, and the press of the crowd prevented him from bending down to me. But across the room, Geoffrey Holder, the very tall dancer, stood above the throng just like Randy. Their heads were both above the rest of the crowd. And so, even though they were a couple of yards from each other, they chatted away as if they were the only ones present.
The last time I saw Randy was last year. A film crew was recording interviews with various jazz musicians for a documentary they were making. As I left the studio after my interview, I passed Randy coming in to do the next one. We had a few minutes to greet each other and enjoy the happenstance, and then we parted. It was much too short an encounter with a man that meant so much to me, but in this life you take the good things that come your way, however small, and savor them.

J'ai connu Randy Weston dans les années 1950 à New York, alors que nous étions tous deux sur la scène jazz new-yorkaise. J'ai pu jouer avec lui quelques fois et passer des heures agréables avec lui en écoutant d'autres musiciens de jazz dans les nightclubs new-yorkais.
Après la publication de mon premier livre (Jazz Anecdotes, 1990), j'ai été invité à une présentation de presse dans un immeuble de Times Square où la salle était remplie de gens du jazz et des théâtres de Broadway sirotant des cocktails, grignotant des canapés et discutant entre eux. Je me tenais à côté de Randy, mais je ne pouvais pas lui parler confortablement parce qu'il était si grand et la pression de la foule l'empêchait de se baisser. Mais à travers la pièce, Geoffrey Holder, le très grand danseur, se tenait au-dessus de la foule, tout comme Randy. Leurs têtes étaient au-dessus du reste de la foule. Et donc, même s'ils étaient à quelques mètres l'un de l'autre, ils bavardaient comme s'ils étaient les seuls présents.
La dernière fois que j'ai vu Randy, c'était l'année dernière. Une équipe de tournage enregistrait des interviews avec divers musiciens de jazz pour un documentaire qu'ils réalisaient. En quittant le studio après mon interview, j'ai passé le relais à Randy pour faire le suivant. Nous avons eu quelques minutes pour nous saluer et profiter de l'événement, puis nous nous sommes séparés. C'était une rencontre beaucoup trop courte avec un homme qui comptait beaucoup pour moi, mais dans cette vie-là, vous prenez les bonnes choses qui vous viennent, si petites soient-elles, et vous les savourez.


Randy was one of the most unique composers/pianists of this century. Every bar of music that I played with him was gratifying to my growth.



Randy était l'un des compositeurs/pianistes les plus singuliers de ce siècle. Chaque morceau de musique que je jouais avec lui était gratifiant pour mon évolution.




Randy Weston left a strong, rich musical and cultural legacy as a pianist, composer and ambassador, spending many years residing in North Africa. I had the honor to work extensively with the late, great Cecil Payne in the 1990s and 2000s, and he often spoke fondly of his friend and musical comrade Randy Weston. Cecil told us about his early days coming up in Brooklyn, NY in the late 1930s and 1940s alongside Randy Weston and Duke Jordan. Their collaborations at the Putnam Central in Brooklyn helped define the modern musical language, which became known as "Bebop".
During the 1990s, I loved hearing Mr. Weston's sextet with Benny Powell on trombone. His compositions "Hi-Fly," "Little Niles" and "Saucer Eyes" remain as some of my all-time favorites.
Although he will be missed, Mr. Weston's presence in the music world will resonate for many years to come.

Randy Weston a laissé un riche héritage musical et culturel en tant que pianiste, compositeur et ambassadeur. Il a passé de nombreuses années en Afrique du Nord. J'ai eu l'honneur de travailler intensément avec le regretté Cecil Payne dans les années 1990 et 2000, et il parlait souvent de son ami et camarade musical Randy Weston. Cecil nous a parlé de ses débuts à Brooklyn, NY, à la fin des années 1930 et 1940, aux côtés de Randy Weston et de Duke Jordan. Leurs collaborations à Putnam Central à Brooklyn ont contribué à définir le langage musical moderne, connu sous le nom de «bebop».
Au cours des années 1990, j'ai adoré entendre le sextet de M. Weston avec Benny Powell sur le trombone. Ses compositions «Hi-Fly», «Little Niles» et «Saucer Eyes» restent parmi mes préférées.
Il nous manquera, mais la présence de M. Weston dans le monde de la musique résonnera pendant de nombreuses années.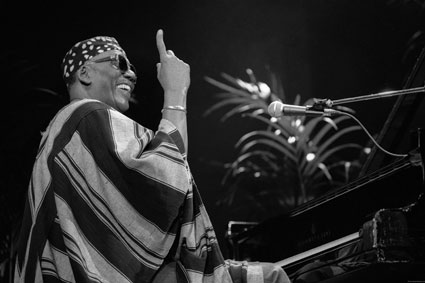 Randy Weston, Bruxelles © Jacky Lepage
Randy Weston was a giant of a man in size and sound. His conviction to the African and African American aesthetic made him stand tall amongst his peers. Pianist Randy Weston said, "You can call it hip-hop, you can call it jazz, you can call it whatever you want to call it, it's Mother Africa's contribution."
Weston's contribution to creative music is undeniable and unique, and will be sorely missed.

Randy Weston était un géant de taille et de son. La conviction de son engagement dans l'esthétique africaine et afro-américaine ont imposé son grand art parmi ses pairs. Le pianiste Randy Weston a déclaré: «Vous pouvez appeler ça du hip-hop, vous pouvez appeler ça du jazz, vous pouvez l'appeler comme vous voulez l'appeler, c'est la contribution de Mother Africa.
La contribution de Weston à la musique créative est indéniable et unique, et il nous manquera énormément.


I traveled many places with Randy. Africa, especially Morocco, was like home for him. Through Randy I heard the music of the Gnawa people for the first time, which made a huge impression on my playing. I tried to adapt some of the sounds, motifs, and principles I learned from them. I bought a gimbre from a master musician Randy introduced me to. A thorough learning experience for me.
But more, playing Randy's music was learning from the master. The way he organized his set so we each had space to go any direction we wanted, how he incorporated the sounds of Duke, Monk, stride, bop, dissonance, Africa, Cuba, and he played the whole piano from bottom notes to top. I want to play the bass like that, organize like that, write like that, lead like that. Also, I always loved to hear him speak his ideas on music and our origins.
Randy had Billy Higgins in the band for a concert, which was the only time I got to play with him. He had Benny Powell for some tours that I did with him, so I got to be friends with this wonderful man and trombonist. Big Black came with us to Morocco, which was a treat. I witnessed the Moroccan percussionists (all women) teaching Big Black the correct rhythms to their music at a house party in Casablanca we were invited to.
Also in Morocco we were invited to dinner at a palace inside the Medina in Marrakech. We were served a sumptuous meal of freshly slaughtered chicken in a tagine with couscous, etc. I remember so well that I hadn't had chicken so delicious. The meal was served by maids and butlers of the household.
Randy's wife Fatou is a wonderful woman from Senegal. I was on one of the early tours that she accompanied him on. She was fresh to the world of international jazz. It was great to get to know her and to see them together.
Randy, you are missed. My condolences to Fatou.

J'ai voyagé avec Randy dans de nombreux endroits. L'Afrique, surtout le Maroc, où il était comme chez lui. Grâce à Randy, j'ai entendu la musique des Gnawa pour la première fois, ce qui a fait grande impression sur mon jeu. J'ai essayé d'adapter certains des sons, des motifs et des principes que j'ai appris d'eux. J'ai acheté un gimbre à un maître musicien que Randy m'a présenté. Une expérience d'apprentissage approfondie pour moi.
Mais plus encore, jouer la musique de Randy, c'était apprendre du Maître. La façon dont il organisait son plateau pour que nous puissions aller dans toutes les directions, incorporer les sonorités de Duke, Monk, stride, bop, dissonance, Africa, Cuba, et il jouait sur tout le piano des notes les plus graves aux plus aiguës. Je veux jouer de la basse comme ça, organiser comme ça, écrire comme ça, mener comme ça. Aussi, j'ai toujours aimé l'entendre parler de ses idées sur la musique et sur nos origines.
Randy a eu Billy Higgins dans son groupe pour un concert, ce qui a été la seule fois où j'ai joué avec lui. Il a eu Benny Powell pour certaines tournées que j'ai faites avec lui, alors je suis devenu ami avec ce merveilleux homme et tromboniste. Big Black est venu avec nous au Maroc, ce qui était un régal. J'ai vu les percussionnistes marocaines (toutes des femmes) enseigner à Big Black les rythmes corrects pour leur musique lors d'une fête à Casablanca à laquelle nous étions invités.
Au Maroc également, nous avons été invités à dîner dans un palais de la médina de Marrakech. On nous a servi un somptueux repas de poulet fraîchement abattu dans un tajine avec du couscous, etc. Je m'en souviens très bien car je n'avais jamais mangé de poulet aussi délicieux. Le repas était servi par les serveuses et les maîtres d'Hôtel de la maison.
La femme de Randy, Fatou, est une femme merveilleuse, du Sénégal. J'étais sur l'une des premières tournées qu'elle accompagnait. Elle était fraîche dans le monde du jazz international. C'était génial de faire sa connaissance et de les voir ensemble.
Randy, tu nous manques. Mes condoléances, Fatou.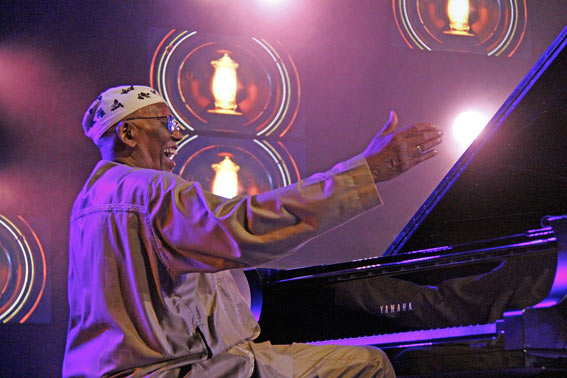 Randy Weston, Jazz à Vienne 2016 © Pascal Kober
Randy was one of the great pianists and composers who really emphasized and embellished African rhythms and melodies in a very contemporary way in his compositions. He possessed strong highly creative piano improvisations. I will miss him.

Randy était l'un des grands pianistes et compositeurs qui ont vraiment mis en valeur et enrichi de manière très contemporaine les rythmes et mélodies africaines dans ses compositions. Il maîtrisait de puissantes et très créatives improvisations au piano. Il me manquera.


Randy was one of the first piano players I met from Brooklyn when I came to New York in the 1950s. It was at the Club Continental and it was great.
When I received the NEA Jazz Masters Award in 2013, he was an honored performer on the program, which made it quite a memorable celebration.
I believe Randy was the oldest pianist to emphasize the African roots of jazz in his music and to educate the public about the importance of this heritage.
Jazz has truly lost a great innovator.

Randy était l'un des premiers pianistes rencontrés à Brooklyn à New York dans les années 50. C'était au Club Continental et c'était génial.
Lorsque j'ai reçu le prix NEA Jazz Masters en 2013, il était un interprète honoré du programme, ce qui en a fait une célébration mémorable.
Je crois que Randy était le pianiste le plus ancien à mettre l'accent sur les racines africaines du jazz dans sa musique et à sensibiliser le public à l'importance de ce patrimoine.
Le jazz a vraiment perdu un grand innovateur.


Randy was a pillar of the Black Community worldwide, not only as a musician, but as a man and an activist who spoke out against injustice and preached peace and love through his music. His compositions are all heartfelt melodies with addictive African grooves that conjure the diaspora in such a personal way that one can only say "That's Randy" when listening to his music.
Just this past May I was blessed to witness an entire set of music between Randy and the great Billy Harper as they were on tour together in May. Amazing. Amazing! Amazing!
Thank you Randy for everything you have given us: the music, the knowledge, the history and most of all your heart. Rest well King!

Randy était un pilier de la communauté noire dans le monde entier, non seulement en tant que musicien, mais aussi en tant qu'homme et activiste qui a dénoncé l'injustice et prêché la paix et l'amour à travers sa musique. Ses compositions sont toutes des mélodies émouvantes avec des grooves africains addictifs qui évoquent la diaspora de manière si personnelle qu'on ne peut que dire «That's Randy» en écoutant sa musique.
En mai dernier, j'ai eu la chance d'assister à une série de concerts entre Randy et le grand Billy Harper alors qu'ils étaient en tournée ensemble en mai. Incroyable. Incroyable! Incroyable!
Merci Randy pour tout ce que tu nous a donné: la musique, la connaissance, l'histoire et surtout ton cœur. Repose bien King!


KAHIL EL'ZABAR (dm, perc)
I first heard the great Randy Weston when I was 15 years old in 1968, performing with my teacher, master drummer, Black Harold Atu Murray, at an event in Chicago. I remember to this day his warm eyes that were so welcoming to everyone, and then how he hugged me with those huge hands and super long arms, ever so gently, yet firm. I felt so much power and kindness from this gentle spirit. I knew even at 15 that I was in the presence of greatness!
I reencountered Mr. Weston again in Paris, in 1975, but this time he had come to hear me play with my band, the Ethnic Heritage Ensemble at the New Morning Jazz Club. He looked me straight in the eyes with the same warmth that I had remembered from 15, and then said, "Kahil, you have learned your lessons well." I felt so honored hearing this from the true visionary of African informed contemporary musical expression. I knew in that moment, that I had arrived, and upon crossing that bridge, it was the great Randy Weston who had brought me over, as he had done for so many other young musicians! I will miss him forever!
Rarely have we seen in this life one with so much humility within the power of spiritual nobility!

J'ai entendu pour la première fois le grand Randy Weston à l'âge de 15 ans, en 1968, avec mon professeur, le maître batteur Black Harold Atu Murray, lors d'un événement à Chicago. Je me souviens encore aujourd'hui de ses yeux chaleureux qui étaient si accueillants pour tout le monde, puis de la façon dont il me serra dans ses bras avec ses mains énormes et ses bras super longs, toujours aussi doux et fermes. J'ai ressenti tellement de puissance et de gentillesse dans cet esprit doux. Je savais même à 15 ans que j'étais en présence de la grandeur!
J'ai rencontré
à nouveau
M. Weston
à Paris en 1975, mais cette fois il était venu m'entendre jouer avec mon groupe, l'Ethnic Heritage Ensemble, au New Morning. Il m'a regardé droit dans les yeux avec la chaleur dont je me souvenais depuis mes 15 ans, puis il a dit: «Kahil, vous avez bien appris vos leçons!». Je me suis senti tellement honoré d'entendre ça de la part du véritable visionnaire, informé, de l'expression musicale contemporaine africaine. Je savais à ce moment-là que j'étais arrivé et, en traversant ce pont, c'était le grand Randy Weston qui m'avait amené, comme il l'avait fait pour tant d'autres jeunes musiciens! Il va me manquer pour toujours!
Nous avons rarement vu dans cette vie, avec autant d'humilité, le pouvoir de la noblesse spirituelle!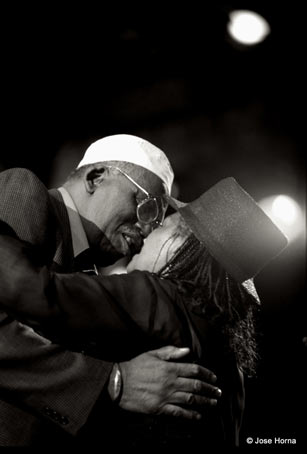 Randy Weston et Abbey Lincoln, San Sebastian 1998 © Jose Horna
Le hasard de mes premières écoutes de jazz m'a fait découvrir rapidement Randy Weston. Je l'ai écouté régulièrement au cours des années en disque, en concert, en vidéo. L'ensemble des réactions de mes confrères musiciens et plus généralement du monde du jazz après son décès montrent combien il était admiré et respecté de tous. Bien que sans doute moins connu du grand public que d'autres personnalités, il n'en demeurait pas moins l'un des créateurs de cette musique, l'un de ceux que l'on appelle parfois les «maîtres». A ce propos, plusieurs de ses compositions figurent depuis des années dans les fameux real books et sont donc apprises «dès le début» par les apprentis jazzmen, qui parfois ne l'auront paradoxalement que peu écouté: grossière erreur bien évidemment, car dans son jeu on retrouve véritablement la quintessence du piano jazz, en fait celle du jazz tout simplement: le swing, le blues, le rythme, le phrasé, le son...
J'ai eu beaucoup de plaisir à écouter ses formations dans lesquelles instruments et rythmes africains jouent avec l'orchestre de jazz tellement naturellement, voilà une véritable world music sans artifices. Mais je continuerai à écouter également, avec tout autant de plaisir, ses albums plus anciens qui ont jalonné sa carrière et qui font tellement partie de l'histoire du jazz.


By chance, my first experiences of listening to jazz brought me rapidly to discover Randy Weston. I regularly listened to him over the years on CD, in concert or on videos. The overall reactions of my fellow musicians and more generally the world of jazz after his death shows how much he was admired and respected by all. Although, without doubt, less known by the general public than other personalities, nonetheless, he remains one of the creators of this music, one of them that we often call the «masters». Several of his compositions appear in the famous real books and are learned «from the beginning» by apprentice jazzmen, who sometimes, paradoxically, would not have listened to it: evidently a big mistake, because in his playing we truly rediscover the quintessence of jazz piano, of jazz, in fact, to put it simply: swing, blues, rhythm, phrase, sound...
I gained a lot of pleasure listening to his formations in which instruments and African rhythms played so naturally with the jazz orchestra, here is a genuine world music without artifice. But I will continue to listen equally with as much pleasure, his older albums that marked out his career and made a part of jazz history.
BOBBY FEW (p)
My first encounter with Randy Weston was in 1962 when I moved from Cleveland to New York. I was living with Frank Wright, saxophonist, in the Lower East Side, 13th Avenue, on the 1st floor; Booker Ervin was on the 2nd floor and Randy Weston on the 3rd floor. A funny story with Randy happened in a festival in Tunisia. All the musicians decided to go swimming. Randy is 2 meters high and I am skinny (1.78m and 50 kilos). Somebody took a picture of Randy and me. This is to show how funny it was to see Randy in a bathing suit. My last connection with Randy was about 2 months ago. When he heard that I was sick, he called me from the airport and promised to send me some music to cheer me up. The sad thing is that Randy left soon after that call. I am a fan of Randy's style and music and he will always stay in my memories.
Ma première rencontre avec Randy Weston a eu lieu en 1962, lorsque j'ai déménagé de Cleveland à New York. Je vivais avec Frank Wright, saxophoniste, à Lower East Side, 13e Avenue, au 1er étage; Booker Ervin était au 2e étage et Randy Weston au 3e étage. Une histoire amusante avec Randy s'est produite dans un festival en Tunisie. Tous les musiciens ont décidé de nager. Randy a 2 mètres de haut et je suis maigre (1,78 de haut et 50 kilos). Quelqu'un a pris une photo de Randy et moi. C'est pour montrer à quel point il était drôle de voir Randy en maillot de bain. Ma dernière connexion avec Randy a eu lieu il y a environ 2 mois. Quand il a appris que j'étais malade, il m'a appelé de l'aéroport et m'a promis de m'envoyer de la musique pour me remonter le moral. Ce qui est triste, c'est que Randy est parti peu après cet appel. Je suis un fan du style et de la musique de Randy et il restera toujours dans ma mémoire.
As long as music exists, we will always remember Randy Weston.



Tant que la musique existera, nous nous souviendrons de Randy Weston.




SONNY FORTUNE (as, ss, fl)
Randy was always a tall giant to me musically. I didn't know him personally that well. I don't think we ever played music together, but I loved him from the first time I heard him play "Little Niles" at the Pep's Bar, a jazz room in Philly, in 1959, somewhere around that time.
He always seemed to be a gentle man.
I had the pleasure to play for him on his 90th birthday at Jazz 966 in Brooklyn. It was my honor. A great man, a great musician. He will surely be missed. May he rest in peace.

Randy a toujours été pour moi un grand géant musicalement. Je ne l'ai pas connu très bien personnellement. Je ne pense pas que nous ayons jamais joué de la musique ensemble, mais je l'aimais depuis la première fois que je l'avais entendu jouer «Little Niles» au Pep's Bar, une salle de jazz à Philadelphie, en 1959, quelque part à cette époque.
Il semblait toujours être un homme gentil.
J'ai eu le plaisir de jouer pour lui lors de son 90e anniversaire à Jazz 966 à Brooklyn. J'étais très honoré. Un grand homme, un grand musicien. Il va sûrement nous manquer. Qu'il repose en paix.


CHICO FREEMAN (ts, ss, fl)
The transition of Randy Weston and in particular the way he made his journey can be considered a blessing of sorts. He lived a full and rich life of generosity, respect and love. Our loss as sad as we may be, gives me some joy in that his departure was peaceful in his sleep at home in his favorite chair and beside his grand piano, which he poured so much of himself in his 92 years of visiting this planet and gracing us with his presence.
I am reminded of another great musician whose transition came at the end of a concert where after playing he expired right there on the stage having done for the last time what he had done his whole life (drummer Eddie Moore), and who was also a friend of Mr. Randy Weston.

I believe the way that Randy Weston passed was a gift to him, a highly deserved reward for his lifetime of generosity, unselfishness of himself to others not only through his music but also through his giant humanity. He was at once a teacher, mentor and an incredible pianist/composer/musician and human being. I cherish the time and the opportunities that I've had to share in his wisdom and his friendship. He enriched my life on so many occasions and in so many ways. He will be missed but never forgotten.

Le passage de Randy Weston et, en particulier, la manière dont il a fait son voyage peuvent être considérés comme une bénédiction. Il a vécu une vie pleine et riche de générosité, de respect et d'amour. Sa perte, aussi tristes que nous puissions être, me réjouit du fait que son départ était paisible dans son sommeil chez lui, dans son fauteuil préféré et à côté de son piano à queue, dans lequel il s'est beaucoup investi en visitant cette planète pendant 92 ans où il nous a honorés de sa présence.
Cela me rappelle un autre grand musicien dont le passage a eu lieu à la fin d'un concert où, après avoir joué, il a expiré sur la scène après avoir fait pour la dernière fois ce qu'il avait fait toute sa vie, le batteur Eddie Moore, un ami de M. Randy Weston.
Je crois que la façon dont Randy Weston s'en est allé était un cadeau pour lui, une récompense hautement méritée pour sa vie de générosité, son désintéressement envers les autres, non seulement par sa musique mais aussi par son humanité géante. Il était à la fois un enseignant, un mentor et un pianiste/compositeur/musicien incroyable et un être humain. Je chéris le temps et les opportunités que j'ai eus de partager sa sagesse et son amitié. Il a enrichi ma vie à maintes reprises et à bien des égards. Il manquera mais ne sera jamais oublié.


IRA GITLER (chroniqueur, producteur, écrivain)
We must also talk about Randy Weston ... I knew Randy Weston when he arrived at the front of the stage the moment of the recording for Riverside. One of my friends Don Schlitten (founder of Signal Records, Cobblestone, Xanadu, producer at Prestige, Muse, Onyx) knew him, we became friends. At the time he played in Massachusetts, in a place called «The Avelac». It was a Music Inn, located in the mountains, a fantastic place to play and listen to jazz. He performed in a trio; we got to know one another, he was very friendly, very attractive and when he left for Marocco – he went to live in Tangiers – I knew we had the possibility of contacting him. We spent some good times over there in his company in July 1972. We had a cook that came with the apartment rental. She came every morning, served us breakfast, then prepared dishes that she put in the fridge so that we could reheat them for dinner; friends used to come over. We went to the beach, at nightfall we went to the cinema to watch French films, then we joined up at the club, there where he played. He equally performed in Ghana. He gave a concert accompanied by local musicians, some Berbères along with some Ghanaians, all together in a large theater. I wrote an article about it for a magazine, in which I explained the interactions between the musicians and himself. The different ways to incorporate the perfumes of North Africa in his compositions. Do you remember the album that was, Blue Moses? I think it came out on the CTI of Creed Taylor ... Unfortunately, very little publicity was done for its release. He played on an electric piano, it was done in a beautiful way. He did another one with the composition «Tangier Bay». That was an interesting period, to actually live in contact with different cultures, very French on one side and Arab on the other; there is the old quarter, the Kasbah; the other side of town is multilingual: French, Spanish and Italian. My French improved because I started to think in French. After a month over there, if someone knocked at the door, I answered, «Qui est là?» (in French) instead of «Who's he?» ok, when we don't practice it we lose it! (extract from an interview in Jazz Hot n°640, 2007)

On devait parler de Randy Weston également… J'ai connu Randy Weston quand il arriva sur le devant de la scène au moment de l'enregistrement pour Riverside. Un de mes amis Don Schlitten (fondateur de Signal Records, Cobblestone, Xanadu, producteur chez Prestige, Muse, Onyx) le connaissait, on est devenu ami. Il jouait à cette époque-là dans le Massachusetts dans un lieu qui s'appelait «The Avelac». C'était un Music Inn, localisé dans les montagnes, un endroit fantastique pour jouer et écouter du jazz. Il se produisait en trio; on a appris à se connaître, il était très sympa', très avenant et au moment où il partit pour le Maroc –il allait vivre à Tanger– j'ai su qu'on avait la possibilité de le contacter. On a passé du bon temps là bas en sa compagnie en ce mois de juillet 1972. Nous avions une cuisinière attachée à la location de l'appartement. Elle venait tous les matins, nous servait le déjeuner puis nous faisait des plats qu'elle mettait au frigo, et qu'on pouvait réchauffer pour le dîner car des amis venaient. On allait à la plage et, à la nuit tombante, on allait au cinéma pour voir des films français, puis on rejoignait le club, là où il jouait. Il s'est produit également au Ghana. Il a donné un concert accompagné de musiciens locaux, des Berbères ainsi que des Ghanéens, tous rassemblés dans un grand théâtre. J'ai écrit un article à ce sujet pour un magazine dans lequel j'expliquais l'interaction entre les musiciens et lui. Les différentes façons d'incorporer les parfums d'Afrique du Nord dans ses compositions. Vous-vous souvenez de l'album qu'il fit, Blue Moses? Je pense que c'était sorti sur le label CTI de Creed Taylor… Malheureusement très peu de promotion fut faite lors de sa sortie. Il jouait sur un piano électrique, c'était fait de très belle façon. Il en fit un autre avec la composition «Tangier Bay». Ce fut une période intéressante, le fait de vivre au contact de cultures différentes, très française d'un côté et arabe de l'autre: il y a le vieux quartier, la Kasba; l'autre partie de la ville est multilingue: français, espagnol et italien. Mon français s'était amélioré car je commençais à penser en français. Après un mois là bas, si quelqu'un frappait à la porte, je répondais : «Qui est là?» (en français) au lieu de «Who's he?» Mais bon, quand on ne le pratique pas, on le perd! (extraits d'une interview parue dans Jazz Hot n°640, 2007)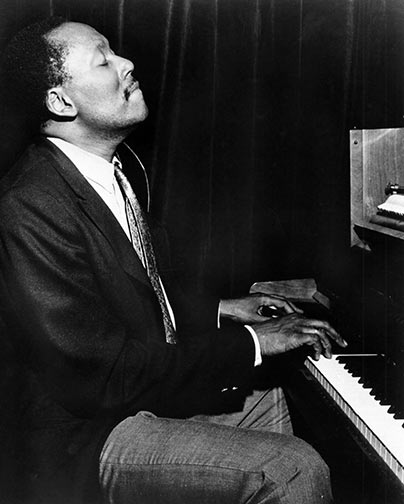 Randy Weston, New York City 1965, Location unknown
© Raymond Ross Archives/CTSIMAGES. Used with permission.
In the early 1960s, Art Farmer and I put together a group called The Jazztet. But around the same time, I met, who I initially thought was a basketball player, a fellow named Randy Weston. I quickly discovered he was a pianist.
Randy was always kind of a laid back fellow, never mentioning anything that he had done -- playing or writing. In the beginning of our friendship, I didn't even know he was a composer. But eventually everything about him came to light. Yes, I loved the way he played ... with so much freedom and inner feelings, things emanating from the deepest grotto of his heart's core.
Then I heard "Little Niles" and later "Hi-Fly." That did it! He hit me emotionally right in my motivational heart, especially "Hi-Fly." What a tune. Once you engage it you can't do anything but swing for all you're worth.
As a sideline, we were all rather envious of Randy because he was a personal friend of Langston Hughes, a black renaissance writer. And Langston was a jazz fan who was always on the jazz scene with his pad and pencil.
When Randy wasn't sitting at the piano, he was your best friend who always had much to say, but never about himself. He was always praising what somebody else was doing. I think I remember Thelonious Monk as one of his favorites. He expressed himself wonderfully when he played, but likewise when he spoke. His heart was always involved in both. We will not soon forget this wonderful man who loved music and the very essence of life.
I will miss my dear friend until I am dismissed from the element of time.
His name will be indelibly and ineluctably written on the bosom of eternity as it unashamedly disrobes revealing all. God bless Randy Weston.

Au début des années 1960, Art Farmer et moi avons constitué un groupe, The Jazztet. Mais à peu près à la même époque, j'ai rencontré ce que j'avais pensé être un joueur de basket-ball, un certain Randy Weston. J'ai rapidement découvert qu'il était pianiste.
Randy était toujours un type décontracté ne mentionnant jamais ce qu'il avait fait –au piano ou en matière de composition. Au début de notre amitié, je ne savais même pas qu'il était compositeur. Mais finalement tout s'est révélé au grand jour. Oui, j'ai adoré la façon dont il a joué… avec tant de liberté et de sentiments intérieurs, de choses émanant de la grotte la plus profonde de son cœur.
Puis j'ai entendu «Little Niles» et plus tard «Hi-Fly». Ça collait! Il m'a touché droit au cœur sur le plan émotionnel, particulièrement «Hi-Fly». Quel thème! Une fois que vous vous y lancez, vous ne pouvez rien faire d'autre que swinguer autant que vous le pouvez.
En marge, nous étions tous assez envieux de Randy parce qu'il était un ami personnel de Langston Hughes, un écrivain de la Renaissance noire. Et Langston était un fan de jazz, toujours sur la scène jazz avec son bloc et son crayon.
Lorsque Randy n'était pas au piano, il était votre meilleur ami, et avait toujours beaucoup à dire, mais jamais à propos de lui-même. Il louait toujours ce que faisaient les autres. Je pense me souvenir que Thelonious Monk était l'un de ses préférés. Il s'exprimait à merveille quand il jouait, mais aussi quand il parlait. Son cœur était toujours impliqué dans les deux expressions. Nous n'oublierons pas de sitôt cet homme merveilleux qui aimait la musique et l'essence même de la vie.
Mon cher ami me manquera jusqu'à ce que je sois privé du cours du temps.
Son nom sera écrit de manière indélébile et inéluctable sur le sein de l'éternité qui révèle sans pudeur tout ce qui doit l'être. Que Dieu bénisse Randy Weston!


As I arrived in the States there was a memorial for Mr. Randy Weston… Mr. Weston represented an era of some of the biggest sounds to come out of the music. His stature was grand as was his legacy to music jazz, fusing and mindful of its African roots. I give thanks to him for making a path thru the Little Nile.



A mon arrivée aux Etats-Unis, il y avait un mémorial pour M. Randy Weston… M. Weston représentait une époque où certains des plus grands sons sortaient de la musique. Sa stature était monumentale, tout comme l'héritage qu'il laisse dans la musique de jazz, fusionnant et conscient de ses racines africaines. Je lui rends grâce d'avoir trouvé un chemin jusqu'au
Little Nile

.

BILLY HARPER (ts, ss, fl)
Randy Weston was indeed "a giant" among the many kind souls granted the small time on earth for the purpose of teaching and enlightening the souls of those fortunate enough to have known him. Long Live "King Weston"!


Randy Weston était en effet «un géant» parmi les nombreuses âmes aimables qui ont reçu un temps court sur terre pour enseigner et éclairer les âmes de ceux qui ont eu la chance de le connaître. Vive «King Weston»!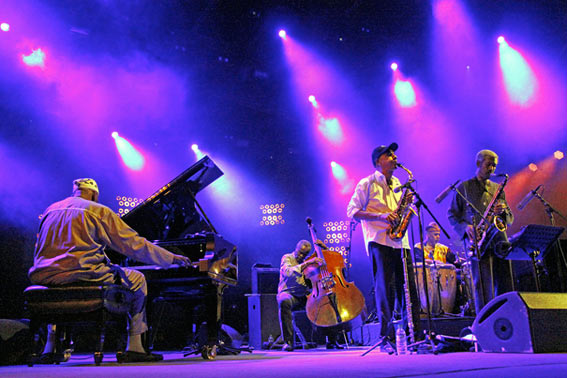 Randy Weston, Alex Blake, TK Blue,

Neil Clarke,
Billy Harper,
Jazz à Vienne, 4 juillet 2016 © Pascal Kober
Our tall giant, and jazz master has gone. We will miss him and the beauty of him.



Notre grand géant et maître du jazz est parti. Il va nous manquer comme sa beauté.




I met Randy in the 1950's. Such a marvelous human being, like a king, with head always held high and his music at all times on the highest level. He will be profoundly missed. My heart goes out to his beautiful Family.



J'ai rencontré Randy dans les années 1950. Quel être humain merveilleux, comme un roi, avec la tête toujours haute et sa musique toujours au plus haut niveau. Il nous manquera profondément. Mon cœur va à sa belle famille.




My dear friend Randy always championed the fact that America's greatest art form, jazz, was based on African rhythms. Dizzy, my mentor, would repeatedly say the same thing to me all the time.



Mon cher ami Randy a toujours défendu le fait que la plus grande forme d'art américaine, le jazz, reposait sur des rythmes africains. Dizzy, mon mentor, me répétait sans cesse la même chose tout le temps.




EDDIE HENDERSON (tp, flh)
Randy Weston was a great jazz musician and composer. His passing is heart-felt to all those who knew him personally and who loved his music. Farewell Mr. Weston and rest in peace.



Randy Weston était un grand musicien et compositeur de jazz. Son décès est ressenti par tous ceux qui l'ont connu personnellement et qui ont aimé sa musique. Adieu M. Weston et reposez en paix!




Dad LOVED Randy. He loved everything about him. His music, his stature, his grace, his style, his class. And of course he was proud to have put lyrics to his music. He considered him truly one of the Giants of Jazz.



Papa AIMAIT Randy. Il a tout aimé de lui. Sa musique, sa stature, sa grâce, son style, sa classe. Et bien sûr, il était fier d'avoir mis des paroles sur sa musique. Il le considérait comme l'un des géants du jazz.




FREDDIE HENDRIX (tp, flh)
In late 1998, while I was studying at William Paterson University, Rufus Reid, jazz bassist, composer, educator, and artistic director at that time for the University, invited Randy Weston to perform there, accompanied by the university big band ensemble. On this concert, I was featured on Randy's famous composition "Hi-Fly". This concert was concluded with Mr. Weston's composition "African Sunrise", which featured alto saxophonist Talib Kibwe, who has been a long time member of Mr. Weston's band, as well as the East St. Louis trumpeter/producer Marlon Bonds (who currently resides in California pursuing a career as a R&B producer and doesn't play the trumpet as much anymore). If you heard Marlon Bonds in those days playing the trumpet, it was incredible! His playing concept was like a hybrid of John Coltrane, Kenny Garrett, and Freddie Hubbard. He would give me goose bumps when he played. He was playing some unbelievable stuff at that time and exploring religion. He always carried a pocket Bible with him too at that time.
So here we all are in Shea Auditorium playing Mr. Weston's "African Sunrise". I'm on lead trumpet. Marlon is upfront next to Mr. Weston and Talib Kibwe, and we're performing this incredible piece of work. Each one of them was featured improviser in designated sections of the tune. And all of this high energy ended in a standing ovation to a packed house. I don't recall anything specific that Mr. Weston said at that time that would be significant. I just remember the power of that performance. And Rufus Reid and jazz coordinator, Dr. David Dempsey, were the masterminds behind it all. They always exposed us students of the music to some of the best artists in the world: the Vanguard Orchestra, Michael Brecker, J.J. Johnson, Joe Williams, Marcus Belgrave, etc. I'm proud and honored that Mr. Randy Weston was a part of this list of many greats that I was fortunate enough to work with at least once. May God bless them all!

A la fin de 1998, alors que j'étudiais à l'Université William Paterson, Rufus Reid, bassiste de jazz, compositeur, éducateur et directeur artistique de l'université à l'époque, invitait Randy Weston à y jouer, accompagné par l'ensemble big band de l'université. Lors de ce concert, j'ai été présenté sur la célèbre composition de Randy «Hi-Fly». Ce concert a été conclu avec la composition de «African Sunrise» de M. Weston, qui mettait en vedette le saxophoniste alto Talib Kibwe, membre de longue date du groupe de M. Weston, ainsi que le trompettiste et producteur Marlon Bonds d'East St. Louis (actuellement il réside en Californie, poursuivant une carrière de producteur de R & B et ne jouant plus autant de la trompette. Si vous avez entendu Marlon Bonds à l'époque de la trompette, c'était incroyable! Son concept de jeu était comme un hybride de John Coltrane, Kenny Garrett et Freddie Hubbard. Il me donnait la chair de poule quand il jouait. Il jouait des choses incroyables à cette époque et explorait la religion. Il portait toujours à cette époque avec lui une Bible de poche.)
Nous voici donc tous au Shea Auditorium en train de jouer «African Sunrise» de M. Weston. Je suis le lead trompette. Marlon est à côté de M. Weston et Talib Kibwe, et nous réalisons cet incroyable travail. Chacun d'entre eux est invité à improviser dans les sections prévues à cet effet du thème. Et toute cette énergie a abouti à une ovation debout dans une salle comble. Je ne me souviens pas de quelque chose de précis que M. Weston a dit à ce moment-là qui serait important. Je me souviens juste de la puissance de cette performance. Et Rufus Reid et le coordinateur de jazz, le Dr David Dempsey, ont été les cerveaux derrière tout cela. Ils ont toujours exposé les étudiants de la musique à certains des meilleurs artistes du monde: le Vanguard Orchestra, Michael Brecker, J.J. Johnson, Joe Williams, Marcus Belgrave, etc. Je suis fier et honoré que M. Randy Weston ait fait partie de cette liste de plusieurs grands noms avec lesquels j'ai eu la chance de travailler au moins une fois. Que Dieu les bénisse tous!


Randy Weston was a large man. He was known to be large in life and music. Randy was a kind soul with a musical gift he shared with the world.



Randy Weston était un grand homme. Il était connu pour être grand dans la vie et la musique. Randy était une âme aimable avec un don musical qu'il partageait avec le monde.




Many years ago in a small town in Belgium, I was privileged not only to hear Randy play solo but to have dinner with him. He was warm, congenial - and I'll never forget seeing his huge hands up close. The concert was masterful. He was one of the all-time great pianists.

Il y a de nombreuses années dans une petite ville de Belgique, j'ai eu le privilège non seulement d'entendre Randy jouer en solo, mais aussi de dîner avec lui. Il était chaleureux, sympathique –et je n'oublierai jamais la vue de ses mains immenses de près. Le concert était magistral. Il était l'un des grands pianistes de tous les temps.


Randy Weston showed us all how an artist could take action with one's community in mind, carry oneself with dignity and self-respect, and remain true to one's art - all for an entire lifetime. Mr. Weston's consistent, self-assured vision of music in the world emphasized the African roots OF music in the West, the folk roots of all art, and the human truths that communicate across geographies, cultures, and generations. He was a legend, hero, and king to many of us, and yet he was also a supportive elder who genuinely cared about us all as human beings.
And he was a truly visionary pianist and composer, whose musical language must be studied and discussed in the years to come. There was great power and subtle mystery in his rhythms, melodies, harmonies, timbres, and textures. His artistry has served as a tremendous inspiration to me since I first heard him perform in the mid-1990s. His influence is clear in much of my work, including my album Tirtha, which was essentially an Indian version of his African Rhythms Trio!
The music world has lost a giant, and it is time for us all to meditate on his legacy. I am fortunate to have the chance to work with my colleague at Harvard University, Professor Ingrid Monson, to study his personal archive, which he donated to the Harvard Library in 2016. We invite music scholars around the world to join us in this important endeavor.

Randy Weston nous a montré comment un artiste pouvait agir avec à l'esprit sa communauté, se comporter avec dignité et respect de soi, et rester fidèle à son art –le tout pour toute une vie. La vision cohérente et assurée de M. Weston sur la musique dans le monde a souligné les racines africaines de la musique en Occident, les racines folkloriques de tout art et les vérités humaines qui communiquent à travers les géographies, les cultures et les générations. Il était une légende, un héros et un roi pour beaucoup d'entre nous, et pourtant, il était aussi un aîné solidaire qui se souciait vraiment de nous tous en tant qu'êtres humains.
Et il était un pianiste et compositeur vraiment visionnaire, dont le langage musical doit être étudié et discuté dans les années à venir. Il y avait un grand pouvoir et un mystère subtil dans ses rythmes, mélodies, harmonies, timbres et textures. Son talent artistique m'a beaucoup inspiré depuis que je l'ai entendu pour la première fois au milieu des années 1990. Son influence est évidente dans une grande partie de mon travail, y compris mon album Tirtha, qui était essentiellement une version indienne de son trio African Rhythms!
Le monde de la musique a perdu un géant et il est temps pour nous tous de méditer sur son héritage. J'ai la chance de travailler avec mon collègue de l'université de Harvard, le professeur Ingrid Monson, pour étudier ses archives personnelles, qu'il a données à la bibliothèque de Harvard en 2016. Nous invitons les spécialistes de la musique du monde entier à nous rejoindre.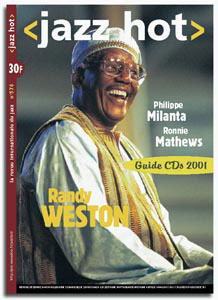 I am grateful to have known this remarkable man and to have enjoyed his compositional gifts including "Hi-Fly", which composition I had the pleasure of performing and recording.
I had the pleasure of not only knowing Randy but also visiting him while on a family vacation in Morocco where he was residing at the time! In addition his son Azzedin was a member of my Ensemble.
Randy made history along with Basheer Qusim (Gigi Gryce) by establishing his own publishing company, which was a no no at the time. Benny Golson also is a member of this distinguished group of musicians that dared to defy the establishment.
Once again, I have been privileged to have known this Gentle Giant who helped shape the musical world as we know it today!!!
Randy has made his transition from this world but lives on!

Je suis reconnaissant d'avoir connu cet homme remarquable et d'avoir apprécié ses dons de composition, notamment «Hi-Fly» composition que j'ai eu le plaisir de jouer et d'enregistrer.
J'ai eu le plaisir non seulement de connaître Randy, mais aussi de lui rendre visite lors de vacances en famille au Maroc où il résidait à l'époque! De plus, son fils Azzedin était membre de mon ensemble.
Randy a fait l'histoire avec Basheer Qusim (Gigi Gryce) en créant sa propre maison d'édition, ce qui était impensable à l'époque. Benny Golson est également membre de ce groupe de musiciens distingués qui ont osé défier l'establishment.
Une fois de plus, j'ai eu le privilège de connaître ce Gentle Giant qui a contribué à façonner le monde musical tel que nous le connaissons aujourd'hui !!!
Randy a quitté ce monde mais il vit toujours!
ALAIN JEAN-MARIE (P)
Je me souviens d'avoir vu et écouté Randy Weston dans les années 1990 au Petit Opportun, à Paris; il jouait en duo avec Sam Kelly, percussionniste marocain… La musique était intense; Randy avait beaucoup de mal à disposer ses jambes sous le clavier du piano droit du petit lieu (grand club de jazz!)… La musique était flamboyante, l'Afrique, Monk, le Blues étaient présents… Merci à ce Grand Musicien!

I remember having seen and heard Randy Weston in the 1990's at the Petit Opportun in Paris; he played in a duo with Sam Kelly, a Moroccan percussionist... The music was intense; Randy had difficulty putting his legs under the keyboard of the upright piano in such a small place (big jazz club!)... The music was flamboyant, Africa, Monk, the Blues were present...
Thank you to this Great Musician!

Randy Weston was a great guy and when my daughter was christened at 3 months old or so, the after party was at his home in Brooklyn. How kind and gentle he was! He gave me "Hi-Fly" to sing way back then…



Randy Weston était un bon gars et quand ma fille a été baptisée à 3 mois à peu près, la fête s'est déroulée chez lui à Brooklyn. Comme il était charmant et gentil! Il m'a donné «Hi-Fly» à chanter à l'époque…




I have been blessed to be exposed to the masters of my time - Barry Harris, Gilly Coggins, Chris Anderson and others - and I learned countless musical secrets from them. In the early days, they had all been trying to teach me a specific approach to improvisation - the approach that Duke, Monk, and Bud Powell had implemented - but it wasn't until I took a lesson with Randy and listened to him play for 2 1/2 hours that I understood what they all had been trying to teach me and it changed my life. Randy's approach to the music had no limits.



J'ai eu la chance d'être exposé aux maîtres de mon temps –Barry Harris, Gilly Coggins, Chris Anderson et d'autres– et j'ai appris d'innombrables secrets musicaux. Dans les premiers temps, ils avaient tous essayé de m'apprendre une approche spécifique à l'improvisation –l'approche que Duke, Monk et Bud Powell avaient mise en place– mais ce n'est que lorsque j'ai écouté jouer Randy pendant deux heures et demie que j'ai compris ce qu'ils essayaient tous de m'apprendre, et cela a changé ma vie. L'approche de Randy de la musique n'avait aucune limite.



T.K. BLUE (TALIB KIBWE, as, ss, fl)
On Saturday Sept 1, 2018, we lost a true musical giant, innovator, NEA Jazz Master, and a warrior for the elevation of African-American pride and culture. His compositions disseminating the richness and beauty of the African aesthetic are unparalleled. Randy was born during the era of extreme racism, segregation, and discrimination in the United States. His life's mission was one of unfolding the curtain that concealed the wonderful greatness and extraordinary accomplishments inherent on the African continent.
I am super blessed and honored to have been a member of his band for 38 years. Baba Randy was a spiritual father and mentor for myself, and so many people. Our last public performances were in Rome, Italy, July 19th, and Nice, France, July 21st, with Billy Harper (ts), Alex Blake (b), Neil Clarke (perc) and T.K. Blue (as, fl).
I will always remember his extreme kindness and generosity. My first four impressions of Dr. Weston reveled who he was and what he cherished:
- Early 1970's, Randy in performance at the East in Brooklyn with his son Azzedin on African percussion (a clear demonstration of his love and mentorship for his children. I also remember Randy inviting the great James Spaulding to sit in on flute)
- Late 1970's, I performed with South African legend pianist Abdullah Ibrahim at Ornette Coleman's Artist House Loft in Soho, NYC. Randy attended this show with his father Frank Edward Weston and his manager Colette (his profound love, respect, and reverence for the elders and his admiration for other artists, especially from the continent of Africa)
- Late 1970's, I had the first opportunity to perform with Randy at a fundraiser for SWAPO and to raise funds for support against Apartheid in South Africa (another demonstration of his commitment to struggle for civil and human rights world-wide)
- During the summer of 1980, I was overjoyed having my first hired performance with Randy and his African Rhythms group at the House of the Lord Church in Brooklyn, which again displayed his support and commitment to keep jazz alive in black community and his in-depth love for the African-American church.
Lastly when my mom Lois Marie Rhynie passed in 2014, there was a last minute issue with the church piano. Dr. Weston paid for the rental of a beautiful baby grand piano and performed gratis.
Randy Weston is the last pianistic link between Duke Ellington and Thelonious Monk. His forays into improvisation are clearly a manifestation of the highest tier regarding a creative genius with astounding originality. His compositions are in the pantheon of renowned jazz standards.
Words are inadequate to express my love, admiration, appreciation, and gratitude for such an incredible human being.
May his spirit rest in paradise for eternity. We will miss you Baba Randy!

Le samedi 1er septembre 2018, nous avons perdu un véritable géant de la musique, un innovateur, un NEA Jazz Master, et un guerrier pour l'élévation de la fierté et de la culture afro-américaines. Ses compositions diffusant la richesse et la beauté de l'esthétique africaine sont incomparables. Randy est né à l'ère du racisme extrême, de la ségrégation et de la discrimination aux Etats-Unis. La mission de sa vie consistait à ouvrir le rideau qui dissimulait la merveilleuse grandeur et les réalisations extraordinaires du continent africain.
Je suis très heureux et honoré d'être membre de son groupe depuis 38 ans. Baba Randy était un père spirituel et un mentor pour moi et pour beaucoup de gens. Nos dernières représentations publiques ont eu lieu à Rome, en Italie, le 19 juillet et à Nice, en France, le 21 juillet, avec Billy Harper (ts), Alex Blake (b), Neil Clarke (perc) et T.K. Blue (as, fl).
Je me souviendrai toujours de son extrême gentillesse et de sa générosité. Mes quatre premières impressions sur le Dr Weston ont révélé qui il était et ce qu'il chérissait:
- Début des années 1970, Randy en concert à East Brooklyn avec son fils Azzedin sur les percussions africaines (une démonstration claire de son amour et de son mentorat pour ses enfants. Je me souviens aussi de Randy qui a invité le grand James Spaulding à la flûte).
- À la fin des années 1970, j'ai joué avec le pianiste sud-africain Abdullah Ibrahim à l'Artist House Loft d'Ornette Coleman à Soho, New York. Randy a assisté à ce spectacle avec son père Frank Edward Weston et son manager, Colette (son profond amour, son respect pour les aînés et son admiration pour les autres artistes, en particulier du continent africain).
- À la fin des années 1970, j'ai eu la première occasion de jouer avec Randy lors d'une collecte de fonds pour la SWAPO (South West African People's Organisation) et de recueillir des fonds pour lutter contre l'Apartheid en Afrique du Sud (une autre démonstration de son engagement à lutter pour les droits civils et humains dans le monde).
- Au cours de l'été 1980, j'ai eu le plaisir de travailler pour Randy et son groupe de rythmes africains à la House of the Lord Church, à Brooklyn, ce qui témoigne à nouveau de son soutien et de son dévouement pour préserver le jazz vivant dans la communauté afro-américaine, et son amour profond pour l'église afro-américaine.
Enfin, lorsque ma mère, Lois Marie Rhynie, est décédée en 2014, il y avait un problème de dernière minute avec le piano de l'église. Dr Weston a payé pour la location d'un beau piano à queue et a joué gratuitement.
Randy Weston est le dernier lien pianistique entre Duke Ellington et Thelonious Monk. Ses incursions dans l'improvisation sont clairement une manifestation du plus haut niveau concernant un génie créatif avec une originalité étonnante. Ses compositions sont au panthéon des standards de jazz renommés.
Les mots sont insuffisants pour exprimer mon amour, mon admiration, mon appréciation et ma gratitude pour un être humain aussi incroyable.
Que son esprit soit au paradis pour l'éternité. Tu vas nous manquer Baba Randy!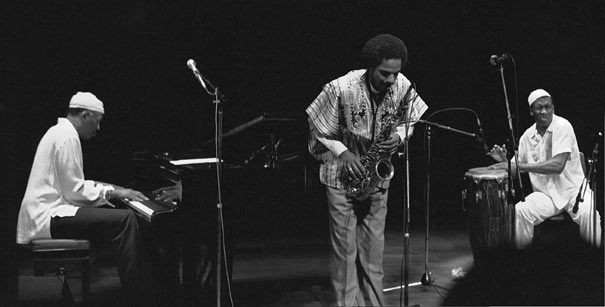 Randy Weston, Talib Kibwe (aka TK Blue), Mohammed Ben-Fatah/Sam Kelly, Avignon 1983 © Ellen Bertet
Randy was a real musical giant. I shall never forget meeting him in Geneva, quite by accident. Not only was I surprised that he recognized me, but I was even more delighted when he told me how much he had enjoyed my recording with Archie Shepp of his famous tune. He was a wonderful ambassador for the music and will be sadly missed.

Randy était un vrai géant de la musique. Je n'oublierai jamais notre rencontre à Genève, tout à fait par hasard. Non seulement j'ai été surprise qu'il me reconnaisse, mais j'étais encore plus ravie quand il m'a dit combien il avait apprécié mon enregistrement avec Archie Shepp de sa célèbre chanson. C'était un merveilleux ambassadeur de la musique et il nous manquera beaucoup.


My first trip to Tangier, Africa, was because of Randy Weston on a CTI All Stars tour. A tall man in physical as well as musical stature. What a talent!



Mon premier voyage à Tanger, en Afrique, je le dois à Randy Weston lors d'une tournée du CTI All Stars. Un grand homme à la fois au physique et sur le plan musical. Quel talent!




In 1985 I was most fortunate, along with T.K. Blue and Benny Powell, to perform Randy Weston's music in France under his direction, and under the baton of the African American contemporary classical composer Hale Smith, Maestro Weston's lifelong friend and the first inheritor of the musical instruments of Eric Dolphy. While we were on tour, Mr. Weston made me aware of how the music he had written for us was also advancing the legacy of Melba Liston, another of his lifelong friends and collaborators. As well as a masterful composer and pianist of grace and power and a fierce advocate for our community, Randy Weston was uniquely positioned to realize the power of creativity to change the world. We are all in his debt.



En 1985, j'ai eu la grande chance, avec T.K. Blue et Benny Powell, d'interpréter la musique de Randy Weston en France sous sa direction, et sous la baguette du compositeur classique contemporain afro-américain Hale Smith, ami de longue date du Maestro Weston et héritier des instruments de musique d'Eric Dolphy. Pendant que nous étions en tournée, M. Weston m'a fait comprendre comment la musique qu'il avait écrite pour nous mettait aussi en avant l'héritage de Melba Liston, une amie et collaboratrice de longue date. En tant que compositeur magistral et pianiste puissant plein de grâce et ardent défenseur de notre communauté, Randy Weston était particulièrement bien placé pour mettre en œuvre le pouvoir de la création de changer le monde. Nous lui en sommes tous débiteurs.




I am honored and grateful to have performed and recorded with the great Randy Weston over several decades! The first time was in the mid-seventies with Alex Blake. What immediately struck me was that he was uniquely different, the same way that Monk was uniquely different. An elegant man, so tall, he looked like African Royalty!! I will never forget him!!



Je suis honoré et reconnaissant d'avoir joué et enregistré avec le grand Randy Weston pendant plusieurs décennies! La première fois, c'était au milieu des années 1970 avec Alex Blake. Ce qui m'a immédiatement frappé, c'est qu'il était unique, de la même manière que Monk était unique. Un homme élégant, si grand, qu'il ressemblait à un roi africain!! Je ne l'oublierai jamais!!
I first met Randy Weston in 1960 at the original Jazz Gallery on St. Mark's Place, just off 2nd Avenue. He was a giant of a man whose heart and spirit were equal, if not greater in stature to his looming height. He had a great love for our indigenous art form: jazz. Randy had a knowledge of history and a conviction that through our art we can communicate and advance our quest for freedom and equality while pursuing the highest level of artistic expression. His quest to connect the lineage of our African ancestors took him to the far reaches of this planet. He was exemplary for all of us who knew him. Over the last six decades, we had many a joyful, bright reunion. His mastery of the piano and composition reflected the positive force and deep experience of his long life. He will be missed.

J'ai rencontré Randy Weston pour la première fois en 1960 à la Jazz Gallery originale située à St. Mark's Place, juste à côté de la 2e Avenue. C'était un géant dont le cœur et l'esprit étaient aussi élevés sinon plus que sa taille. Il aimait beaucoup notre forme d'art indigène: le jazz. Randy avait une connaissance de l'histoire et la conviction que, grâce à notre art, nous pouvions communiquer et faire progresser notre quête de liberté et d'égalité tout en recherchant le plus haut niveau d'expression artistique. Sa quête de la filiation avec nos ancêtres africains l'a conduit aux confins de la planète. Il était exemplaire pour tous ceux qui le connaissaient. Au cours des six dernières décennies, nous avons eu beaucoup de retrouvailles joyeuses et lumineuses. Sa maîtrise du piano et de la composition reflète la force positive et la profonde expérience de sa longue vie. Il va nous manquer.

He was a great pianist, loyal to Duke and Monk. He will be missed.



C'était un grand pianiste, fidèle à Duke et à Monk. Il va nous manquer.




GRÉGOIRE MAGNE (Piano Magne, Paris)
Début des années 2000, ma mère et moi-même avions sympathisé avec Randy Weston à l'occasion d'une répétition dans notre salle de concert. Nous avons été très touchés de voir à quel point ce grand musicien était d'une incroyable gentillesse, humilité et humanité. A la fin de sa première répétition, il m'avait même convié à l'accompagner aux percus!! Un souvenir gravé à jamais dans ma mémoire!! Le feeling est tellemment passé qu'il nous a proposé d'organiser deux concerts chez nous dans la plus grande simplicité et convivialité. Des moments musicaux d'une intensité rare!!
Randy Weston, c'est le musicien que l'on rêve de rencontrer dans sa vie, car au delà de l'immense talent, c'était un homme d'une humanité et d'une richesse intérieure incroyables…
Merci à lui de nous avoir fait vivre ces moments là.

At the beginning of 2000, my mother and I got along well with Randy Weston at a rehearsal in our concert hall. We were very touched to see how this great musician had such incredible kindness, humility, and humanity. At the end of his first rehearsal, he even invited me to accompany him on percussion!! A memory forever etched in my mind!! Feelings flowed so much that he proposed that we organise two concerts of utmost simplicity and conviviality at our place. Musical moments of a rare intensity!!
Randy Weston is the musician we dream to meet in life because beyond the immense talent, this was a man of humanity and incredible richness on the inside...
Thank you to him who let us live those moments.


BENNIE MAUPIN (ts, ss, bcl, fl)
Those of us who were fortunate enough to attend the final Los Angeles solo concert with Randy Weston, will always remember the master sharing with us, the musical magic from his beautiful, creative and joyful heart. Pure genius. As always he made the piano sing and sound like an entire orchestra.
A great American cultural giant.
Thank you Randy for the magic. RIP

Ceux d'entre nous qui ont eu la chance d'assister au concert solo de Los Angeles avec Randy Weston se souviendront toujours de ce que le Maître a partagé avec nous, la magie musicale de son cœur magnifique, créatif et joyeux. Un pur génie. Comme toujours, il faisait chanter et sonner le piano comme un orchestre entier. Un grand géant de la culture américaine!
Merci Randy pour la magie. Qu'il repose en paix.


Randy Weston was a teacher, a guru, a master. While many naively spoke of the connection between African and African-American heritage, he was someone who actually spent extensive time playing, studying and maintaining a business in Africa - experiencing many cultures there first hand and bringing those experiences back to America to share with all of the musicians who learned from him. He was one of the only musicians many of us knew who could seamlessly thread the sounds of the Yorubas to bebop. All the while, nurturing our culture with happiness, positivity and knowledge.

Randy Weston était un enseignant, un gourou, un maître. Alors que beaucoup ont naïvement parlé du lien entre l'héritage africain et afro-américain, il a passé beaucoup de temps à jouer, à étudier et à maintenir une activité en Afrique, explorant de nombreuses cultures dans un premier temps et rapportant en Amérique son expérience pour la partager avec tous les musiciens qui ont appris de lui. Il était l'un des rares musiciens, beaucoup d'entre nous le savent, qui pouvaient parfaitement relier les sons des Yorubas au bebop, en même temps, qu'il nourrissait notre culture avec bonheur, positivité et savoir.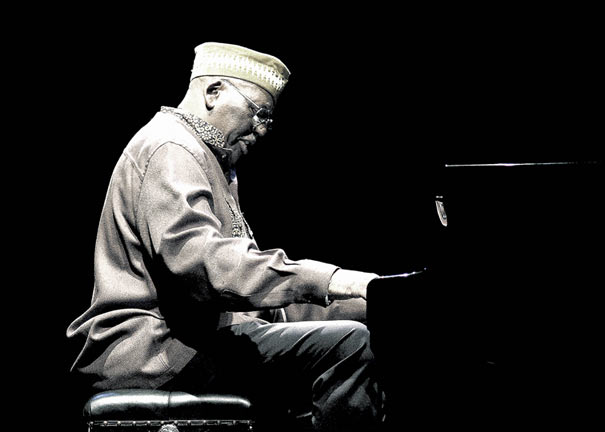 Randy Weston at Queen Elizabeth Hall, London, 2003 © David Sinclair
I remember as vividly as yesterday the moment I laid eyes on Randy Weston. In fact I remember few other details of that fateful day that my beloved father Jackie McLean had taken my younger brother Vernon and I up to Harlem to 125 Street to the Penny Arcade, which was next door to the Apollo Theater. Randy walked out of the Apollo Theater and my Dad introduced us to Randy. I was awestruck and dumb founded as I had never in my life seen or had been so close up on a human being as tall and huge as Randy Weston. The year was 1955-56. I was 9 years old. The only other huge beings I had seen up to that point in time in my life were in a movie and that movie was the 1940 The Thief of Bagdad, which stared the Indian Boy Sabu and the renowned African American actor Rex Ingram as the Giant Djinni that emerges from the bottle that washed ashore. Couldn't believe my eyes. So that was my introduction to Randy Weston more than half century ago. What a blessing. We've been friends and extended family ever since.
Randy Weston's passing, which I refer to as his transition, is an immense loss to the international community of music lovers. To really appreciate and understand Randy Weston's significance and contributions to America's classical music, one has to view Randy Weston through the lens of the culture and home in which he was raised in Black Bedford Stuyvesant Brooklyn, in a household with African culturally conscious parents whom made a point of instilling the same in Randy.
Randy Weston is an Urban Djeli (Griot), repository of mundane and historical record, having absorbed the genealogy of 100 years of the evolution of African American music and piano styles and more, which he has synthesized and assimilated out of which he created his own unique musical identity and style, yet you can hear the influence from whence he came, Willie the Lion Smith, Duke Ellington and Thelonius Monk, to name a few. Randy Weston is an international cultural icon whose contributions to American and African culture will live on forever.
Randy Weston, thank you for the gifts of your music, spirituality, wisdom, knowledge and big love that you shared with us all in this world. There is an Africanism, which states that when an elder leaves this world we lose a library. In the case of Randy Weston we've lost several universities. Hamba Gathle (Go in Peace)

Je me souviens, aussi clairement que si c'était hier, du moment où j'ai posé les yeux sur Randy Weston. En fait, je me souviens de quelques autres détails de ce jour fatidique où mon père bien-aimé, Jackie McLean, nous avait emmené mon jeune frère Vernon et moi à Harlem, sur la 125e Rue jusqu'au Penny Arcade, juste à côté de l'Apollo Theater. Randy est sorti de l'Apollo et mon père nous a présenté à Randy. J'étais stupéfait et muet, je n'avais jamais vu de ma vie, je ne m'étais jamais approché d'un être humain aussi grand et aussi imposant que Randy Weston. C'était en 1955-56. J'avais 9 ans. Les seuls autres êtres humains aussi gigantesques que j'avais vus jusque-là dans ma vie, c'était dans un film et ce film de 1940, Le Voleur de Bagdad, où apparaissait l'Indien Boy Sabu et le célèbre acteur afro-américain Rex Ingram dans le rôle du Géant Djinni. qui émerge de la bouteille qui s'est échouée. Je n'en croyais pas mes yeux. C'était donc ma rencontre avec Randy Weston, il y a plus d'un demi-siècle. Quelle bénédiction! Nous avons été amis et la famille s'est élargie pour toujours.
La disparition de Randy Weston, que je qualifie plutôt de passage, est une immense perte pour la communauté internationale des mélomanes. Pour vraiment apprécier et comprendre l'importance et la contribution de Randy Weston à la musique classique de l'Amérique, il faut voir Randy Weston dans la perspective de la culture et de la maison où il a grandi à Black Bedford Stuyvesant Brooklyn, dans une famille où les parents étaient conscients de la culture africaine au point de l'instiller dans Randy.
Randy Weston est un Djeli urbain (un Griot), dépositaire de récits banals et historiques –ayant absorbé la généalogie de 100 ans de l'évolution des styles de musique et de piano afro-américains et plus– qu'il a synthétisés et assimilés pour créer sa propre et singulière identité musicale, son style, même si vous pouvez entendre d'où il est venu, l'influence de Willie the Lion Smith, Duke Ellington et Thelonious Monk, pour n'en citer que quelques-uns. Randy Weston est une icône culturelle internationale dont les contributions à la culture américaine et africaine seront éternelles.
Randy Weston, merci pour le don de votre musique, spiritualité, sagesse, savoir et du grand amour que vous avez partagés avec nous tous dans ce monde. Un proverbe africain dit que lorsqu'un aîné quitte ce monde, nous perdons une bibliothèque. Dans le cas de Randy Weston, nous avons perdu plusieurs universités. Hamba Gathle (Va en paix)!


Je ne l'ai entendu qu'une seule fois en live (duo de pianos avec Monty Alexander) à Marseille au milieu des années 1980. Les seuls mots qui me viennent pour décrire ce qu'il se dégageait, pour moi, de son jeu et de sa personne sont: classe, intégrité, naturel, sérénité, aura. Son jeu semblait dépourvu de tout artifice.



I only ever heard him live once (piano duet with Monty Alexander) in Marseille, mid-1980's. The only words that come to me to describe what he emanated, for me, from his playing and himself are class, integrity, natural, serenity, aura. His playing seemed devoid of all artifice.



Randy was much more than a mentor to me - he was a hero. I feel honored to have known him and performed as his guest for over two decades. He was not only a musical giant, he was an African cultural ambassador and a wonderful human being.

I first met Randy in 1998, when we were sharing the same bill at a concert in Atlanta. I remember watching in amazement as he performed solo. Afterwards I was introduced to him and discovered we were both living in Brooklyn. He was curious about my instrument, the pipa (4-string Chinese lute), and quite interested in Chinese culture - as well as Chinese food. A few days later he invited me to his home. I brought a large book about the history of Chinese music and performed for him, his daughter and his grandson, Niles. He gave me several books to study, and I soon began learning more and more about African culture.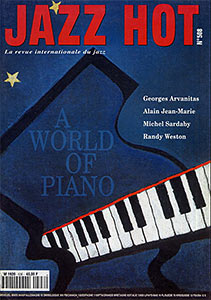 Later that year I had the pleasure of recording the album Khepera (Verve) with Randy. For me, one special highlight was a duet that we composed together titled "The Shang," which refers to the ancient Chinese Shang Dynasty (1600-1050 BC). The main premise behind the composition was the influence that Africa had on early Chinese civilization. 
I will always remember Randy Weston. May his generous spirit and noble legacy live on!

Randy était beaucoup plus qu'un mentor pour moi –c'était un héros. Je me sens honorée de l'avoir connu et d'avoir joué comme invitée depuis plus de deux décennies. Il n'était pas seulement un géant de la musique, il était un ambassadeur culturel africain et un être humain merveilleux.
J'ai rencontré Randy pour la première fois en 1998, alors que nous partagions le même engagement lors d'un concert à Atlanta. Je me souviens d'avoir regardé avec stupéfaction alors qu'il jouait en solo. Ensuite, on me l'a présenté, et j'ai découvert que nous vivions tous les deux à Brooklyn. Il était curieux de mon instrument, le pipa (luth chinois à 4 cordes), et s'intéressait beaucoup à la culture chinoise ainsi qu'à la nourriture chinoise. Quelques jours plus tard, il m'a invitée chez lui. J'ai apporté un grand livre sur l'histoire de la musique chinoise, et j'ai joué pour lui, sa fille et son petit-fils, Niles. Il m'a donné plusieurs livres à étudier, et j'ai rapidement commencé à apprendre de plus en plus sur la culture africaine.
Plus tard cette année-là, j'ai eu le plaisir d'enregistrer l'album Khepera (Verve) avec Randy. Pour moi, le duo que nous avons composé ensemble, intitulé «The Shang», fait référence à l'ancienne dynastie chinoise Shang (1600-1050 av JC). La principale prémisse derrière la composition était l'influence de l'Afrique sur la civilisation chinoise primitive.
Je me souviendrai toujours de Randy Weston. Puisse son esprit généreux et son noble héritage vivre!


In 1972, arriving fresh from Brazil, I was invited by the producer Creed Taylor to record an album. When I got there I realized that the best musicians of New York were on that session. Then I met Randy and his son. That was one of the best musical experiences of my life.
Randy Weston was sincere, profound and wise. He will be missed.



En 1972, en provenance du Brésil, j'ai été invité par le producteur Creed Taylor à enregistrer un album. Quand je suis arrivé, j'ai réalisé que les meilleurs musiciens de New York étaient sur cette session. Puis j'ai rencontré Randy et son fils. Ce fut l'une des meilleures expériences musicales de ma vie. Randy Weston était sincère, profond et sage. Il va nous manquer.
AMINA CLAUDINE MYERS (p, org, voc)
Mr. Randy Weston was a spirited musical giant whose love of mankind occurred again and again. A very warm individual who was always willing to take time to speak with me. I saw a video of him playing one of his compositions (during a Jazz Masters Ceremony) and he seemingly devoured the piano. I never saw anything like it and I wanted to get the record but he could not remember the composition. However, he gave me several CDs. His music was/is so beautiful... from his African roots into the future. A lovely man. Happily his music will always be with us.



M. Randy Weston était un géant musical inspiré dont l'amour pour l'humanité n'a jamais cessé de se manifester. Une personne très chaleureuse qui était toujours prête à prendre le temps de parler avec moi. J'ai vu une vidéo où il jouait l'une de ses compositions (lors d'une cérémonie des Jazz Masters) et il semblait dévorer le piano. Je n'ai jamais rien vu de tel, et je voulais obtenir l'enregistrement, mais il ne pouvait se souvenir de la composition. Il me donna néanmoins plusieurs CDs. Sa musique était/est si belle… depuis ses racines africaines jusque dans son futur. Un homme charmant. Heureusement, sa musique sera toujours avec nous.
HANKUS NETSKY (p, as, acc)
Like so many musicians around the world, I feel so blessed to have known and been deeply inspired by the music and world-view of Randy Weston.
I first met Randy in 1973 and had the pleasure of hosting him three times at New England Conservatory, but it was his second visit in April of 2013 that was most memorable. It took place during the week of the Boston Marathon bombing, and the entire city was on lockdown while the police searched block-by-block for the perpetrators. Randy was scheduled to perform with our big band, African drum ensemble, and several of our Middle Eastern students on Thursday night and, until the last minute, none of us knew whether that concert would actually take place. Sure enough, at 6 pm on Thursday evening, the lockdown was lifted. Randy's concert in Jordan Hall at NEC became the event that brought the residents of our city together to heave a collective sigh of relief and the feeling of joy in that hall that night was something unimaginable. I'll never forget my conversation with Randy the next day. He said that the spirit he felt that night from the musicians and the audience was something he would truly never forget.
Randy Weston's music was the deepest expression of joy, a universal expression indelibly intertwined with dance, religion, language, and social history, a powerful expression that speaks easily across cultural boundaries. For so many musicians worldwide striving to connect with their musical roots, Randy's profound example was always there to show us the way. His message: Go deep, very deep into every aspect of your cultural heritage, and when you think you've gone as deep as you can go, go even deeper until you find a profound and meaningful connection between yourself and the true spirits of your ancestors. And don't be satisfied until you learn how to make your instrument speak in the voices of those spirits.

Comme beaucoup de musiciens à travers le monde, je suis tellement heureux d'avoir été profondément inspiré par la musique et la vision du monde de Randy Weston.
J'ai rencontré Randy pour la première fois en 1973 et j'ai eu le plaisir de l'accueillir trois fois au New England Conservatory, mais c'est sa deuxième visite en avril 2013 qui a été la plus mémorable. Elle a eu lieu pendant la semaine de l'attentat sur le marathon de Boston, et la ville entière était sous couvre-feu tandis que la police cherchait les agresseurs. Randy devait se produire avec notre big band, l'ensemble des tambours africains et plusieurs de nos étudiants du Moyen-Orient jeudi soir, et, jusqu'à la dernière minute, aucun d'entre nous ne savait si ce concert aurait effectivement lieu. Bien sûr, jeudi soir à 18 heures, le couvre-feu a été levé. Le concert de Randy au Jordan Hall du NEC est devenu l'événement qui a réuni les habitants de notre ville pour pousser un soupir de soulagement collectif, et le sentiment de joie dans cette salle ce soir-là était inimaginable. Je n'oublierai jamais ma conversation avec Randy le lendemain. Il a dit que l'esprit qu'il ressentait cette nuit-là auprès des musiciens et du public était quelque chose qu'il n'oublierait vraiment jamais.
La musique de Randy Weston était l'expression la plus profonde de la joie, une expression universelle indissociablement liée à la danse, à la religion, à la langue et à l'histoire sociale, une expression puissante qui dépasse les frontières culturelles. Pour tant de musiciens du monde entier s'efforçant de se connecter avec leurs racines musicales, l'exemple de Randy était toujours là pour nous montrer le chemin. Son message: approfondissez chaque aspect de votre héritage culturel, et quand vous pensez que vous êtes allé aussi loin que possible, allez encore plus loin jusqu'à ce que vous trouviez un lien profond et significatif entre vous et les vrais esprits de vos ancêtres. Et ne soyez pas satisfaits, tant que vous n'avez pas appris à faire parler votre instrument dans les voix de ces esprits.


Randy was rather important in my development of my knowledge of the music business. I was about 17 years old and asked him for some of his lead sheets. He made an appointment and when I got there he gave me about an inch of music and told me the importance of having your music printed so you could give other musicians copies of your music. They may record some of your music and that's where you make money.
Randy was always into his African heritage in thought and music. He will be missed.

Randy a joué un rôle important dans le développement de mes connaissances du secteur de la musique. J'avais environ 17 ans, et je lui ai demandé des partitions. Il a pris rendez-vous, et, quand je suis arrivé, il m'a donné environ un pouce de musique et m'a dit l'importance de faire éditer sa musique pour pouvoir donner à d'autres musiciens des copies de votre musique. On peut enregistrer quelque chose de votre musique, et c'est là que vous gagnez de l'argent.
Randy a toujours été investi dans son héritage africain, en pensée et en musique. Il va nous manquer.


WENDY OXENHORN, JAZZ FOUNDATION OF AMERICA (cf. Jazz Hot n°668)

One of the greatest spiritual warriors whose music said more than words ever could, the one and only Randy Weston has left the planet, leaving behind a saddened world that needs his message now more than ever.
Everyone at the Jazz Foundation of America sends love to his Great Spirit, and comfort to his precious and beloved wife, Fatou, and to his beloved children, grandchildren, nephews, friends, fans and his extended "family of musicians."
We are grateful for this beautiful soul who walked among us, lifting us with his joy for life, healing us with his goodness.

L'un des plus grands guerriers spirituels dont la musique a dit plus que des mots, le seul et l'unique Randy Weston a quitté la planète, laissant derrière lui un monde attristé qui a plus que jamais besoin de son message.
Tout le monde à la Jazz Foundation of America envoie son amour pour son Grand Esprit et réconforte sa précieuse et chère épouse, Fatou, ainsi que ses enfants, petits-enfants, neveux, amis, fans et sa «famille de musiciens».
Nous sommes reconnaissants pour cette belle âme qui a marché parmi nous, nous élevant avec sa joie de vivre, nous guérissant par sa bonté.


Randy Weston was a music original. Born in Brooklyn he learned his craft on the street and in the clubs. He developed a unique and personal language on the piano that cannot be taught. He was his music and it was Africa and Harlem dipped in the black mystery systems of sound, like Monk, Hasaan Ibn Ali, and Sun Ra. He will be missed as he joins the ancestors in the band in the sky.

Randy Weston était un musicien authentique. Né à Brooklyn, il a appris son métier dans la rue et dans les clubs. Il a développé un langage unique et personnel au piano qui ne peut être enseigné. Il était sa musique et c'était l'Afrique et Harlem plongés dans les systèmes sonores du mystère noir, comme Monk, Hasaan Ibn Ali et Sun Ra. Il va nous manquer car il a rejoint les ancêtres de l'orchestre dans le ciel.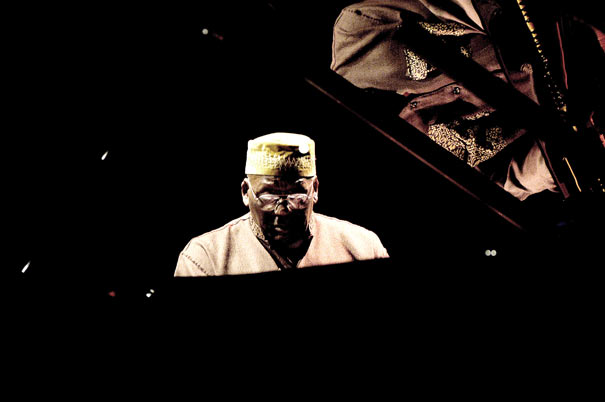 Randy Weston at Queen Elizabeth Hall, London, 2003 © David Sinclair
Randy Weston was every bit as grand as his stature. He was very good-natured and very supportive of young cats like myself. In the earliest years of me playing the Cannonball Adderley music with Louis Hayes, I seem to always recall his being at our New York appearances. "Hi-Fly" left an indelible stamp on the music and will be missed, though his presence will continue to be felt.

Randy Weston était en toutes occasions aussi grand que sa stature. Il était très gentil et très solidaire des young cats comme moi. Dans les premières années où je jouais la musique de Cannonball Adderley avec Louis Hayes, je me souviens toujours de ses apparitions à New York. «Hi-Fly» a laissé une empreinte indélébile sur la musique et il nous manquera, même si sa présence continuera à se faire sentir.


I always loved Randy Weston's sound, integrity, and vision as an artist. The way he connected, loved and mentored his band was an example of true democracy.
I will never forget the first time he came to the Panama Jazz Festival. He told us his father was Panamanian, so he was hoping he could find ancestors in Panama or birth documents… He went to the register office and found his father's passport. I will never forget how happy he was about it. My wife and I said, "Randy, now we can claim you as Panamanian!" He said, "Yes, just like my bass player Alex Blake." I could tell this went right to his heart because he loved his father very much.
Then, in 2016, we dedicated the Panama Jazz Festival to him. He was very grateful for that. My wife Patricia and I remained very close friends with him and his wife Fatoumata. He came to the Jazz Standard in New York last year when I was playing Panamonk Revisited Trio, with Terri Lynn Carrington and Ben Street. My wife Patricia said they were enjoying and commenting on every musical turn we did.
After the set, Randy said, "Danilo love what you are doing. My brother, you got it… Do not ever forget it, please share the blessing." And that was the last time I saw him.
I will always remember Randy as one of the most beautiful human beings and visionaries of this music and we are blessed to have been in his presence.

J'ai toujours aimé le son, l'intégrité et la vision de Randy Weston en tant qu'artiste. La façon dont il a connecté, aimé et encadré son groupe était un exemple de véritable démocratie.
Je n'oublierai jamais la première fois qu'il est venu au Panama Jazz Festival. Il nous a dit que son père était panaméen; alors il espérait pouvoir trouver des ancêtres au Panama ou des documents de naissance… Il est allé à l'Etat civil et a trouvé le passeport de son père. Je n'oublierai jamais combien il en avait été heureux. Ma femme et moi lui avons dit: «Randy, maintenant nous pouvons vous revendiquer comme Panaméen!» Il a répondu: «Oui, tout comme mon bassiste Alex Blake.» Je peux dire que ça lui allait droit au cœur car il aimait beaucoup son père.
Puis, en 2016, nous lui avons dédié le Panama Jazz Festival. Il en a été très reconnaissant. Ma femme, Patricia, et moi sommes restées très proches avec lui et sa femme Fatoumata. L'année dernière, il est arrivé au Jazz Standard à New York alors que je jouais au Panamonk Revisited Trio avec Terri Lynn Carrington et Ben Street. Mon épouse Patricia a dit qu'ils appréciaient et commentaient chaque moment musical. Après le set, Randy m'a dit: «Danilo, tu peux aimer ce que tu fais. Mon frère, tu l'as… Ne l'oublie jamais, s'il te plaît, partage ton don. » Et c'était la dernière fois que je le voyais.
Je me souviendrai toujours de Randy comme l'un des plus beaux êtres humains et visionnaires de cette musique et nous avons la chance d'avoir été en sa présence.


Randy Weston was, is, and always will be one of the major forces and personal heroes in modern culture. Randy Weston's stature and integrity as a musician (pianist, composer, band leader) and cultural diplomat
has always been of the highest order. We will miss him.

Randy Weston a été, est et sera toujours l'une des forces majeures et de mes héros personnels de la culture moderne. La stature et l'intégrité de Randy Weston en tant que musicien (pianiste, compositeur, chef d'orchestre) et ambassadeur de la culture ont toujours été du plus haut niveau. Il va nous manquer.


I am deeply saddened to hear of the passing of the magnificent Randy Weston. For me, he was the most gracious human being to walk the planet. He was brilliant pianist and composer, but in addition, he was a gentle soul that loved the music and performed all over the world. Randy Weston was one of our most revered important ambassadors of our music. I will miss his presence. Our sincerest condolences to his family.
A brief memory: I cannot remember the exact date of this incident, but it was well over twenty-five years ago. I was the Director of Jazz Studies and Performance at William Paterson University and we had Randy Weston as our Guest Artist on one of our WPA Jazz Room seasons. He performed solo piano and also was featured with our university big band. I remember the concert was a huge success and the students and audience were enraptured by this imposing individual. It was electrifying to witness. After his encore, I had never seen any of our guest artists literally walk up to each of the 18+ players and shake their hands and give them a hug, too! The players were shocked and, I might add, very pleased from this gesture. The audience applauded constantly until he left the stage. This will be a glowing special memory of a great artist and human being for me forever!

Je suis profondément attristé d'apprendre le décès du magnifique Randy Weston. Pour moi, il était l'homme le plus gracieux à avoir marché sur la planète. C'était un pianiste et compositeur brillant, mais en plus, il était une âme douce qui aimait la musique et se produisait partout dans le monde. Randy Weston était l'un des plus importants ambassadeurs de notre musique. Sa présence va me manquer. Nos sincères condoléances à sa famille.
Un bref souvenir: je ne me souviens pas de la date exacte de cet incident, mais il y a plus de vingt-cinq ans. J'étais le directeur des études de jazz et de la performance à l'Université William Paterson et nous avons eu Randy Weston comme artiste invité sur l'une de nos saisons WPA Jazz Room. Il a joué en piano solo et a également été présenté avec notre big band universitaire. Je me souviens que le concert a été un énorme succès et que les étudiants et le public ont été ravis par cette personne imposante. C'était électrisant d'être là. Après son rappel, je n'avais jamais vu aucun de nos artistes invités s'adresser littéralement à chacun des 18 instrumentistes voire plus, leur serrer la main et les embrasser aussi! Les musiciens ont été choqués et, je dois ajouter, très heureux de ce geste. Le public a applaudi sans discontinuer jusqu'à ce qu'il quitte la scène. Ça restera,
pour moi,

un souvenir
spécial,
gravé
à jamais,

d'un grand artiste et d'un être humain!

When I heard that Randy stepped over, I actually had a joyful feeling. He was a special, beautiful human being whose wonderful aura did not disappear but grew larger with his passing.

Quand j'ai entendu dire que Randy était parti, j'ai réellement eu un sentiment de joie. C'était un être humain spécial et magnifique dont l'aura merveilleuse n'a pas disparu mais s'agrandit avec son décès.


My heart is broken! Randy Weston was our griot, our teacher! I'm very sad by this, but yes, he is with the ancestors now.

Mon coeur est brisé! Randy Weston était notre griot, notre professeur! Je suis très triste de cela, mais oui, il est avec les ancêtres maintenant.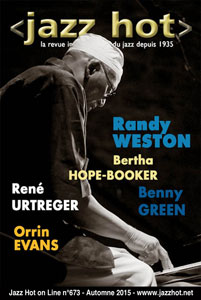 Hearing about the death of Randy Weston made me think about my dear friend, the late baritone saxophonist Cecil Payne, who grew up with Randy in Brooklyn in the 1940s and 1950s. I was very fortunate to have had many opportunities to play and record with Cecil, and he loved playing Randy's tunes. He showed me the symmetry in Randy's compositions, and simply how great and enjoyable they were and are to play. One of the songs he really loved was the song that isn't often played, called "Saucer Eyes." Cecil made a really beautiful recording of it with trumpeter Kenny Dorham.
I guess I could say that through Cecil, I felt like I knew Randy even though we never met. And I think that every jazz musician should explore the mastery of Randy Weston. He was a true genius of simplicity and melody.

En entendant parler de la mort de Randy Weston, cela m'a fait penser à mon cher ami, le défunt saxophoniste Cecil Payne qui a grandi avec Randy à Brooklyn dans les années 1940 et 1950. J'ai eu beaucoup de chance de pouvoir jouer et enregistrer avec Cecil, et il adorait jouer les airs de Randy. Il m'a montré la symétrie dans les compositions de Randy et à quel point elles étaient formidables et agréables à jouer. Une des chansons qu'il aimait vraiment était la chanson qui n'est pas souvent jouée intitulée «Saucer Eyes». Cecil en a fait un très bel enregistrement avec le trompettiste Kenny Dorham.
Je suppose que je pourrais dire que par Cecil, je sentais que je connaissais Randy même si nous ne nous sommes jamais rencontrés. Et je pense que chaque musicien de jazz devrait explorer la maestria de Randy Weston. C'était un véritable génie de la simplicité et de la mélodie.


Mon souvenir le plus indélébile de Randy Weston reste celui d'un concert en solo, dans un espace public, dans un des immeubles juste à côté de ce qui était alors le World Trade Center, l'été juste avant le 11 septembre 2001. C'était un concert pendant lequel une bonne vingtaine de pianistes de jazz, d'horizons divers, se succédaient au cours de la journée pour jouer vingt minutes chacun. Il me semble que le thème unificateur était la musique de Thelonious Monk. Je suis resté quatre heures, et c'était intéressant d'écouter les conceptions diverses de chaque musicien, de ressentir leur toucher, leur phrasé sur le même piano. Tout d'un coup, Randy Weston est arrivé, et je me rappelle bien à quel point son jeu était différent. Il y avait là un degré d'évidence, une force rythmique, une clarté d'expression qui dépassaient complètement le cadre du piano. On savait immédiatement qu'on avait affaire à un Maître, à quelqu'un qui avait trouvé ses propres réponses pour accéder à l'essentiel: faire entendre une musique unique, forte, ancrée dans le rythme, débarrassée de toute tentation non essentielle d'ordre pianistique. Ça tranchait particulièrement dans le cadre dans lequel on était...

My most indelible memory of Randy Weston remains that of a solo concert, in a public space, in a building near what was the World Trade Center, the summer just before 11 September 2001.
This was a concert during which a good twenty or so jazz pianists, of diverse horizons, succeeded over the course of the day to play twenty minutes each. It appeared to me that the overall theme was the music of Thelonious Monk. I stayed for four hours, it was interesting to listen to the diverse conceptions of each musician, to feel their touch, their phrasing on the same piano. Suddenly, Randy Weston arrived, I remember the moment well, his playing was different. There was a degree of the obvious, strong rhythm, a clear expression that completely passed the limits of the piano. We knew immediately that we were dealing with a Master, with someone who had found their own responses to access the essential: to make hear a music unique, strong, anchored in rhythm, cleared of all temptation of unessential piano style. This particularly stood out in the surroundings that we were in...


ARCHIE SHEPP (as, ss, ts, fl, p, voc)
Randy Weston was a great man and an important transformational figure in world music.



Randy Weston était un grand homme et une figure transformationnelle importante dans la musique du monde.
Like many people, I first heard Randy Weston's name on a Cannonball Adderley record in the late 1950s. The album Live in San Francisco featured Randy's composition "Hi Fly" and when he introduced the song Cannonball jokingly referred to Randy as "a latter day Wayne King" I took it as a reference to the fact that Randy was not afraid to write songs in ¾ time. Back then, very few musicians were doing that. Randy was a gentle giant of a man. Large physically, spiritually and emotionally, he generously shared his knowledge and experience. He was devoted to the African roots of the music and once, when we met up in Madrid, we spoke of my book Black Talk, which he had read and which he liked because he believed in the family of man and that the music we played was the mother tongue.

Comme beaucoup de gens, j'ai entendu le nom de Randy Weston pour la première fois sur un disque de Cannonball Adderley à la fin des années 1950. L'album Live in San Francisco comprenait la composition de Randy «Hi Fly» et quand il a introduit le morceau, Cannonball a qualifié Randy, en plaisantant, de «Wayne King de notre époque», du fait que Randy n'avait pas peur de composer en ¾ temps. Peu de musiciens le faisaient alors. Randy était un gentil géant. Grand physiquement, spirituellement et émotionnellement, il a généreusement partagé ses connaissances et son expérience. Il était dévoué aux racines africaines de la musique. Un jour, nous nous sommes retrouvés à Madrid et nous avons parlé de mon livre Black Talk, qu'il avait lu et qu'il aimait parce qu'il croyait en la famille de l'homme et que la musique que nous jouions était sa langue maternelle.


I had the pleasure of meeting Randy Weston first in N.Y. where we were living together.
Last, he had a club in Moroco. Then, whe met in Paris and the last time was at Maurice Cullaz funeral.
He was a talented musician and a very nice man. Of course, I played some of his compositions.
I think that he was around 92, younger than me! I will be 99 soon.
I have many nice memories of him and I want to thank you for your kindness to me and to many other musicians.

J'ai eu le plaisir de rencontrer Randy Weston d'abord à New York où nous vivions ensemble.
Enfin, il avait un club au Maroc. Ensuite, nous nous sommes rencontrés à Paris et la dernière fois à l'enterrement de Maurice Cullaz.
C'était un musicien talentueux et un homme très gentil. Bien sûr, j'ai joué certaines de ses compositions.
Je pense qu'il avait environ 92 ans, plus jeune que moi! J'en aurai bientôt 99.
J'ai beaucoup de bons souvenirs de lui, et je veux vous remercier pour votre gentillesse envers moi et pour beaucoup d'autres musiciens.


WARREN SMITH (dm, perc, vib)
I met Randy Weston in 1956. I was a student at Tanglewood, the summer camp of the Boston Symphony Orchestra. There was a resort across the road (literally), and Randy played piano there in the evenings. I went there and met Max Roach, who was playing in the area and was an old friend of Randy's. They both encouraged me to move to New York, which I soon did to finish graduate school. We remained friends after that. Just a few weeks ago, we met in Penn station, on our way to different gigs. Randy gave me a big hug, as usual. I had no idea that would be the last time I saw him standing tall and full of love and friendship. Randy had his own style as a composer and pianist that was instantly recognizable.
We will continue to celebrate him and his music and his memory.
Peace and love to all his family, which I promise to carry along with his presence as long as I'm still alive.

J'ai rencontré Randy Weston en 1956. J'étais étudiant à Tanglewood, le camp d'été du Boston Symphony Orchestra. Il y avait un complexe hôtelier de l'autre côté de la rue (littéralement) et Randy y jouait du piano le soir. Je suis allé là-bas, et j'ai rencontré Max Roach qui jouait dans la région et était un vieil ami de Randy. Ils m'ont tous deux encouragés à déménager à New York, ce que j'ai vite fait pour terminer mes études supérieures. Nous sommes restés amis après cela. Il y a quelques semaines, nous nous sommes rencontrés à la gare de Penn, en route pour différents concerts. Randy m'a pris dans ses bras, comme d'habitude. Je ne savais pas que ce serait la dernière fois que je le voyais grand et plein d'amour et d'amitié. Randy avait son propre style en tant que compositeur et pianiste qui était immédiatement reconnaissable.
Nous continuerons à le célébrer ainsi que sa musique et sa mémoire.
Paix et amour à toute sa famille, que je promets de conserver en moi avec sa présence aussi longtemps que je suis encore en vie.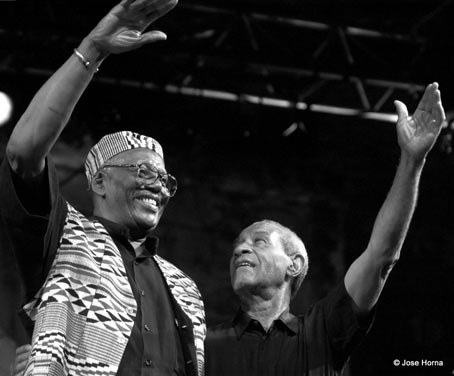 Randy Weston et Max Roach, Jazzaldia San Sebastian 1999 © Jose Horna
Je n'ai pas eu la chance d'entendre en direct Randy Weston. J'ai en tête sa magnifique musique des années 1950 avec ce qu'il faut d'influence de Duke Ellington! Nous connaissons tous «Hi-Fly» et j'aime particulièrement sa composition «Little Niles» dont il existe une formidable version par Bill Stewart, parue dans son tout premier disque Think Before You Think (Joe Lovano, Dave Holland, Marc Copeland). Comme tous les grands, il est moderne pour toujours!

I never had the chance to hear Randy Weston in person. In my head, I have his magnificent music from the 1950's with the necessary influence of Duke Ellington! We all know «High-Fly» and I especially like his composition «Little Niles». There is a fantastic version of this by Bill Stewart, on his first album Think Before You Think (Joe Lovano, Dave Holland, Marc Copeland). Like all the greats, he is eternally modern.


HENRY THREADGILL (as, ts, fl, cl, perc)
It's my pleasure to have a word about Mr. Weston.
Randy Weston, I always thought of him as a maverick in relation to most of his peers.
He found his own direction and approach to jazz improvisation through his understanding of African music.
I've always admired his high sensibility, sensitivity, single mindedness, and just humanistic class.
We have been fortunate to have had a positive contributor to music and life.
I think it's a better world because of that.
All honor and respect to a great man.

C'est un vrai plaisir pour moi de parler de M. Weston.
Randy Weston, je l'ai toujours considéré comme un franc-tireur par rapport à la plupart de ses pairs. Il a trouvé sa propre direction et son approche de l'improvisation jazz grâce à sa compréhension de la musique africaine.
J'ai toujours admiré sa grande sensibilité, sa délicatesse, sa détermination et sa classe d'humaniste.
Nous avons la chance d'avoir sa contribution positive à la musique et à la vie.
Je pense que le monde est meilleur grâce à lui.
Honneur et respect au grand homme.


The vibration of the planet has shifted. This man made such a strong impression in this realm that we felt safe and secure with the feeling that our immortal rock would always be with us, even as he aged, we never saw it. You can truly say he was in that eternal stream of consciousness, where there is no old, there is no young, it is eternal. God bless the gentle Aries giant! Randy Weston lives on!

La vibration de la planète a changé. Cet homme a fait une telle impression dans ce royaume que nous nous sommes sentis en sécurité avec le sentiment que notre rocher immortel serait toujours avec nous; même s'il a vieilli, nous ne l'avons jamais perçu. Vous pouvez vraiment dire qu'il était dans cet éternel courant de conscience, où il n'y a pas d'ancien, il n'y a pas de jeune; c'est éternel. Que Dieu bénisse le gentil Bélier géant! Vive Randy Weston!


Randy was giant is so many ways -a great composer, a great pianist and rhythmic innovator- a very tall man and a very important voice in jazz music who taught us the importance of the connection to Africa -the true roots of the music- rhythmically and spiritually. We were friends but I only played with him one time -and we played «Hi Fly»! He had such a warm, gentle and friendly spirit. I will miss him -we will miss him- a true artist!



Randy était un géant à de multiples égards, un grand compositeur, un grand pianiste et innovateur rythmique: un très grand homme et une voix très importante dans la musique de jazz qui nous a appris l'importance du lien avec l'Afrique; c'est-à-dire les véritables racines de la musique, rythmiquement et spirituellement. Nous étions amis mais je n'ai joué qu'une seule fois avec lui –et nous avons joué «Hi Fly»! Il avait un esprit chaleureux, doux et amical. Il va me manquer, il va nous manquer. Un véritable artiste!




It is with deep sadness that we mourn the passing of a wonderful spirit, Randy Weston.
May his musical influence continue to live on in us, and may his legacy influence generations to come.

C'est avec une profonde tristesse que nous pleurons le passage d'un esprit merveilleux, Randy Weston.
Puisse son influence musicale continuer à vivre en nous et son héritage influencer les générations à venir.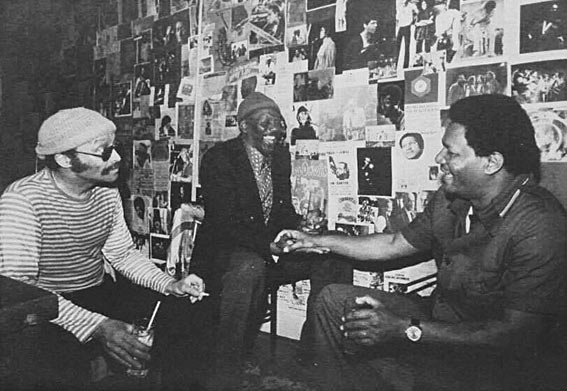 Cecil Taylor, Randy Weston and McCoy Tyner sharing stories in Todd Barkan's office at Keystone Korner in 1978
© photo X by courtesy of Todd Barkan
I first met Randy when I was with the Messengers. We spent an unforgettable evening at his home in the south of France with Art and him sharing stories. Ever since that evening I was embraced as a friend and a family member and because of living his life with grace and love, he received the greatest blessing and honor anyone of us could ask for, to pass away peacefully in his sleep. Only celebration!! Rest in Peace Mr. Weston.



J'ai d'abord rencontré Randy quand j'étais avec les Messengers. Nous avons passé une soirée inoubliable chez lui dans le sud de la France avec Art et lui pour partager des histoires. Depuis ce soir, j'ai été admis en tant qu'ami et membre de la famille et, parce qu'il vivait sa vie avec grâce et amour, il a reçu la plus grande bénédiction et le plus grand honneur que chacun d'entre nous pouvait demander pour mourir paisiblement dans son sommeil. Rien qu'une célébration!! Reposez en paix M. Weston.
I had the good fortune of playing a concert with Randy Weston in Croatia years ago. It was amazing! I really enjoyed playing his music, our conversations at dinner and his presence.
He was truly a gracious man.

J'ai eu la chance de jouer un concert avec Randy Weston en Croatie, il y a des années. C'était incroyable! J'ai vraiment aimé jouer sa musique, nos conversations au dîner et sa présence.
C'était vraiment un homme plein de grâce.