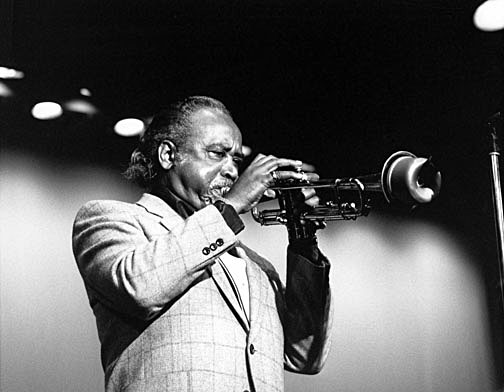 Harry Sweets Edison, Norway Jazz Cruise 1987 © Ray Avery/CTSIMAGES
Harry Sweets EDISON
Sweets, ma non troppo

Harry Edison est né à Columbus (Ohio) le 10 octobre 1915. Il avait un doute sur son année de naissance, lui-même évoquant même 1919. Né d'un père amérindien-apache qui abandonna sa mère afro-américaine très rapidement, il est élevé dans la ferme de son oncle, également mineur, à Louisville, dans le Kentucky, qui lui enseigne les rudiments de la musique sur un orgue à soufflet et un cornet, un vieil instrument acheté pour ses 9 ans. Harry écoute alors les disques de Bessie Smith avec Louis Armstrong de la collection de son oncle. C'est à 12 ans qu'il retourne vivre avec sa mère qui, devant son habileté musicale et suite à une fièvre typhoïde qui faillit l'emporter, lui offre une trompette et un smoking (1927).
Disciple de Roy Eldridge, Harry Edison propose une alternative évolutive à Dizzy Gillespie: la sobriété du discours.
Comme Harry James, Harry Edison vient des big bands de la swing era, mais il reste à l'écart des tentations commerciales ou virtuoses. Son approche, qui va à l'essentiel, fait de lui un artisan majeur du jazz mainstream: «J'aime la simplicité d'expression, et j'ai horreur des musiciens sans substance qui improvisent pendant une demi-heure pour le plus souvent ne rien dire, ne rien exprimer.» (Jazz Hot n°260, 1970, p.13).
Son influence est marquante, et elle s'est exercée sur de nombreux trompettistes au cours d'une longue et brillante vie artistique de plus de 70 ans consacrée toute entière au jazz, avec un art consommé de l'accompagnement qui fait le bonheur des grandes voix du jazz. Prisé par les grands arrangeurs comme Nelson Riddle, Benny Carter et les célébrités (Frank Sinatra…), il fait aussi partie de ces trompettistes d'exception qui ont eu plaisir à se retrouver, à l'initiative de Norman Granz, dans des Trumpet Kings de légende avec Roy Eldridge, Dizzy Gillespie et Clark Terry. Il a enfin croisé dans ses rencontres le gotha des saxophonistes –Lester Young, Ben Webster, Coleman Hawkins, Dexter Gordon, Charlie Parker, Benny Carter, Eddie Lockjaw Davis, Sonny Stitt…) et plus largement des musiciens du jazz (Billie Holiday, Ella Fitzgerald, Duke Ellington, Count Basie, Jo Jones, Oscar Peterson…), ce qu'illustre parfaitement une discographie aussi abondante qu'exceptionnelle sur le plan artistique.

Michel Laplace
Photos Ray Avery/CTSIMAGES, David Sinclair et Lisiane Laplace

© Jazz Hot n°678, hiver 2016-2017
«Sweets met toujours beaucoup d'humour dans son jeu, qui est très vivant,
et il peut aussi swinguer comme un enfoiré, avec ou sans sourdine,
sans parler de son art consommé de l'utilisation de la sourdine "derby".» (Count Basie1)
THE BASIE YEARS

Harry joue d'abord dans les Morrison's Grenadiers et pour Earl Hood, sans pouvoir vraiment gagner sa vie, puis au sein des Crakerjacks d'Eddie Johnson avant de partir à St. Louis, Missouri, et de succéder à Peanuts Holland dans l'Orchestre Jeter-Pillars (1933-36)2. C'est en février 1937 qu'il part pour New York et est engagé, en raison de son aisance naturelle, dans le Mills Blue Rhythm Band que dirige Lucky Millinder (disques Variety, 1937, New York)3. Harry se trouve entre autres aux côtés de Carl Warwick (premier tp) et Charlie Shavers (tp solo). Il perd de temps en temps sa place quand un certain Dizzy Gillespie fait un passage dans l'orchestre de Lucky Millinder.

Le grand saut vers la notoriété est sa longue présence dans l'orchestre de Count Basie (1938-1950). Count Basie consacre une page à son recrutement dans son autobiographie, Good Morning Blues: «Un soir de la première semaine de février (1937), nous sommes allés à Baltimore, à L'Armory, pour une bataille d'orchestres avec Lucky Millinder […], et c'en fut vraiment une. Nous sommes passés en premier, et nous avons dû jouer 15 à 20 minutes avant que Lucky s'amène avec son orchestre, je pensais que nous jouions très bien […]. Soudain Lucky est arrivé et a sauté sur la petite caisse sur laquelle il aimait à se jucher, et, quand l'orchestre a démarré, tout le monde a fait silence, et toute l'assistance s'est mise à danser […]! Lucky et ses gars avait mis le feu aux poudres, et de quelle façon! Wouah! Ce fut une rude soirée. Lucky avait beaucoup de musiciens de tout premier plan[...]. Dans la section des trompettes, il avait Carl Bama Warwick et Harry Edison, […] c'était Andy Gibson (tp) qui écrivait les arrangements […]. Lucky se contentait de diriger, mais il le faisait magistralement, et il aurait presque pu donner des leçons à Cab Calloway et Willie Bryant. le Pittsburgh Courrier et d'autres journaux nous ont déclaré vainqueurs de justesse aux points, mais là où nous avons incontestablement marqué un point sur Lucky, c'est en lui fauchant Sweets Edison. Jo Jones et Big'Un (Walter Page) avaient joué avec lui dans l'orchestre de Jetter-Pillars à St. Louis, et ils l'ont baratiné pour qu'il vienne chez nous, où il s'est tout de suite entendu comme larrons en foire avec Buck Clayton et Ed Lewis.» 1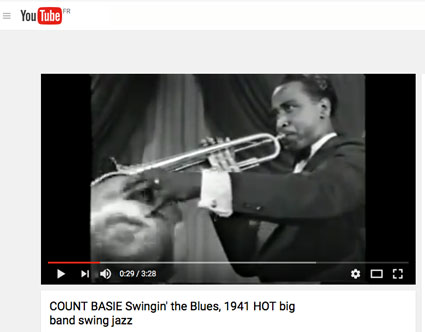 Il se trouve d'abord aux côtés de Buck Clayton qui lui apprend à lire la musique. C'est Lester Young, ami et influence, qui le surnommait «Sweetie Pie» (petit ami ou tarte sucrée) qui, contracté, donna «Sweets». Contrairement à ce qu'on écrit, ce n'est pas parce qu'Harry a une sonorité douce. Une explication fut donnée par Sweets: «Dans l'orchestre de Basie, j'ai très vite eu la réputation d'adorer les douceurs: gâteaux, bonbons, chocolats, etc.» (Jazz Hot n°260, 1970 p.12). Ses premiers coups d'essai en tant que soliste chez Count Basie démontrent son jeu swing sans mièvrerie. On ne compte plus les chorus de classe qu'il grave avec le Big Band de Count Basie: «Every Tub», «Sent for You Yesterday», «Texas Shuffle», «Panassié Stomp» (1938), «Rock-a-bye Basie», «Jump for Me», «Miss Thing», «Pound Cake» (1939), «Moten Swing» (1940), «Jump the Blues Away», «9:20 special» (1941), «Taps Miller» (1945), «Stay Cool» (1946). Sur les V-Discs il se montre plus puissant encore («Circus in Rhythm», 1944, Palm Club 04). La dissolution du big band de Count Basie, version «ancien testament», en 1950, marque la fin de la collaboration de Sweets Edison avec Count Basie (qu'il retrouvera épisodiquement), et donne le signal de départ vers la Côte Ouest. Harry Edison s'installe à Los Angeles.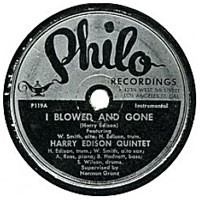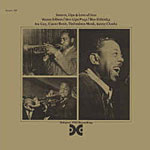 C'est en petite formation qu'il boucle ces gravures historiques avec Count Basie (février 1950: «Sweets», Victor LP 741042). Parallèlement à l'activité basienne, Sweets est parmi les musiciens réunis à Hollywood par le photographe Gjon Mili pour le court métrage Jammin' the Blues (août-septembre 1944); on y trouve aussi Lester Young. Avec Count Basie, il avait déjà participé à un film en 1941 (avec solo) et trois en 1943 dont Hit Parade of 1943 d'Albert Rogell. Au cours de l'été 1943 (ou 1944) à Los Angeles, il enregistre quatre titres sous le nom d'un Dexter Gordon encore sous l'influence de Lester Young (Nat King Cole, p). Il fut convié au sein du Metronome All Star Band (janvier 1946, «Look Out»: solo d'Harry, Cootie Williams et Rex Stewart, Victor 40-4000) et à une séance pour Jimmy Rushing (1946). En dehors d'un «Hold the phone» de septembre 1941 (Xanadu 123), Harry Edison réalise la première séance de disques sous son nom en octobre 1945, avec Willie Smith (as), Arnold Ross (p), Billy Hadnott (b) et Shadow Wilson (dm) («Ain't Cha Gonna Do It?», Aladdin 120). Le même mois, le n°1 (nouvelle série) de Jazz Hot (p.7) présente Harry Edison sous la plume d'Hugues Panassié: «Lorsqu'Harry Edison attaque un chorus, il y a chez lui une force sourde, une tension extrême, un swing énorme...». Il se produit avec le JATP (dès septembre 1950, film avec Lester Young, Flip Philips, ts).
UNE RÉFÉRENCE DU JAZZ MAINSTREAM ET WEST COAST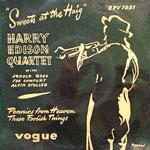 On ne compte plus les disciples d'Harry Edison: Eddie Roane, Harry Pee Wee Jackson, Shorty McConnell, Sam Massenberg, Joe Morris, Joe Newman, Snooky Young, Emmett Berry, Taft Jordan, Irvin Stokes, le trombone Benny Powell. Sweets travaille régulièrement pour Buddy Rich (1951-53), notamment en tournée avec Joséphine Baker (à la fin de la tournée, Harry se fixe à Beverly Hills). Il s'intègre dans tous les sens du terme aux jazzmen locaux. C'est une période féconde, mais Harry Edison dut attendre le 1er juillet 1953 pour qu'un vinyle paraisse sous son nom (Haig Club de Los Angeles, Pacific Jazz 11, repris par Vogue). Il est en compagnie d'Arnold Ross (p), Joe Comfort (b) et Alvin Stoller (dm).

En août 1954, il retourne en studio pour Buddy Rich (Norgran 126: un solo qui n'a rien de doux dans «Sweet' Opus no1»). L'année 1955 est chargée. Pour Cy Touff (btp), Harry n'est pas moins habile («Keester Parade»). Il est en septembre l'un des géants aux côtés d'Art Tatum d'une séance plus mémorable pour Lionel Hampton («Verve Blues»). C'est à New York qu'Harry Edison se joint à Dizzy Gillespie et Roy Eldridge avec le trio Oscar Peterson et Buddy Rich («Tour de Force», «Steeplechase»). Sweets enregistre en coleader avec Lester Young (Norgran 1043: «Mean to Me» anthologique).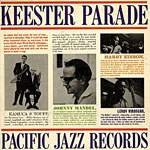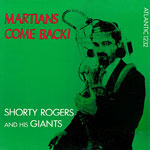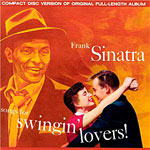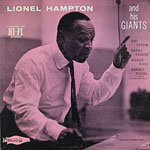 De retour à Los Angeles, il fait deux séances Atlantic pour Shorty Rogers, l'une en septet («Dickie's Dream»), l'autre pour cinq trompettes et rythmique («Serenade in Sweets»). Dave Cavanaugh réunit douze «requins» dont Sweets au Studio A de Capitol pour une Session at Midnight. Cette excellente séance donne à entendre un échange de trompette entre Sweets, Benny Carter (!) et Shorty Sherock («Blue Lou»). En 1955, Harry Edison fait la couverture de Jazz Hot (février, n°96).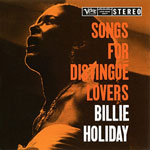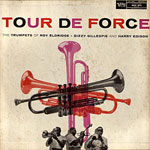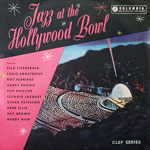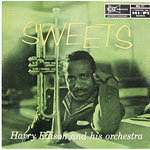 L'année 1956 n'est pas moins marquante. En août, à Hollywood, Harry et son complice Ben Webster enregistrent pour Billie Holiday, puis, en janvier 1957, la matière à trois albums regroupés en un double CD (Billie Holiday Verve Story, vol.7). En février, Quincy Jones produit l'album Go West, Man!, et a l'idée d'une séance à quatre trompettes (Sweets, les frères Candoli et Jack Sheldon) avec rythmique («Blues Day»). Le 15 août, Norman Granz organise un concert à l'Hollywood Bowl où sont conviés Sweets et Roy Eldridge qui rivalisent dans «Jumpin' at the Woodside». Le final n'est autre que «When the Saints» mené par... Louis Armstrong! En septembre, l'entente parfaite entre Harry et Ben Webster donne l'album Sweets, très bon exemple de jazz mainstream, avec le trompette en pleine maturité: élégance, inspiration, sobriété, logique, netteté des émissions, effets discrets et bien amenés.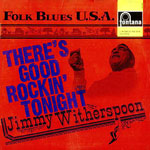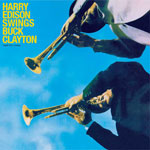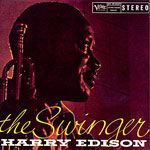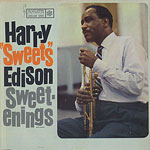 Avant Joe Wilder (1957) et Clark Terry (mars 1960) à New York, Harry Edison est l'un des premiers de sa communauté à s'intégrer sans difficulté aux activités de studio, et malgré le fait, contrairement aux autres, qu'il n'est pas bon lecteur. Bien évidemment, Sweets n'a jamais été un premier trompette de section, mais un soliste («Don't give him any charts», Nelson Riddle). Dans ce milieu, grâce à Riddle, il devient le trompette préféré de Frank Sinatra (1955-56, Song for Swingin' Lovers, Capitol). Mais il n'a jamais cessé la pratique du jazz. En 1957, Harry Edison et Ben Webster participent au disque Some of My Favorites pour Red Norvo («Just a Mood», hommage de Sweets à Harry James). Sweets et Ben réalisent en mars l'album Gee, Baby Ain't I Good to You, avec Oscar Peterson, qui n'a pas la sobriété de Jimmy Rowles.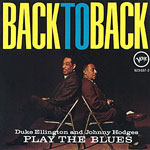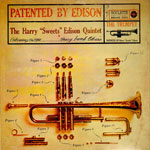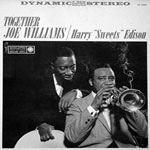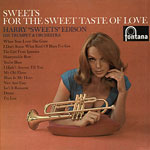 En mai 1958, Harry a enregistré pour Jimmy Witherspoon (There's Good Rockin' to Night, Fontana: «Sweets' Blues»). Son quintet partage l'affiche avec Count Basie au Birdland de New York. En 1958-60, Sweets fait désormais équipe avec le trop méconnu Jimmy Forrest (ts). C'est le cas pour la confrontation réussie avec Buck Clayton (Harry Edison Swings Buck Clayton and Vice Versa) et les albums sous son nom chez Verve, The Swinger et Mr. Sweet, puis pour Roulette: Sweetenings. Février 1959, c'est la rencontre aux studios Columbia de New York de Sweets avec Johnny Hodges et Duke Ellington! Trois titres dans Side by Side, et surtout l'album Back to Back: Sweets aborde ici les thèmes du jazz traditionnel: «Basin Street Blues», «Beale Street Blues», etc. En mars, Sweets joue dans le remarquable disque de Paul Quinichette (ts) et son Swingtette (Harry, Shad Collins, Snooky Young, Dick Vance, tp, Al Grey, tb: «Holly Main», «Jump for Me», Voix de son Maître 222S).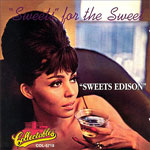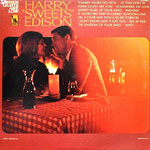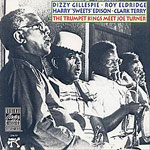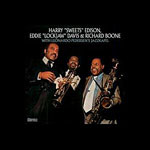 En 1960, il renouvelle l'expérience sax ténor-quatre trompettes, cette fois pour Budd Johnson chez Riverside. Ces Four Brass Giants sont Harry Edison (tp sourdine), Clark Terry (flh), Nat Adderley (crt), Ray Nance (tp plunger) (dans cet ordre: «All My Love»). De 1961 à fin 1962, sur la recommandation de Count Basie, Sweets accompagne régulièrement Joe Williams dans les clubs californiens. En avril 1962, Harry Edison commence une association avec le vigoureux Eddie Lockjaw Davis (Jawbreakers, Riverside 430).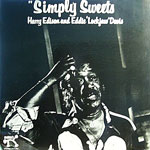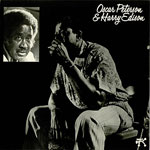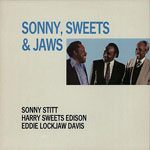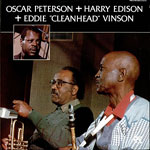 En juillet 1964, il retrouve l'orchestre de Basie pour un disque chez Reprise de Frank Sinatra. Puis, c'est une tournée en Europe avec Coleman Hawkins, Sir Charles Thompson (p), Jimmy Woode (b) et Jo Jones (dm)! Filmés au Wembley Town Hall de Londres en octobre, ils jouent notamment «Centerpiece». De retour sur la Côte Ouest, Sweets joue dans l'orchestre de Benny Carter pour les émissions TV de Leonard Feather (Feather on Jazz).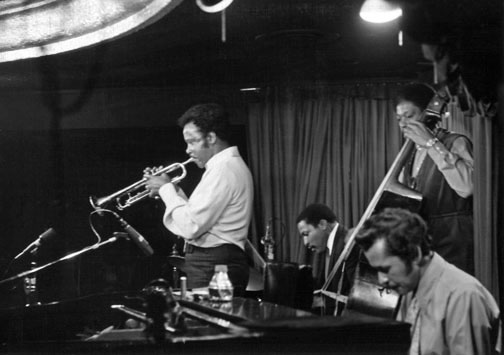 Harry Sweets Edison at Memory Lane Steak House, Los Angeles, 1970,
de g. à d.:

Harry Sweets Edison (tp),
Hampton Hawes (p), Leroy Vinnegar (b), Bobby Thompson (dm) © Ray Avery/CTSIMAGES
Harry Edison a donc enregistré copieusement au cours des années 1950-60, et c'est tant mieux car nous pensons que c'est sa meilleure période. Ses solos enregistrés, compatibles avec l'art du jazz mainstream –dont il est un maître– et avec le bebop peuvent servir de référence, de point d'appui pour un jeune instrumentiste déterminé à forger un style fondé sur le swing. Il est constant dans l'inspiration. Il y a chez lui un procédé très fréquent qui consiste à travailler la note: infléchir une même note répétée, ou attaquer souvent sur le temps la même noire jouée égale sur plusieurs mesures.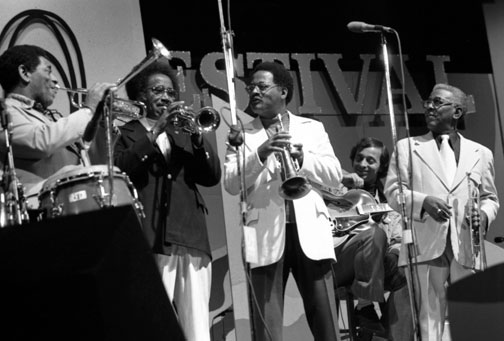 Harry Sweets Edison at Monterey Jazz Festival, 1974, de g. à d.: Dizzy Gillespie (tp),
Harry Edison (tp), Clark Terry (tp), Al Gafa (g), Roy Eldridge (tp) © Ray Avery/CTSIMAGES
LES ANNÉES DE LA CONSÉCRATION


Par chance, son style épuré vieillit bien. Il peut ainsi participer à partir des années 1970, à la relance des mainstreamers et boppers due à Norman Granz (label Pablo) et George Wein (festivals). En 1974, Granz ne résiste pas à l'idée de réunir Dizzy Gillespie, Roy Eldridge, Clark Terry et Sweets pour accompagner Big Joe Turner (Trumpet Kings). A partir de juin 1975, il participe aux Grandes Parades du Jazz à Nice.

En 1976-77, il tourne à nouveau avec Eddie Lockjaw Davis (disques pour les labels Pablo, Storyville, Black & Blue). On a l'idée d'enregistrer des duos trompette et piano de Sweets et Earl Hines (Berne, avril 1978): belle liberté de dialogue («I Cover the Waterfront», «I Surrender Dear»). On le retrouve pour une émission sur le blues (1982) dans l'orchestre de Gerry Wiggins qui accompagne Linda Hopkins, B.B. King, Pee Wee Crayton et d'autres. Sweets n'a jamais perdu le blues, une composante essentielle de son langage.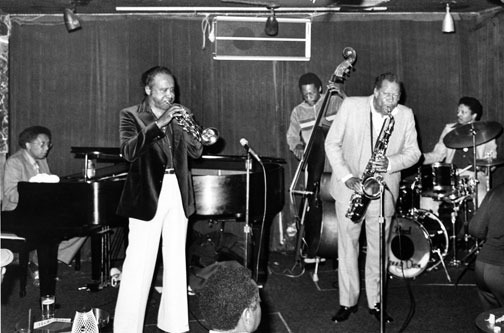 Harry Sweets Edison et Eddie Lockjaw Davis, Los Angeles, July 1979, unknown location,

de g. à d.:

Dolo Coker (p),
Harry Edison (tp) Allen Jackson (b), Eddie Lockjaw Davis (ts), Kenny Dixon (dm) ©Howard Lucraft/CTSIMAGES
En 1984, nous l'entendons au Festival de Jazz de Montauban au sein de la front line partagée avec Al Grey (tb), Eddie Vinson (as, voc), un concert dédié à Bill Coleman. Nous le retrouvons à la Grande Parade de Nice, au sein du Woody Herman All Stars (1985) aux côtés de Buddy Tate et Al Cohn (ts). Son CD d'octobre 1986, réalisé à Berlin, démontre qu'il a gardé toute sa vigueur même si, comme Dizzy Gillespie, sa sonorité s'est un peu détériorée («There'll Never Be Another You»).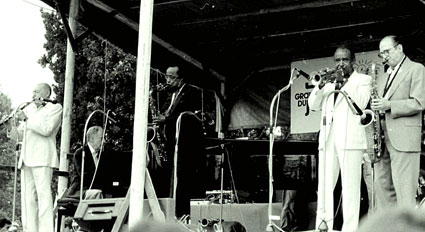 Woody Herman All Stars, Nice, 1985,

de g. à d.:

Woddy Herman (cl), Buddy Tate (ts),
Harry Edison (tp), Al Cohn (ts) © Lisiane Laplace
En 1989-90, il codirige un orchestre avec Frank Wess qui joue au Japon (A Tribute to Count Basie). Dès 1991, Il tourne avec Lionel Hampton et ses Gold Men of Jazz aux côtés d'Al Grey et Clark Terry (festival de Marciac, 11 août 1993).

On entend parfois une proximité de style entre Sweets et Dizzy qui tous deux ont forgé un style personnel à partir de celui de Roy Eldridge («Ow!», Nagel Heyer 083). Il se trouve que Sweets a aussi influencé Dizzy (et non l'inverse): «But for many things, not only how to play the trumpet but the way to choose the notes, how to play them and how to phrase all of them, I took that from Sweets. He really brought something new to the trumpet.» (Dizzy Gillespie).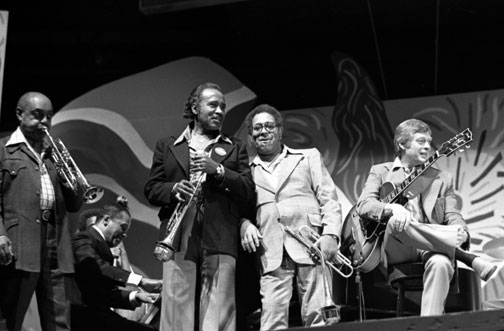 Harry Sweets Edison at Monterey Jazz Festival, 1976, de g. à d.: Benny Carter (tp) John Lewis (p),
Harry Sweets Edison (tp), Dizzy Gillespie (tp), Mundell Lowe (g) © Ray Avery/CTSIMAGES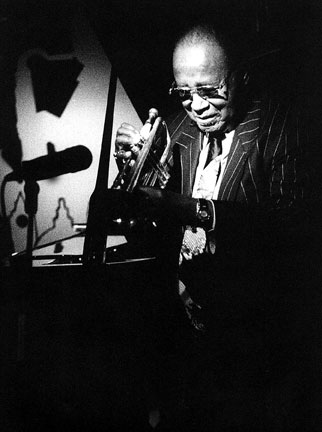 Harry Sweets Edison a joué les trompettes Selmer et des embouchures Holton (modèle Heim n°2), Selmer (double cuvette, modèle "soliste 2", 1951), Al Cass (cuvette Gillespie et queue Stock).

A cause de son surnom «Sweets», il est écrit partout qu'il a un jeu suave, ce qu'il peut faire à l'occasion («Easy Living» en duo avec Oscar Peterson, 1974). Mais il est avant tout un trompettiste rentre dedans. La filiation avec Roy Eldridge, un forcené, est nette dans «Romping» où il joue en premier, «Laughin' to Keep From Cryin'» de Lester Young, 1958.

Sweets a composé beaucoup de thèmes dont «Centerpiece» (alias «Keester Parade») devenu un standard. Il a été récompensé par un National Endowment for the Arts Award, «Master Musician», en 1991, et inscrit au Jazz Hall of Fame en 1997, de son vivant.

En décembre 1998, Harry Sweets Edison se retire à Columbus où il décède le 27 juillet 1999, à l'âge d'environ 83 ans.


*




Harry Sweets Edison at Pizza Express, London, 21 october 1996
© David Sinclair


1. Albert Murray, Count Basie: Good Morning Blues, Ed. Filipacchi
2. Codirigé par James Jeter (as) et Hayes Pillars (ts), des membres du Big Band d'Alphonso Trent, un territory band, jusqu'à la disparition du groupe de Trent en 1933, le JeterPillars Orchestra fut créé à sa suite. Il devint la formation maison du Club Plantation de St. Louis, à son ouverture en 1934, sa base pour une décennie. Il compta dans ses rangs Harry Sweets Edison (tp), Walter Page (b), Jimmy Blanton (b), Jo Jones (dm), Sid Catlett (dm), Kenny Clarke (dm), Floyd Smith (g), Jimmy Forrest (ts)… Le Jeter-Pillars Orchestra était une formation idéale pour les talents en devenir, un peu comme les Jazz Messengers dans la génération suivante.
3. Lucius Venable «Millinder», (1910, Anniston, AL-1966, New York, NY), élevé à Chicago, a une carrière précoce de danseur et de maître de cérémonie sur la scène chicagoane dans les années 1920. Dès 1931, il dirige un orchestre pour une tournée RKO, puis s'installe à Harlem en 1932 pour diriger l'orchestre de Doc Crawford avant de diriger brièvement un orchestre à Paris et Monte Carlo en 1933. Il rentre cette année-là à New York pour prendre la direction du Mills Blue Rhythm Band où se côtoient et se succèdent dans la section de trompettes, de 1933 à 1937, aux côtés de Shelton Hemphill et Wardell Jones, des Henry Red Allen, Charlie Shavers, Harry Sweets Edison, Dizzy Gillespie, Carl Warwick, Andy Gibson; l'orchestre, très prisé, jouait souvent… Le Mills Blue Rhythm Band de Lucky Millinder, très dynamique et dansant comme le raconte Count Basie, est considéré comme précurseur en matière de rock and roll et de Rhythm and blues.

Source: Le Monde de la Trompette et des Cuivres de Michel Laplace (DVD-Rom, [email protected])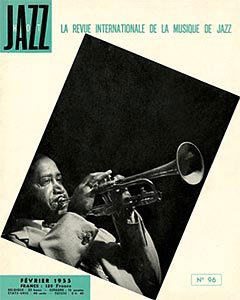 Harry Sweets Edison et Jazz Hot: n°1-1945, n°96-1955, n°124-1957, n°260-1970, n°563-1999 (Larmes)



DISCOGRAPHIE
Leader
LP 1941. Sweets, Lips and Lots of Jazz (Hot Lips Page, Harry Edison, Roy Eldridge), Xanadu 123
78t 1945. Harry Edison with Willie Smith, Philo P119 & P120
LP 1953. The Inventive Mr. Edison, Pacific Jazz 11, Swing 33 335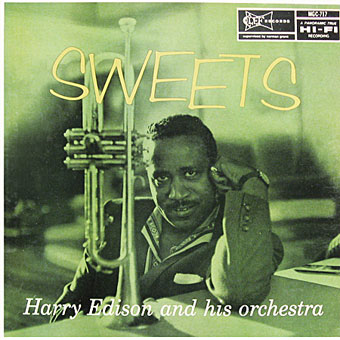 EP 1953. Harry Edison Quartet, Vogue 1031
CD 1954. Best from the West, vol2, Blue Note 5060
LP 1955. Lester Young-Harry Edison, Norgran 1043
CD 1956-57. Ben Webster/Harry Edison, LoneHill 10258
CD 1958. Harry Edison swings Buck Clayton and Vice Versa, Verve 533263-2
LP 1958. Harry Edison, The Swinger, Verve 8295
LP 1958. Harry Edison, Mr. Sweet, Verve 8353
LP 1958. Harry Edison, Sweetenings, Roulette 52023
LP 1960. Harry Sweets Edison Quintet, Patented by Edison, Roulette 52041
LP 1960. Harry Edison, Mr. Swing, Verve 1502
CD 1962. Harry Edison-Eddie Davis, Jawbreakers (Riverside), Original Jazz Classics 487-2
CD 1962. Ben & Sweets, Lonehill 10257
LP 1964. Harry Edison, Sweets for the Sweet Taste of Love (strings), Vee-Jay 1104, Fontana 5312
LP 1965. Harry Edison, Sweets for the Sweet (strings), Collectables 5718, Sue 1030
LP 1966. Harry Edison, When Lights are Low, Liberty 3484
LP 1974. Oscar Peterson & Harry Edison, Pablo 2310741
LP 1975. Harry Sweets Edison, Ode to Billy Joe, Philips 16PJ-2009
LP 1976. Harry Edison-Eddie Davis, Edison's Lights, Pablo 2310780
LP 1976. Harry Sweets Edison-Richard Boone-Eddie "Lockjaw" Davis with Leonardo Pedersens Jazzkapel, Storyville 271
LP 1976. Harry Sweets Edison-Eddie Lockjaw Davis, Opus Funk, vol.2, Storyville 281
CD 1976. Harry Sweets Edison-Eddie Lockjaw Davis, Storyville 8225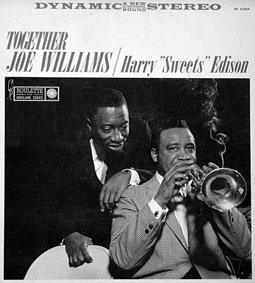 CD 1977. Harry Edison, Just Friends, Black & Blue 918.2
CD 1977. Harry Edison-Eddie Davis, Simply Sweets, Pablo 2310806
CD 1978. Harry Sweets Edison-Earl Fatha Hines, Just You, Just Me, Black & Blue 885.2
LP 1978. Harry Sweets Edison-John Haley Sims, Just Friends, Fantasy 499
LP 1978. Harry Edison All Stars, 'S Wonderful:Live at Club 33, Japan, Pablo 2308-237
CD 1981. Sonny, Sweets & Jaws, Recorded Live at Bubba's, Who's Who of Jazz 21022
LP 1983. Harry Sweets Edison, Blues for Lovers, Atlas 27-1027
LP 1985. Harry Sweets Edison & Claes Crona, Beaver 001
CD 1986. Harry Edison, There Will Never Be Another You, Nagel Heyer 083
LP 1986. Oscar Peterson+Harry Edison+Eddie "Cleanhead" Vinson, Pablo 2310927
LP 1988. Harry Sweets Edison, For My Pals, Pablo 2310934
CD 1988. Harry Sweets Edison Quartet, Can't Get Out of this Mood, Orange Blue 006
CD 1989. Frank Wess-Harry Edison Orchestra, All Art KICJ 4
CD 1990. Harry Edison, Swing Summit, Candid 79050
CD 1991. Harry Edison-Snooky Young, How Long How Long, Village 1004
CD 1992. Harry Sweets Edison, Swingin' Sweets, L+R 45076D
CD 1997. Harry Sweets Edison, Live at the Iridium, Telarc Jazz 83425

Sideman
CD 1937. Mills Blue Rhythm Band (Lucky Millinder), Classics 731
CD 1938-39. Count Basie, Volume 8, Masters of Jazz 111
LP 1938. Count Basie & his Orchestra (July 9), Fanfare 18-118
LP 1938. Count Basie & his Orchestra + Harry James (Famous Door), IAJRC 14
LP 1938. Count Basie & his Orchestra + Hot Lips Page (Carnegie Hall) Jazztone 1248
LP 1938-39. Count Basie & his Orchestra, MCA 510019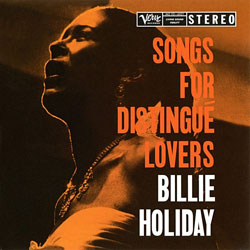 LP 1939-40. Count Basie & his Orchestra, Epic 66212
LP 1940. Count Basie & his Orchestra (Boston, Southland Cafe), Musidisc 30JA5157
LP 1940-41. Count Basie & his Orchestra, Tax m-8027
LP 1941. Count Basie & his Orchestra (Cafe Society), Jazz Unlimited JU4 & JU5
LP 1942. Count Basie & his Orchestra, Tax m-8025
CD 1943. Dexter Gordon Quintet, Young Dex, vol.1, Masters of Jazz 112
LP 1943-44. Count Basie & his Orchestra, Caracol 421
LP 1944. Count Basie & his Orchestra, Caracol 431
LP 1944. Count Basie & his Orchestra (V-Disc), Palm Club 04
LP 1945. Count Basie & his Orchestra (V-Disc), Palm Club 03
LP 1946. Count Basie & his Orchestra, Caracol 432
CD 1946. Summit Meetings (Metronome All Star Band), Frémeaux & Associés 5050
LP 1947. Count Basie & his Orchestra, RCA 730608
LP 1948. Count Basie & his Orchestra (Royal Roost) Spotlite 134
LP 1949-50. Count Basie & his Orchestra, RCA 741042
LP 1950. JATP, Norgran Blues, (Carnegi Hall, 16 septembre) Verve 815 151 1
LP 1950. Pee Wee Crayton, After Hours Blues, Blues Boy 307
CD 1950-55. Buddy Rich, The Chronological, Classics 1419
LP 1953. Ben Webster & All Stars, King of the tenor, Verve 8020, Blue Star 6992
CD 1953. Louie Bellson, Skin Deep, Verve 314559825-2
LP 1955. Barney Kessel, To Swing or not to Swing, Contemporary 3511, Swing 30053
LP 1955. Lester Young-Harry Edison, Verve 8134
LP 1955. Tour de Force (Dizzy Gillespie-Roy Eldridge-Harry Edison), Verve 8212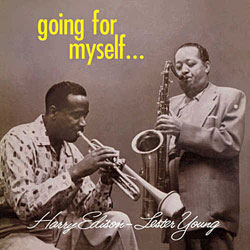 LP 1955. Lionel Hampton & his Giants, Barclay 3571
LP 1955. Session at Midnight, EMI 052-81006
LP 1955. Cy Touff Octet, Pacific Jazz 1211
LP 1955. Johnny Mandel, Lazy River, World Pacific 410
LP 1955. Shorty Rogers, Martians comeback, Atlantic 1232
LP 1955-56. Frank Sinatra, Song for Swinging Lovers, Capitol 653
CD 1956-57. Billie Holiday, All or Nothing at All, Verve 529 226-2
LP 1956. Jazz at the Hollywood Bowl, Columbia 10097
LP 1956. Nat King Cole, After Midnight, Capitol 782
CD 1957. Quincy Jones, Go West, Man!, Chessmates18282
CD 1957. Woody Herman, Songs for hip lovers, Verve 559 872-2
LP 1957. Dave Garroway presents Matt Dennis and Red Norvo, Some of my Favorites, RCA 1449
LP 1957-58. Lester Young, Verve 8298
CD 1957-58. Ella Fitzgerald, Get Happy! Verve 314523321-2
LP 1958. Lester Young, Laughin' to Keep from Cryin', Verve 2304 487
LP 1958. Blowin' the Blues, World Pacific 512
LP 1957. Jazz Giants' 58, Verve 8248
LP 1958. Jimmy Witherspoon, There's good rockin' tonight, Fontana 688 005
CD 1959. Duke Ellington and Johnny Hodges, Side by side, Verve 521 405-2
CD 1959. Duke Ellington-Johnny Hodges, Back to back, Verve 823537-2
LP 1959. Quincy Jones, Birth of a Band, Mercury 20444
LP 1959. Paul Quinichette et son Swingtette, Voix de son Maître 222S
LP 1960. Budd Johnson and the Four Giants, Riverside 343
LP 1963. Joe Williams/Harry "Sweets" Edison, Together, Roulette 52069
LP 1964. Frank Sinatra/Count Basie, It Might as Well Be Swing, Reprise 1012
LP 1968. Nelson Riddle, Contemporary Sound of Nelson Riddle, United Artists 1225
LP 1968. Jazz for a Sunday Afternoon, Solid State 18037
LP 1972. Clifford Coulter, Do it now, Worry 'bout it later, Impulse! 9216
LP 1974. Dizzy Gillespie-Roy Eldridge-Harry "Sweets" Edison-Clark Terry, The Trumpet Kings meet Joe Turner, Pablo 2310-717
LP 1979. Georges Brassens joue avec Moustache et Les Petits Français, Philips 9101280
CD 1980. Milt Jackson, Night Mist, Pablo Today 3112-39
CD 1991. Teresa Brewer & Friends, Memories of Louis, Red Barron 48629

VHS/DVD
America's Music: Blues, vol.1, 1982, with All Star Band led by Gerry Wiggins (Harry Edison, tp, Clifford Solomon, ts), Linda Hopkins, BB King, Leata Galloway, Ernie Andrews, Eddie Cleanhead Vinson, Vi Reed, Pee Wee Crayton,Magnum Music MMGV 035, réédition DVD Quantum Leap Group
https://www.youtube.com/watch?v=pQttqtx53WY

DVD
1944-1959. Lester Young, Charlie Parker, Miles Davis, incl. Jammin' the Blues, Jazz at the Philharmonic, Idem 1057

VIDEOS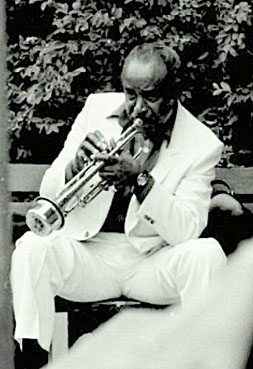 1941. Count Basie Orchestra: Harry Edison (tp solo avec derby), Don Byas (ts), Buck Clayton (tp), Jo Jones (dm): Dance of the Gremlins/Swingin' the Blues,
https://www.youtube.com/watch?v=TYLbrZAko7E

1943. Count Basie Orchestra, Hit Parade of 1943
https://www.youtube.com/watch?v=nkRZ6YMh8dk

1944. Jammin' the Blues
https://www.youtube.com/watch?v=E4Or9ospJrU

1950. JATP: «Blues for Greasy»
https://www.youtube.com/watch?v=5n4DOoLiei8

1964. Coleman Hawkins (ts), Harry Edison (tp), Sir Charles Thompson (p), Jimmy Woode (b), Jo Jones (dm)
https://www.youtube.com/watch?v=53odPG5iapM

1970. Hampton Hawes-Sonny Criss All Stars, Memory Lane, Harry Edison (tp), Teddy Edwards (ts), Leroy Vinnegard (b), Bobby Thompson (dm)
https://www.youtube.com/watch?v=DXbRxbwdyao

1985. Woody Herman All Stars feat. Harry Edison, Nice Perdido
https://www.youtube.com/watch?v=Q8-RVMJrBBM

1992. Louie Bellson Big Band feat. Harry Edison,
https://www.youtube.com/watch?v=H2ald0jTpAc

Sweets Edison, backstage, Nice, Grande Parade du Jazz, 1985
© Lisiane Laplace