Al Foster
Nostalgia in Times Square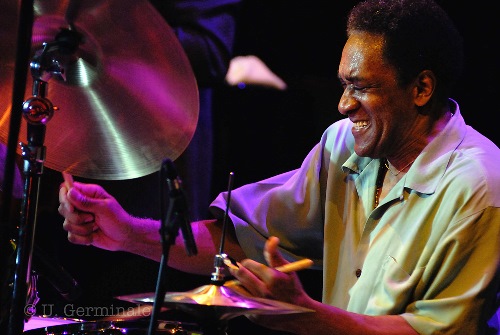 Last October, Al Foster was playing in Paris with his quartet
(see our review of the gig in
Jazz Hot
#669)
. Though he is very kind, he's shy and not easy to approach. But once you have earned his trust he opens up and becomes quite chatty.
Aloysius Tyrone Foster was born January 18, 1943 in Richmond, VA. He was 5 years old when his family moved to Harlem and he has been immersed in jazz thanks to his father, an amateur bass player, or his aunt's next-door neighbor, Art Taylor: the great drummer's mother has also nurtured Al's interest in music. In 1958, his father brought him to the Apollo Theater where he heard Miles Davis for the first time. He also witnessed the drum battles between Buddy Rich and Philly Joe Jones, and saw Art Blakey, Dave Brubeck and John Coltrane play live.
A self-taught musician, shaped by listening to the records of Max Roach, his hero, he began to play as a professional in 1960 with South-African trumpet player Hugh Masekela before joining Ted Curson's band (Jazz Hot #553). He also played with Illinois Jacquet (1960-1962), Blue Mitchell (1964-1965), Erskine Hawkins and Lou Donaldson (1966). As a single parent, he supported his four daughters by playing at the Playboy Club in New York for a few years, then at the Cellar Club for five years where Miles Davis would discover him in 1972. Al Foster worked with him until he retired from the stage in 1975 for health reasons and remained a close friend during this period. When Miles Davis made his come back in 1980, he asked him to join him. Al Foster was the only musician that remained from his former band. He stayed with him until 1985. As a leader, the drummer released his first album in 1977 called Mixed Roots, though he recorded profusely as a sideman –as shown by his rich discography–, especially with Joe Henderson (Jazz Hot #502) between 1987 and 1996. In 1995, he formed his first Al Foster Quartet, with Larry Grenadier, Dave Kikoski and Chris Potter. In 1999, he cofounded ScoLoHoFo with John Scofield, Joe Lovano and Dave Holland, and recorded a session in 2002. Today Al Foster continues to tour with his quartet, featuring Adam Birnbaum (p), Doug Weiss (b) and Dayna Stephens (ts), recently replaced by Tivon Pennicott (ts) during his last tour in Europe. Veteran Al Foster's beautiful musicality can only be equaled by his remarkable humility.
Interview by Jérôme Partage
Photos Umberto Germinale, José M. Horna, Jos Knaepen, Jacky Lepage et Mathieu Perez


© Jazz Hot n°670, hiver 2014-2015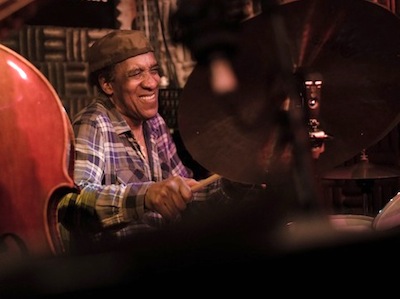 Jazz Hot: Your father got you your drum set when you were 10 years old. Are you a self-taught musician?
Al Singer: Yes, I listened to records. My father had a small collection. Since I was 5, I was banging on dancing bands everyday. When my father bought me a drum set, I only played on it for six months. I didn't touch the drums until I heard Max Roach. I was 12. And since that time, everyday I rush home to practice. I didn't know that it was possible to make music on drums before I heard Max Roach. When I was younger, the only drummer I knew about was Gene Krupa. My mother said that when I was born at the hospital, they were playing on the radio "Sing Sing Sing" with Benny Goodman and Gene Krupa. But after I heard Max Roach, I practiced everyday. Then I met other drummers in the neighborhood and we hung out. At that time, when you were a teenager you could go to Birdland, the original Birdland. They had a section, a special section for young people without alcohol. They sold sodas, ice creams… It was wonderful for us to see real jazz. I went also every year to the "Gretsch Drum Night" in 1958, 1959 and 1960. They had Jimmy Clarke, Max Roach, Art Blakey, Mel Lewis, Philly Joe Jones, Elvin Jones, etc. Elvin wasn't famous yet. It was just before Coltrane. It was just amazing to experience this.
And the first time you saw Miles Davis play live, it was at the Apollo Theater and you were 15…
Even when I was too young, my father would take me. I saw Philly with Miles and the same band with Jimmy Cobb. I saw Buddy Rich with a broken arm playing and leading his big band with one hand and if you closed your eyes you couldn't tell. I saw Dinah Washington. She was great. And also Ella, Sarah Vaughan. Man! I saw Ray Charles many times. He was good on saxophone. When I got older, I would go backstage with my friends to watch Miles, Cannonball.
Was your father a professional bass player?
No, he was a presser. He had a cleaning shop.
Were there other musicians in your family?
My aunt's husband, Ron Jefferson (Jazz Hot Internet Supplement #641), lived in Paris for a while. He was a drummer. He played with Oscar Pettiford and Les McCann. I saw him play but I was already doing my own thing.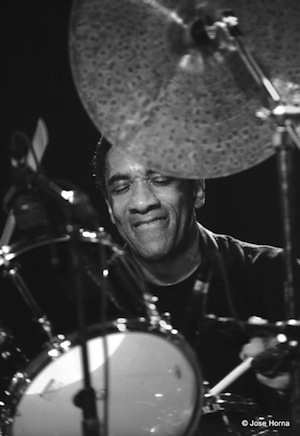 Except for Max Roach, who were your first heroes?
My aunt lived in the same building on the same floor as Art Taylor (Jazz Hot #519). He lived with his mother. One Sunday, I was practicing with a Max Roach record in the living room and I saw my aunt coming in with Art Talyor! I'd already seen a picture of him in DownBeat in a Grestch drums ad. I got up and he said: "Sit down. Play, play…" So I played for him. He asked me if I could help him to set up a drum set because he had a record date with Gene Ammons. It was for Boss Tenor1. So he took me to the recording session. Gene Ammons (Jazz Hot Special 2007) was in jail but they let him out to make the record. And he had to go back to the prison after. We waited for him and we drove up to the Van Gelder Studio. I set up the drums and the studio gave me a cheer. Tommy Flanagan was on the piano and Doug Watkins on bass. After that, I never saw Doug Watkins again. He died in a car accident not long after [on February 5, 1962].
When did you start playing in a band?
When I was 17, I studied with Ted Curson. I played in his band on Monday nights at Birdland. There was Kenny Barron and his brother Bill2 on saxophone. We played with another band. Every club had two bands in those days. Ted was so nice to introduce me to John Coltrane (Jazz Hot #492). Coltrane took my hand looking into my eyes. He was so warm. Such a beautiful experience. I remember that in 1969 I played with Sonny Rollins (Jazz Hot #606)at the Village Vanguard opposite Tony Williams Lifetime. I had met Sonny the day before at the rehearsal. He asked me if I could play the calypso. So I played the calypso. And Sonny said: "Ok, see you tomorrow!" Wilbur Ware was on bass. He was one of my heroes. Albert Dailey was on the piano. I was so nervous because Tony Williams was there with his band and I had to play on his drums.
I was lucky to come from New York, because if it didn't work for me I could still live there. Other drummers came in and when it didn't work for them they had to go back to Cleveland, Chicago, etc. But only a few musicians came to New York each year. But now, it's almost everyone! You go to college and if you're good someone will tell you to go to New York. So it's overcrowded. Today I could never make it like I did. I don't envy young guys because there are fewer clubs and everybody is good because of education.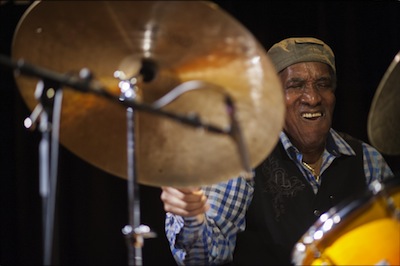 College education isn't everything. Don't musicians need to have their own personality and have something special?
I miss the great Sonny Rollins. I miss Coltrane. I don't care who comes out now. Who can be the new John Coltrane? Let's be honest, it's behind us. Coltrane is the school I did. There would be no universities promoting jazz without Coltrane, Monk or Miles.
This is the difference between having studied jazz history at school and having studied jazz with the musicians who made history…
I played just with everybody. Monk, Ornette, Coltrane, etc. I was very lucky.
Tell me about Monk (Jazz Hot Special 1998)…
That was at the end of his career in 1968, maybe 1969. I played with him maybe seven months. The very first gig was at the Village Gate for two weeks. Ed Blackwell was the original drummer of the band but just before the opening night he was rushed to the hospital. And Victor Gaskin (b), who was in the band with Charlie Rouse (ts), called me up. He hired me for one night. Monk didn't talk to me, but he must have said to Victor to keep me for the two-week engagement. I got $200 a week. It was my first serious gig for the money. The second week, Monk brought me to his house. He talked through his teeth to me (impersonating Monk). He talked about the drums, the critics… He was very kind to me. We played in Camden, New Jersey, for Jazzmobile, up in Harlem. He was a great man.
You met Miles Davis (Jazz Hot #483) in 1972…
He came to the club3 where I was working every Friday, Saturday and Sunday. Every weekend he was there and we would talk about jazz. Two or three month later he asked me to play in his band. I said ok. I thought that we would play jazz because he talked about Art Blakey, Philly Joe. He loved Philly Joe. He really missed him. When he had to let him go, it made him sick.
Miles' music was very different from what you played at that time. How did you adjust?
He asked me to go out and buy records of Jimi Hendrix, Sly and the Family Stone and James Brown. I was a little disappointed but I didn't say anything because it was Miles Davis and I wanted to play with him. I tried to give him what he wanted, because it's my job as a sideman. Otherwise the leader won't call you again. So I was fortunate to have been able to give him what he wanted. And so he called me again. When you are young, sometimes you want to show off and you play too much. But I always said to myself: don't try to supplant the bandleader. So far it worked for me.


Did you stay in touch with Miles when he retired from the stage?
Yes, I went to see him many times. Sometimes Tony Williams came by. Miles told me (impersonating Miles Davis): "Don't leave me, man". He was very brave at that time. I was traveling a lot, so he would phone me up.
You played with him before and after his retirement from the stage. Was there a difference between the two periods?
I enjoyed the music of the second band much better. It was totally different from 1972. I liked Marcus Miller (Jazz Hot #399). He was a very nice kid. He was a very young guy, 21, 22, and a brilliant musician. The first band, even today, I can't listen to it. I don't understand. It was a sort of free… I'm not a rocker. I don't know why Miles liked me so much. When he came back, I was touring with Sonny Rollins. It was a shock. First, he called me to record The Man With the Horn. It was almost 3 pm. That evening I had a gig with Freddie Hubbard. I said: "Miles, I have to be at the club at 7 pm. We start early." So I went to the studio but there was not too much time to record. When I told Miles I had to go, to play with Freddie, he said: "I'll come by". And he came by. Everybody in the audience was watching him! Nobody had seen Miles for a long time. It was so funny.
You are the musician who played with Miles the longest…
Yes. I stayed thirteen years in his band, until March 1985. Miles called me again in 1989 and I played on his record Amandla4 the tune that Marcus Miller wrote for Jaco Pastorius. It's a funny story. Miles called me and said that he wanted to make a record the day after. And I don't know why but I asked: "What kind of music, Miles?" He said: "Jazz, motherfucker!" He was upset and only said: "Call Marcus". I didn't know anything about the music. Miles and Marcus had already put the track down, but I never played such a track before. And I always play live. When I got there, Marcus told me to listen to the tune and let him know when I was ready to play. Miles wasn't there. The next day, he called me and said: "I heard the shit you play", which coming from him is a compliment (laughs). And then I played one of his last gigs on July 10, 1991 in Paris. He died on September 28. I made more money with that Paris gig than any other gigs. Big money for fifteen minutes (laughs).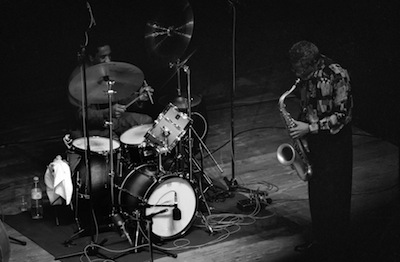 In fact, except for your collaboration with Miles, you have always played straight-ahead jazz…
Jazz-rock has never been me. I am not a rock drummer. I don't like myself playing that music. By the way, Miles knew when we really get to know each other that I didn't like the vamps, the one chord and over and over… We could do the same rhythm or some changes, and he told me: "Don't worry about the changes. Don't worry about that shit and play the drums. I get the chorus."
During Miles's retirement, you also played with Horace Silver (Jazz Hot #528)…
I didn't tour with him. We mainly recorded together. Every year, he had a new project, Silver 'n Brass, Silver 'n Percussion, Silver 'n Wood, Silver 'n Voices. He used Ron Carter and me on these records. And we did a gig every year or every year and a half. I remember that we did some gigs at Jazzmobile. I was so honored to work with him. Horace Silver is one of my heroes. He and Monk were my favorite piano players when I was young. He was a very nice guy. I miss him, but I think it is what happens to everybody when you get older.
When did you meet Max Roach (Jazz Hot #474)?
One day, he called me: "Hello, Al Foster? This is Max Roach." I thought it was a joke from my friends. I said: "Come on! Who are you, man? –It's Max Roach…" I couldn't believe it! I never met him before. "What do you want? –I want you to replace me at the Five Spots. My drums are there, you can use them." In the band, there was Freddie Hubbard, James Spaulding, Ronnie Mathews, Jymie Merritt and Abbey Lincoln, his wife. He just hired me for one night. Max had done the opening night, the day before. I went to the gig but I was not sure if I'd really talked with Max Roach on the phone. So I arrived early. Freddie Hubbard (Jazz Hot #418) arrived. I knew him so I told him: "Max Roach asked me to play tonight." He answered: "Oh, shit…" He told me what had happened the first night. Max was drunk. He said to James Spaulding that he was playing out of the tune. And Spaulding said: "You're not swinging!" So Max grabbed his flute and threw it in the audience. So I did the concert. I knew all the tunes because I had all Max's records. I came back home at five in the morning. Max called me: "I heard that you did a great job. Finish the week." So I worked five nights at the Five Spots with Max Roach's name still on the front. I was in heaven5. I met Max only a year after.
Wes Montgomery
(
Jazz Hot
#551)
called me also for a tour in the 1960s. But I couldn't travel at that time. I got married very young. When I was 23, I had four daughters already. So it was hard for me to go on the road. It was much easier when I got older, with Miles. Even now, I still pinch myself. All that couldn't happen today, because there are so many unbelievable drummers.
Do you still go to clubs to listen to bands?
Not so much. Because the scene is so different and I'm older, man. I can't drink anymore…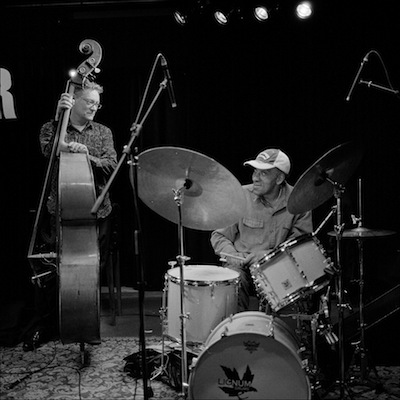 You've just hired Tivon Pennicott (ts). Tonight, he was playing his fifth concert with you. How did you meet him?
Through Doug Weiss, my bassist. He heard him at Smalls. Young people play there. He told me about him. Dayna Stephens was the saxophonist of the band. He is very good. But he has a very bad kidney problem. And because of his therapy, he couldn't come with us to Europe. So Tivon came in. He played twice with us at the Village Vanguard. The chemistry worked.
Do you like to play with younger musicians?
Most of the older guys passed away or they have their own bands. I would like to be with musicians of my age because we come from the same period, the 1940s, 1950s, 1960s. Two weeks ago, I played with Larry Willis, Gary Bartz and Buster Williams for three nights at Smoke, in New York. It was incredible. Just the feeling itself. I forgot what swinging was, I mean really, really swinging. We did so well that we planned to record the band early 2015 and perhaps do some tours. I forgot how Buster Williams could swing. During these three nights, I played very well. It knocked me down.
You've been leading your own bands since 1995. How do you choose your musicians?
My first band was with Larry Grenadier, Chris Potter and Dave Kikoski. I toured with Larry Grenadier and Joe Henderson in 1992. We went to Scandinavia and Ireland. He wasn't famous then. So he made my first tour as a leader. Chris Potter used me on a record. I liked his playing. And I recorded also with Kikoski (Jazz Hot #597) on his first record in late 1980s with Eddie Gomez. So I was aware of his playing. But I lost Larry Grenadier then Chris Potter (Jazz Hot #585). The band didn't last very long. Then I didn't work for two or three years. But in 1999, I put the band back together with Doug Weiss and Aaron Goldberg. Originally, I had Wallace Roney's brother, Antoine (ts), but he couldn't tour in Europe because his mother was sick. So I got Eli Degibri and he stayed with me for almost ten years. It's rough to be a bandleader because I don't read music. I don't know anything about music theory. But I can hear. Today you can't do that. If I was coming on the scene now at 18, I could not make it, because you have to go to school today. Music is totally different. You can't go to a gig and play new music without reading. When I started playing, it was easier to use the ear. I am probably one of the last of my generation now to do that.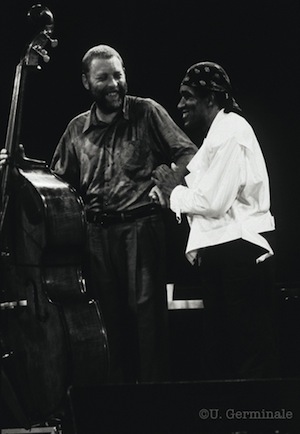 Do you find the music to be technical today?
Yes, I think so.
What are your current projects?
I'm working with McCoy on a record. And I'm preparing a tribute to Art Blakey (Jazz Hot Special 2005), maybe next March. Art Blakey was really nice to me. I saw him at Birdland when I was young. We sat in with my friends. Art Blakey got on the mic and said: "Ladies and gentlemen, do we have some kids who can play?" I jumped on the stage. The only thing I knew at that time was Max Roach's 3/4 time solo (Making the sound of the cymbals). Philly Joe Jones was there. He told me: "Sure you love Max!" And I said: "I love you too Philly!" (laughs) It was nice from Art just to give a chance to young people to play. He was a wonderful man. All these stories, I've never told them before!



1.
Boss Tenor
was recorded June 16, 1960 for Prestige. Personnel: Gene Ammons (ts), Tommy Flanagan (p), Doug Watkins (b), Art Taylor (dm) and Ray Barretto (congas).

2. See footnote in p.24 in
Jazz Hot
#575

3. Al Foster worked at the Cellar Club, in New York, in 1972. Miles Davis writes about their meeting in
Miles, The Autobiography
(Simon and Schuster, New York, 1989): "He [Foster] knocked me out because he had such a groove and he would just lay it right in there. That was the kind of thing I was looking for. Al could set it up for everybody else to play off and just keep the groove going forever."

4.
Amandla
is Miles Davis' last record. Al Foster is only featured on one track (out of eight): "Mr. Pastorius" in trio with Marcus Miller (elb, comp) and Jason Miles (synth). Miles Davis doesn't play on this last tune of the album.

5. This story probably happened during the year 1966.
Contact
www.aloysiusfoster.com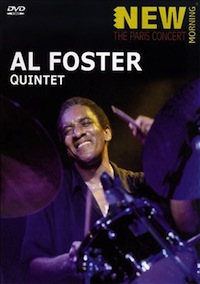 Discography

(by Guy Reynard)



Leader / Coleader
LP. Bel Agarwal P6002 (70s)
LP 1977. Mixed Roots, Laurie 6002
LP 1979. Mr Foster, Better Days YX 7599
LP 1979. Parky Morning/Midnight Diggers, Victor 20138
CD 1996. Brandyn, Laika Records 96083


CD 2002. ScoLoHoFo, Oh!, Blue Note 542081-2


CD 2007. Love, Peace and Jazz! Live at the Village Vanguard, Jazz Eyes 004
DVD 2007. The New Morning: The Paris Concert, In-Akustik 6467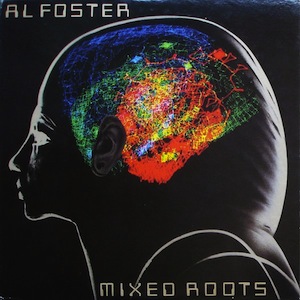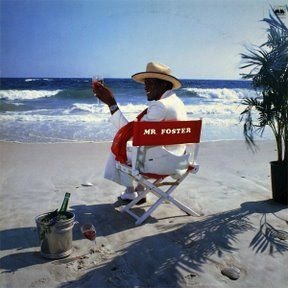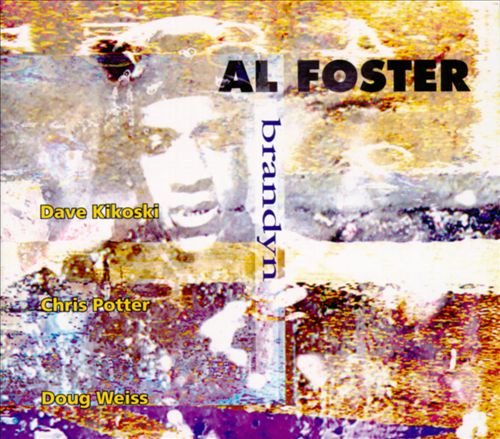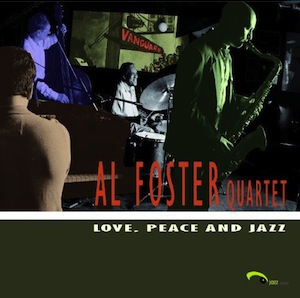 Sideman
CD 1964. Blue Mitchell, The Thing to Do, Blue Note 7 84178-2


CD 1965. Blue Mitchell, Down with It!, Blue Note 8 54327-2
LP 1964. Walter Davis Jr., Akbar, sans référence
LP 1967. Monty Alexander, Zing!, RCA 3930
CD 1967. Blue Mitchell, Heads Up, Blue Note 84272
CD 1969. Illinois Jacquet, The Soul Explosion, Prestige/OJC 674-2
CD 1970. Hugh Masakela, Reconstruction, MoJazz 0329-2
LP 1970. Larry Willis, A New Kind of Soul, Lenny Lewis Records 1001
CD 1972. Miles Davis, On the Corner, Columbia/Legacy 65246
CD 1972. Miles Davis, In Concert: Live at Philharmonic Hall, Columbia/Legacy 65140
CD 1972. Miles Davis, Big Fun, Columbia/Legacy 63973
LP 1972-73. Neal Creque, Contrast, Cobblestone 9023
CD 1972-73. Miles Davis, Get Up with It, Columbia/Legacy 63970
LP 1973. Duke Jordan-Cecil payne, Brooklyn Brothers, Muse 5015
LP 1973. Duke Jordan, The Murray Hill Caper, Spotlite 5
CD 1973. Abbey Lincoln, People in Me, Verve 514 262-2
CD 1973. Larry Willis, Inner Crisis, Groove Merchant 514
CD 1973. Cecil Payne & Duke Jordan, Muse Records 5015
CD 1973. Miles Davis, Olympia 11 Juillet 1973, Trema 710460
CD 1973-91. Miles Davis, The Complete Miles Davis at Montreux 1973-1991, Columbia/Legacy 86824
CD 1974. Miles Davis, Dark Magus, Columbia/Legacy 65137
LP 1974. Mtume, Rebirth Cycle, Third Street 100
CD 1975. Horace Silver, Silver 'n Brass, Blue Note 0689988
CD 1975. Miles Davis, Pangaea, Columbia 46115
CD 1975. Miles Davis, Agharta, Columbia 467 897-2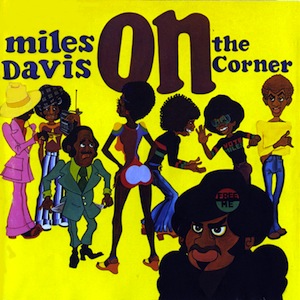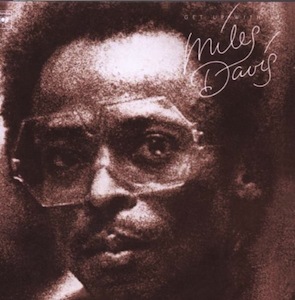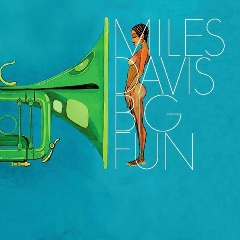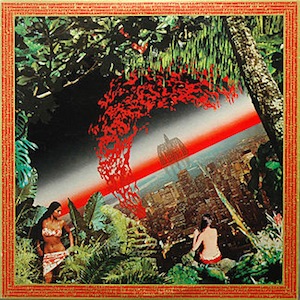 CD 1975. Duke Jordan, Lover Man, Steeplechase 31127
CD 1975. Duke Jordan, Duke's Delight, Steeplechase 31046
CD 1975-76. Horace Silver, Silver n' Wood, Blue Note 0689990
CD 1976. Horace Silver, Silver n' Voices, Blue Note 0687412
CD 1976. Yusef Lateef, The Doctor Is In ... and Out, Collectables 6354
CD 1976. Roland Prince, Color Visions, Vanguard 79371
CD 1976. Dexter Gordon, Biting the Apple, Steeplechase 31080
LP 1976. Cecil Payne, Bird Gets the Worm, Muse 5061
LP 1976. David Liebman, Light'n Up Please!, Horizon Records & Tapes 721
CD 1976. Masabumi Kikuchi, Wishes/Kochi, Universal 9046
CD 1976. Sam Morrison, Dune, East Wind 9056
LP 1976. Al Gafa, Leblon Beach, Pablo 2310-782
LP 1977. Jack Wilkins, You Can't Live Without It, Chiaroscuro 185
CD 1977. Horace Silver, Silver 'n Percussion, Blue Note 0655220
CD 1977. Mike Nock, Magic Mansions, Lauri 6001
CD 1977. Roland Prince, Free Spirit, Vanguard 79388
LP 1977. Johnny Lytle, Everything Must Change, Muse 5158
CD 1977. Jack Wilkins, You Can't Live Without It, Chiaroscuro 156
LP 1977. Hank Jones, Great Jazz Trio at the Village Vanguard, Inner City 6013
CD 1977. Sadik Hakim, Witches, Goblins, Etc., Steeplechase 31091
CD 1977. Walter Bishop Jr., I Remembrer Bebop, CBS 466554-2
LP 1977. Walter Bishop Jr., Hot house, Muse 5183
LP 1977. Philly Joe Jones, Night Drum, Mercury 330
CD 1977-78. Bob Berg, New Birth, Xanadu FDC 5169
CD 1978. Clint Houston, Watership Down, Storyville 4150
CD 1978. Sam Jones, Visitation, SteepleChase 31097
LP 1978. Charlie Shoemake, Sunstroke, Muse 5193
LP 1978. Frank Foster, Roots, Branches and Dances, Bee Hive 7008
CD 1978. Milestone Jazzstars, Milestone Jazzstars in Concert, Milestone 55006-2
CD 1978. Mike Nock, In, Out and Around, Timeless SJP 119
CD 1978. Red Garland, Feelin' Red, 32 Jazz 32091
LP 1978. Cedar Walton, Animation, Columbia 36285
LP 1978. David Liebman, Pendulum, Artist House 08
CD 1978. Richie Beirach/David Liebman, Pendulum: Live at the Village Vanguard 1978, Digital Download-Vaju Prod, sans référence
CD 1978. Horace Silver, Silver 'n Strings Play the Music of the Sphere, Blue Note 0689979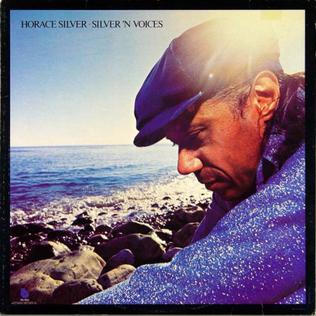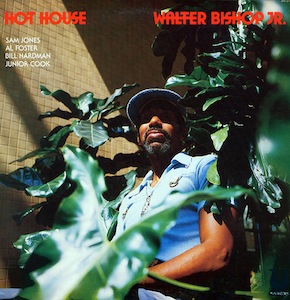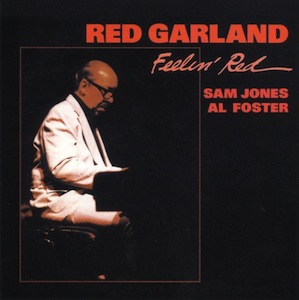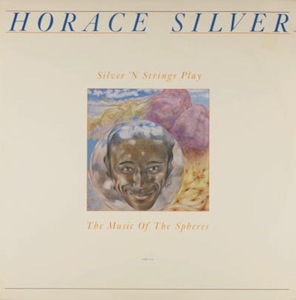 CD 1979. George Adams, Paradise Spa

ce Shuttle, Timeless SJP 127
CD 1979. Art Pepper, So in Love, Galaxy 1016-2
CD 1979. Sonny Rollins, Don't Ask, Milestone/OJC 915-2
CD 1979. Mike Nock, Climbing, Tomato 269650-2
CD 1979. McCoy Tyner, Horizon, Fantasy/Riverside 7230206
CD 1979. Art Pepper, So in Love, Analogue Productions 3013
LP 1979. Cedar Walton, Soundscapes, Columbia 36285
CD 1980. Phil Markowitz, Sno' Peas, Ken Music 010
LP 1980. Ted Dunbar, Secundum Artem, Xanadu 155
CD 1980. Great Jazz Trio, Moreover, Test Of Time Records 22
CD 1980. Sonny Rollins, Love at First Sight, Milestone/OJC 753-2
CD 1980. Tete Montoliu, I Wanna Talk About You, Steeplechase 31137
CD 1980. Great Jazz Trio, Chapter 2, Test Of Time Records 21
LP 1980. Hank Jones, Great Jazz Trio at the Village Vanguard : Revisited, Vol. 1, East World 90002
CD 1980. McCoy Tyner, 4 X 4, Milestone Records 55007-2
LP 1980. Hank Jones, Great Jazz Trio at the Village Vanguard : Revisited, Vol. 2, East World 90005
LP 1980. Hideko Matsumoto, The Session : Hidehiko "Sleepy" Matsumoto Meets the Great Jazz Trio, Next Wave 1004
CD 1980-07. Sonny Rollins, Road Shows, Vol. 1, Doxy Records 1781561
CD 1981. Miles Davis, The Man with the Horn, Columbia 36790
CD 1981. Tommy Flanagan, The Magnificent Tommy Flanagan, Progressive 7059
CD 1981. Freddie Hubbard, Outpost, Enja 3095 2
CD 1981. Mal Waldron, Mal 81, Progressive 142
CD 1981. Mal Waldron, News/Run About Mal, Progressive 30
CD 1981. Richie Beirach, Elegy for Bill Evans, STV 4151
CD 1981. Miles Davis, We Want Miles, Columbia 65349
CD 1981. Miles Davis, Miles! Miles! Miles! Live in Japan '81, Sony 6513/4
CD 1981. Quest, Storyville 4158
CD 1981. Miles Davis, In Saint Louis, VGM Soulard 3
CD 1982. Tommy Flanagan, Giant Steps, Enja 4022-2
CD 1982. Fred Lipsius, Dreaming of Your Love (Distant Lover(s)), MJA Records 509
CD 1983. Miles Davis, Star People, Columbia 65347
CD 1983. Miles Davis, In the West, Jazz Masters 022/023
CD 1983. Miles Davis, Decoy, Columbia 38991
CD 1983. Miles Davis, Atmosphere, Four Beat 830528/830
CD 1984. Bud Shank, This Bud's for You, 32 Jazz 32164
CD 1984. Dizzy Gillespie, Closer to the Source, Atlantic 7567 80776-2
CD 1984. Miles Davis, You're Under Arrest, Columbia 40023
CD 1984. Kenny Barron, Landscape, Baystate 200
CD 1984. Jun Miyake, Especially Sexy, TDK28P 100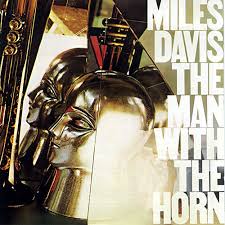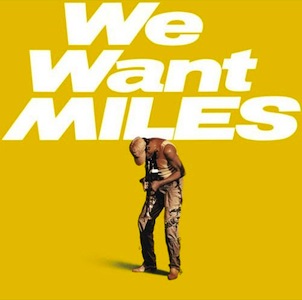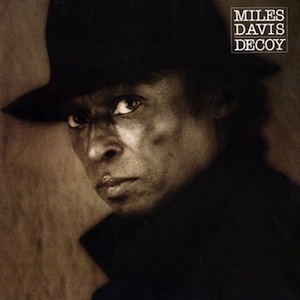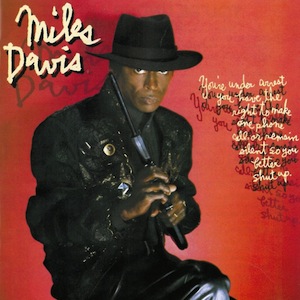 CD 1985. Joe Henderson, The State of the Tenor, Vols. 1 & 2, Blue Note 7 828879-2
CD 1985. Bill Evans, The Alternative Man, Blue Note 7 46336-2
CD 1985. Jimmy Heath, New Picture, Landmark 1506
CD 1985. Jackie McLean / McCoy Tyner, It's About Time, Blue Note 46291-2
CD 1985. Joanne Brackeen, Havin' Fun, Concord Jazz 4280-2
CD 1985. Kimiko Kasai, My One and Only Love, CBS/Sony 32DH-351
CD 1986. Steve Kuhn, The Vanguard Date, Sunnyside 1350
CD 1986. Branford Marsalis, Royal Garden Blues, Columbia 40363
CD 1986. Tommy Flanagan, Nights at the Vanguard, Uptown 27.29
CD 1986. Bobby Hutcherson, In the Vanguard, Landmark 1513-2
CD 1986. Joanne Brackeen, Fi-Fi Goes to Heaven, Concord Jazz 4316-2
CD 1986. George Young, Burgundy, Pro Jazz Records 639
CD 1986. Randy Brecker, In the Idiom, Denon Records 81757 1483-2
CD 1986. Lonnie Liston Smith, Make Someone Happy, Doctor Jazz 4061-2
CD 1986. Eliane Elias, Illusions, Columbia 53534
CD 1986. Lorez Alexandria, My One and Only Love, Sony 32DP682
CD 1986. Carol Sloane, But not For Me, CBS/Sony 5391
CD 1987. Bobby Enriquez, Wild Piano, Portrait 44160
CD 1987. Eddie Daniels, To Bird with Love, GRP 9544-2
CD 1987. Charnett Moffett, Net Man, Blue Note 46993-2
CD 1987. Adam Makowicz, Naughty Baby, RCA Novus 3022-2 N11
CD 1987. Steve Kuhn, Life's Magic, Black Hawk 522
CD 1987. Joe Henderson, Evening with Joe Henderson, Red Records 123215-2
CD 1987. Michel Petrucciani, Michel Plays Petrucciani, Blue Note 7 48679-2
CD 1987. Kenny Drew Jr., The Flame Within, Jazz City 660.53.017
CD 1987. Eddie Gomez, Power Play, Columbia 44214
CD 1987. Martin Taylor, Kiss & Tell, Columbia 495387 -2
CD 1987-88. Eddie Daniels, Memos from Paradise, GRP 9561
CD 1987-92. Donald Byrd, Landmarks, Savoy Jazz 17273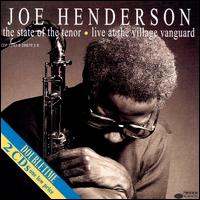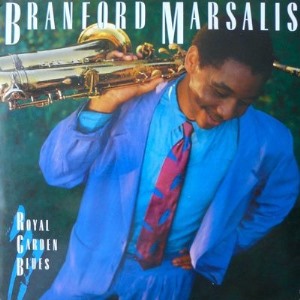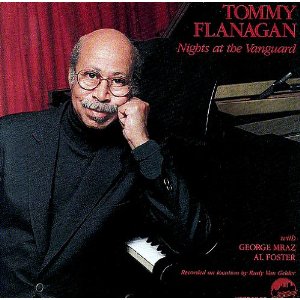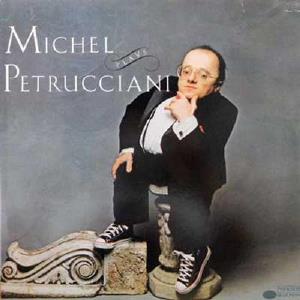 CD 1988. James Morrison, Swiss Encounter: Live at the Montreux Jazz Festival, East West 91243-2
CD 1988. Frank Morgan, Reflections, Contemporary/OJC 1046-2
CD 1988. Steve Kuhn, Porgy, Evidence 22200-2
CD 1988. Larry Willis, My Funny Valentine, Evidence 22205-2
CD 1988. Carmen McRae, Carmen Sings Monk, RCA Novus 3086-2
CD 1988. Frank Morgan, Yardbird Suite, Contemporary/OJC 1060-2
CD 1988. Marlon Jordan, Essence, Columbia 40868
CD 1988. John Melisi, Tsunami, Tiga 9001
CD 1988-89. George Benson, Tenderly, Warner Bros. 925580-2
CD 1988-89. Bill Cosby, Where You Lay Your Head, Verve 841930-2
CD 1989. Buster Williams, Something More, In & Out 7004-2
CD 1989. Dave Kikoski, Presage, Freelance 11
CD 1989. John Patitucci, On the Corner, GRP 9583-2
CD 1989. Roy Hargrove, Diamond in the Rough, Novus 3082-2 N13
CD 1989. Miles Davis, Amandla, Warner 8122 73611-2
CD 1989. Frank Morgan, Mood Indigo, Antilles 91320-2
CD 1989. Donald Byrd, Getting Down to Business, Muse 1523-2
CD 1989. Charlie Haden, The Montreal Tapes, Verve 19790 2
CD 1990. Vladimir Shafranov, White Nights, Jazz Alliance 10018
CD 1990. Gary Bartz, West 42nd Street, Candid 79049
CD 1990. Bobby Enriquez, The Wildman Returns, Evidence 22059-2

CD 1991. Joe Henderson, The Standard Joe, Red Records 123248-2
CD 1991. Quest, Quest, Storyville 4158
CD 1991. McCoy Tyner, New York Reunion, Chesky 51
CD 1991. Steve Khan, Let's Call This, Blue Moon 79168-2
CD 1991. Sonny Rollins, Here's to the People, Milestone 9194-2
CD 1991. Hank Jones, Hank Jones Trio with Mads Vinding and Al Foster, Storyville 4180
CD 1991. Paquito d'Rivera, Who's Smoking?!, Candid 79523
CD 1991. Kenny Drew, Jr., Kenny Drew, Jr., Antilles 314-510 303-2
CD 1991. Jens Winther, Scorpio Dance, Storyville 4179
CD 1991. Yoshiaki Masuo, A Subtle One, Jazz City 660-53-030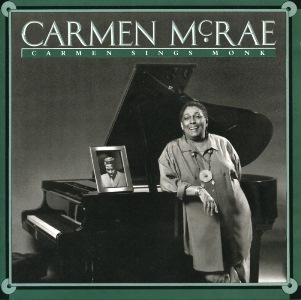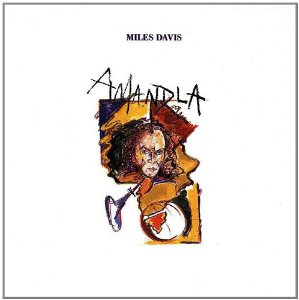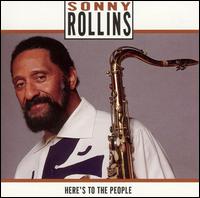 CD 1991-92. David Benoit, Letter to Evan, GRP/GRD 9687-2
CD 1992. Rachel Z, Trust the Universe, Columbia 53216
CD 1992. Mike Stern, Standards (and Other Songs), Atlantic 7 82419-2
CD 1992. Joe Henderson, So Near, So Far (Musings for Miles), Verve 517 674-2
CD 1992. Bobby Hutcherson, Landmarks, Landmark 1310
CD 1992. Steve Khan, Headline, Blue Moon 79179
CD 1992. Tony Lakatos, Recycling, Jazzline 1134-2
CD 1992-96. Joe Henderson, Big Band, Verve 533 451-2
CD 1993. Chris Potter, Sundiata, Criss Cross 1107
CD 1993. Robert Miller, Miles Behind, Acak 525
CD 1993. Takeshi Yamaguchi, Alone Together, Paddle Wheel 239
CD 1994. Andy LaVerne, Time Well Spent, Concord Jazz 4680
CD 1994. Paul Mousavi, Sound Mind, Rhino 353
CD 1994. Chris Potter, Pure, Concord Jazz 4637
CD 1994. Dave Kikoski, Dave Kikoski, Epic 64441
CD 1994. Robert Miller, Child's Play, Wildcat Records 9214
CD 1994. Carnegie Hall Salutes the Jazz Masters: Verve at 50, Verve 523 150-2
CD 1994. Tony Lakatos, The News, Jazzline 1140
CD 1994. Rick Margitza, Hands of Time, Challenge 70021
CD 1994. Randy Porter, Forest 4 the Trees, Heavywood Music 101
CD 1995. Steve Kuhn, Seasons of Romance, Postcards 71009
CD 1995. Reggie Workman, Cerebral Caverns, Postcards 71010
CD 1995. Renee Rosnes, Ancestors, Blue Note 8 34634-2
CD 1995. Mark Whitfield, 7th Ave. Stroll, Verve 529 223-2
CD 1995. Tony Lakatos, Live in Budapest, Laika Records 3510074-2
CD 1995. Clifton Anderson, Landmarks, Milestone 9266-2
CD 1995. Christoph Sänger, Imagination, Laika 35100762
CD 1996. Sonny Rollins, Sonny Rollins Plus 3, Milestone Records 9250-2
CD 1996. Christof Sanger, Imagination, Laika Records 96075
CD 1996. Joe Lovano, Celebrating Sinatra, Blue Note 837718-2
CD 1996. Richard Galliano, New York Tango, Dreyfus Jazz 36581-2
CD 1996. Andy LaVerne, Four Miles, Mercury 536 186-2
CD 1996. Joe Lovano, Tenor Time, Somethin' Else 300230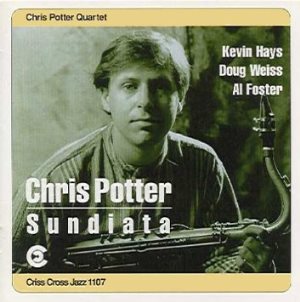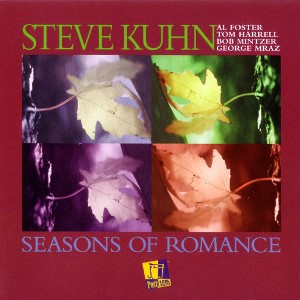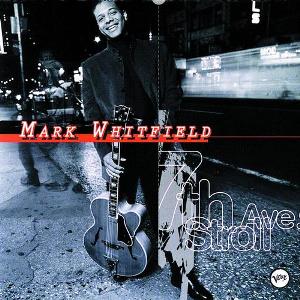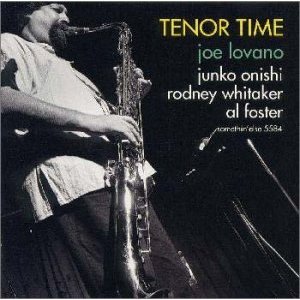 CD 1997. Tommy Flanagan, For Bird, Monk, Trane & Thad, Jazzfest 221
CD 1997. George Mraz, Bottom Lines, Milestone 9272
CD 1997. Denny Zeitlin, As Long As There's Music, Venus 35039
CD 1997. Hélio Alves, Trio, Reservoir 156
CD 1997. Shirley Horn, I Remember Miles, PolyGram 557199-2
CD 1997. Tony Lakatos, Generation X, Jazzline 1149-2
CD 1997. McCoy Tyner, McCoy Tyner Plays John Coltrane : Live at the Village Vanguard, Impulse! 589183-2
CD 1997. Harry Allen, A Little touch of Harry, MasterMix 00118
CD 1997. Manuel Rocheman, Come Shine, Columbia 491869-2
CD 1997. Eric Wyatt, God SonPaddle Wheel 313
CD 1997. Roseanna Vitro, Catchin' Some Rays, Telarc 83419
CD 1998. Endless Miles : A Tribute to Miles Davis, Encoded Music N2K 10027
CD 1998. John Ellis, Blues for the Bad Man, FizzyWater 101
CD 1998. John Nugent, Taurus People, Jazz Focus 030
CD 1998. Bobby Hutcherson, Skyline, Verve 559 616-2
CD 1999. Fabrizio Sotti, This World Upside Down, BCI-Eclipse Distribution 1701
CD 1999. McCoy Tyner, McCoy Tyner with Stanley Clarke & Al Foster, Telarc 83488
CD 1999. Manuel Rocheman, I'm old Fashioned, Columbia 4978620-2
CD 2000. Steve Kuhn, Quiereme Mucho, Sunnyside 1145
CD 2000. Bruce Barth, East and West, Maxjazz 201
CD 2000-08. Ratko Zjaca, Now & Then: A Portrait, In+Out 77110-2
CD 2001. Teo Macero, Impressions of Miles Davis, Orchard 801340
CD 2002. Bruce Barth, Live at the Village Vanguard, MaxJazz 205
CD 2004. Kenny Barron, Super Standard, Venus 35343
CD 2004. Hank Jones, For My Father, Justin Time 2092
CD 2005. Peter Zak, With Paul Gill and Al Foster, Steeplechase 31578
CD 2005. Larry Willis, The Big Push, HighNote 7144
CD 2006. Steve Kuhn, Live at Birdland, Blue Note 372992-2
CD 2006. Steve Kuhn, Plays Standards, Venus 35395
CD 2007. Ted Rosenthal, My Funny Valentine, Venus 892388
CD 2007. Clifton Anderson, Decade, Doxy Records 00118620
CD 2007. Cyrus Chestnut, Black Nile, Grave News 30447
CD 2008. Cedar Walton, Seasoned Wood, HighNote 7185
CD 2008. Eric Le Lann, Le Lann/Kikoski/Foster/Weiss, Plus Loin Music 4516
CD 2009. Roberta Gambarini, So in Love, EmArcy 1796010
CD 2009. Eli Degibri, Israeli Song, Anzic Records 3002
CD 2009. Eddie Henderson, For All We Know, Further More Recordings 005
CD 2011. Mike Stern, All Over the Place, Heads-Up 3318602
CD 2011. Paul Heller, Special Edition, Vol. 2, Mons 874537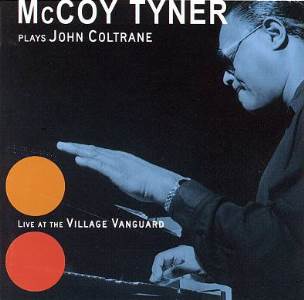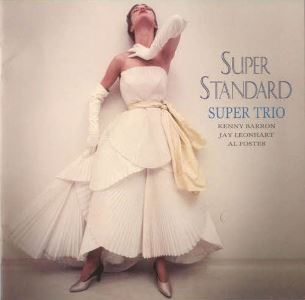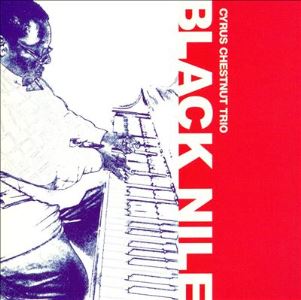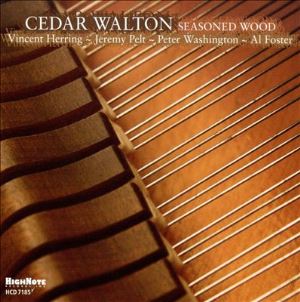 Vidéos

Passion Dance, Jazz à Vienne (2000)


Al Foster (dm), McCoy Tyner (p), Charett Moffett (b)

Al Foster Quintet, New Morning (2007)
Al Foster (dm), Eddie Henderson (tp), Eli Degibri (ts), George Colligan (p), Doug Weiss (b)

Al Foster Quartet, « Jean-Pierre » (2012)
Al Foster (dm), Doug Weiss (b), Adam Birnbaum (p), Wayne Escoffery (ss)

McCoy Tyner Trio
McCoy Tyner(p), Charles Moffett(b), Al Foster (dm)

*