Benny Green

© Jazz Hot n°666, winter 2013-2014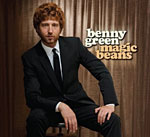 Nouveauté-

Indispensable


Benny's Crib, Kenny Drew, Flying Saucer, Jackie McLean, Vanished, Harold Land, Magic Beans, Paraphrase, La Portuguesa, Further Away
Benny Green (p), Peter Washington (b), Kenny Washington (dm)
Recorded in New York, NY, April, 23-24, 2012
Playing time : 51' 52"
SunnySide 1338 (bennygreenmusic.com)

Benny Green is an educated musician, particularly so in his knowledge of jazz. This erudition, which he has in common with Kenny Washington and Peter Washington, gives this record and this trio a rare sophistication. Benny Green's field of expertise, perfectly shared by his companions, is associated with the bop and hard bop period in jazz, an esthetic moment known as the "Blue Note era," so important to it were the freedom and generosity of production of Alfred Lion and Francis Wolff's famous label.
The origin of this predilection in Benny Green might be attributed to his time among Art Blakey's Jazz Messengers, an experience which was for all of them—Keith Jarrett aside, the exception proving the rule—a fundamental initiation. The emotion heard in Bobby Watson's recent evocation of Art Blakey confirms this; and if you go to Benny Green's website, you will see the great Blakey there on the home page.
But before this meeting, Green père had already introduced little Benny to the universe of Dizzy Gillespie and Charlie Parker, Bud Powell, and Thelonious Monk. In his liner notes, Benny Green says he was inspired by the sound of trumpet and saxophone playing as one, immortalized by Parker and his followers, then by Horace Silver and his Jazz Messengers, culminating in Lee Morgan's Caramba (1968, the year the label was sold).
We won't cite all the names Benny Green mentions (Kenny Dorham, Dexter Gordon, etc.), but some occur in the album's titles (Jackie McLean, Harold Land), and there are other references to the pianists (Sonny Clark, Kenny Drew) who created the finest sounds of the era. In the summer of 2012, incidentally, we had the opportunity to hear an extraordinary concert devoted to Sonny Clark's music.
But there is no rote recitation here, just the natural prolongation of a history, of a culture; for jazz is so diverse, when its esthetic and its spirit are respected, that within it invention is eternally possible. That is what is done, magnificently, by these three musicians, particularly by Benny Green, composer of all the titles, who has absorbed the teachings of Horace Silver and Thelonious Monk without a flaw in spirit or taste—the latter quality so important in matters of art.
This is the openness of jazz, its way of turning over the soil and giving the roots air so new life can flourish. When people try to forget history, or put themselves in the center of history, make the front page, make lots of money, pass off rhinestones as diamonds and pop music as jazz, the result is superficial and tasteless.
The compositions are splendid: why single out "Vanished" or "Harold Land" as magnificent when the others are as well? Swing, blues, expressive nuance: everything is moving, stirring, brilliant and restrained. Peter Washington and Kenny Washington are great musicians, at the peak of their artistry, and, happily, so is Benny Green.
For Benny Green's artistic maturity is astonishing in one who still looks the eternal adolescent; his sensitivity is so acute that his interpretations are often moments of exceptional, ethereal delicacy. It is rewarding to see, when he plays live, the precision of his touch and the economy of his playing, supported by the virtuosity at his command and his intensity in expression.
Benny Green is now part of the Olympus of piano jazz, of jazz itself. It is saddening, therefore, to see him play at times before small audiences at secondary venues while the great jazz stages host so many imposters. This observation is often made in jazz today; therefore, it is not surprising that Benny Green gives us a self-produced recording, with no more than liner notes, for this outstanding music, while the historic jazz labels bring out so many duds with elaborate and costly packaging.
Benny Green is magic!

Yves Sportis
Translation by Phoebe Green