Harold Mabern


© Jazz Hot n°666, winter 2013-2014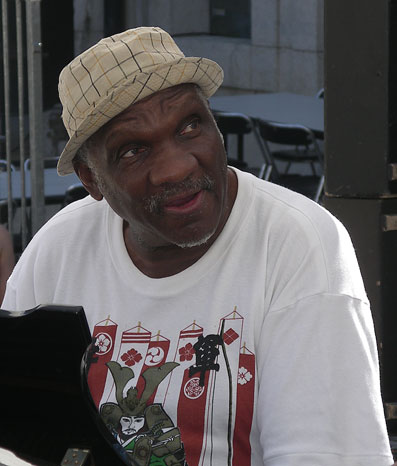 Harold Mabern is a living treasure. Born in Memphis, TN, in 1936, he moved to Chicago in 1954 and then to New York in 1959. For more than 50 years, the pianist played with some of the greatest jazz musicians from Lionel Hampton to Roy Haynes, including Lee Morgan, Miles Davis, Sonny Rollins, Wes Montgomery, just to name a few, as well as Bobby Watson and Eric Alexander with whom he records and tours regularly. As an accomplished pianist, which is reflected in his discography both as a leader and a sideman, he witnessed the history of jazz and has been collecting the stories that nurture it first hand. Harold Mabern emerged among a generation of Memphis musicians -Booker Little, George Coleman, Frank Strozier, Garnett Brown, Charles Lloyd- inspired by the ingenious Phineas Newborn, Jr whose influence produced a legacy of talented piano players (James Williams, Mulgrew Miller, Geoff Keezer, Donald Brown), under-estimated to this day.
In this interview, Harold Mabern talks about some of these musicians, their stories and their place in the history of jazz before exploring the Memphis sound, that is deeply rooted in the blues.

Interview by Mathieu Perez






Jazz Hot: Is there a sound of Memphis?





Harold Mabern:

From what they say, it was the sound of the blues but I've been in New York for more than 50 years and I've never been called to do one so-called blues concert representing Memphis. It has never happened. New Orleans is the home of jazz. Louis Armstrong got it started but Charlie Parker took it over. And that's in Chicago. I think Chicago is the most diverse city in the world when it comes to music, especially to jazz. New York is bebop. In Texas, you got the big tenor sound and the blues. They all have something.




Is Chicago underrated as much as Memphis?



Chicago is the most underrated. But as far as Memphis musicians, we don't exist. If you say DuSable High School, you've got Gene Ammons, Johnny Griffin, John Gilmore, Clifford Jordan, Von Freeman, Barry Harris, Walter Perkins, Pat Patrick, and many others. They went to DuSable High School together. Even Nat Cole went there for a while because he was going to Wendell Phillips High School and to DuSable. Chicago is the most underrated except naturally for Ruth Jones, that's Dinah Washington's real name. Dinah Washington, Nat Cole, Milt Hinton, Chris Anderson -a harmonic genius who taught Herbie Hancock- all went to high school at Wendell Phillips High School. My wife went there too. She grew up with Lou Rawls, Sam Cook and Minnie Riperton's sister.



Among the musicians that come from Memphis, there is also Lil Hardin, Louis Armstrong's first wife.



I'm not surprised. Keith Copeland's mother was from Memphis. Buster Bailey is from Memphis. Jimmie Lunceford started the program at our high school before my time with Gerald Wilson playing second or third trumpet. Dee Dee Bridgwater's father, Matt Garrett, was our band director.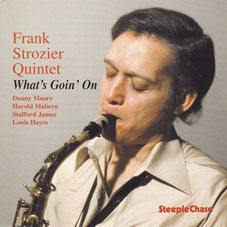 Why did Frank Strozier slip away?

He's one of the greatest musicians that ever lived. He is totally unrecognized and unappreciated. I told him once 'If Booker Little had lived, maybe he would have made it.' Frank Strozier said maybe. Hank Crawford was popular. He did pretty good. But the most prominent musician of Memphis, other than Maurice White of Earth Wind and Fire, is Charles Lloyd. Garnett Brown is a great trombone player too. The most underrated musician that has ever lived and that is the most talented and truly a genius is Frank Strozier. He used to say that he stopped playing because of reeds. And I'd say no, it's because of 'reads'. You see, Charlie Parker practiced a lot. Clifford Brown practiced a lot. Freddie Hubbard practiced a lot. Booker Little practiced almost as much as Coltrane. Frank Strozier practiced a lot but he was never good at 'How you're doin'?'. So he got depressed… He's the most unique alto saxophone player since Charlie Parker. His alto sound wasn't like an alto. It was like a combination of a tenor and an alto sound. And the stuff he played was very complex.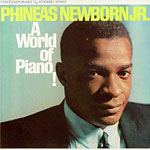 What makes Phineas Newborn, Jr., such an authentic musician?
When I think about the way Phineas Newborn was treated… Few musicians supported him. Hank Jones loved him. Tommy Flanagan loved him. Ahmad Jamal loved him. John Coltrane loved him, he used to watch him practice. When Coltrane was asked to name three of his favorite piano players, he said Kenny Drew, Red Garland and Phineas Newborn, Jr. Phineas Newborn played tenor saxophone very well. Of all the words in our vocabulary, the one word that is hard to live by for the rest of your life is the word 'never'. 'Never' is a big word. Phineas Newborn, Jr., NEVER put anybody down. He was gentle as a giant. Musicians and critics musically castrated him. They said his playing was cold. Did they give him a chance? They broke his heart and made him disbelieve in himself. Here's a man that had the facilities to play evenhanded. He played more piano with his left hand than the rest of us. He was a natural genius, but he also practiced. Stanley Cowell loved him. He played Chopin, Ravel. Whatever he heard, he just put his hands down and played. And they said his playing was cold! For the rest of my life, that's my crusade to speak about him. I think it all comes down to jealousy. Coltrane wasn't jealous. He recommended George Coleman for a job to Miles Davis. George Coleman is a bighearted guy and he'll go out of his way to teach people. That's why Eric Alexander is so good. They're not giving Eric the recognition he deserved. Isn't that strange? Maybe it's because he's too close to George Coleman and me. Like I said, the musicians from Memphis, we don't exist.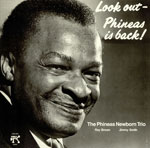 Phineas Newborn, Jr., had a musical background.
His family had a band. There was Phineas, Sr., Calvin who played guitar and trombone, Phineas played the piano but he could play most of the instruments. Calvin had a wife named Wonder who was like a singer. That was the group. They played all over, in different places in Memphis, in Arkansas. We used to call them Big Phineas and Little Phineas.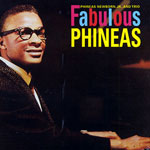 How do you explain this negative attitude towards Phineas Newborn, Jr.?


It's almost like if they said: 'How dare Phineas to be that good!' How dare that country boy to be that good! If he was from New York or Philly, this would have never happened. It was almost like a shock: how can he be that good coming from the country, from the south? Up until 14-15 years old, I was in the fields chopping, cracking, picking cotton. I didn't know what a piano was until I was almost 16. I heard a little girl play. That planted the seed in me. I never took a piano lesson. When I got to Chicago, I had to do the hard work playing 12, 13, 14 hours a day of music around the clock. So I think that Phineas shocked the world. Donald Brown shares this point of view. That country boy sure can play!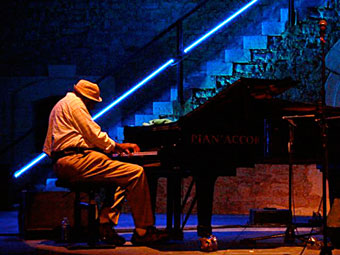 As a pianist, what did Phineas Newborn, Jr., teach you?



Phineas taught me how to orchestrate the piano and how not to be monodimensional. His playing is very articulated with his right hand. He comes through the Nat King Cole school of playing. So do I. It's about swing, touch and playing articulated. Oscar Peterson, Monty Alexander, Hank Jones, Tommy Flanagan are all influenced by Nat Cole. There are more piano players influenced by Nat Cole than by Bud Powell. Bud Powell got his stuff from Billy Kyle, who was the pianist for Louis Armstrong. Nat Cole got his stuff from Earl Hines. Nat Cole practiced all day. He even dressed like Earl Hines. Nat Cole had technique like Art Tatum. Hank Jones said once that he was going to a rehearsal and going up the stairs he could hear some Art Tatum records playing. When he got at the top and went in, Nat Cole was playing the piano like Tatum. My forte is that I am a pretty good comper. Everybody can't comp because you need the patience to be in the background to comp. Lee Morgan loved my comp. Benny Golson too. Learn how to comp, how to transpose the great American songbook, not to be monodimensional and swing at the same time, that's what I teach. All we try to do is carry on Nat King Cole's legacy. And it's strange, he didn't write many tunes, neither did Charlie Parker and Tatum…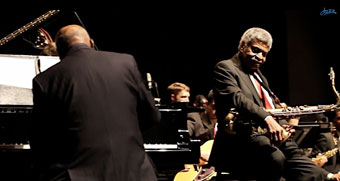 There is a strange trinity of underrated musicians from Memphis: Phineas Newborn, Jr., Frank Strozier and George Coleman. What was the misunderstanding about George Coleman?

Musicians seemed threatened by his appearance because he used to work out a lot. But Sonny Rollins worked out too. He's big. Randy Weston is big and tall. For some reason, George Coleman came across like the big musical bully. George might change keys and some guys didn't like that and got mad. If you can't do that, go home and learn it. Sonny Stitt did it all the time and nobody ever complained. I used to think of Sonny Stitt as the white herd. He would go around with a tenor saxophone and an alto saxophone looking for the bad guys. One of the guys was Jackie McLean. 'You see these scars? That's from Sonny Stitt', said McLean. George Coleman would change keys to make a ballad better and that made him a musical bully. I consider George Coleman and Sonny Stitt to be the two most complete saxophonists that have ever played. They never lost their technique, their ideas and their philosophy.



How much is the blues a part of your life?



The blues was all over Memphis. It was a way of life. Later I hated the blues because I wanted to play bebop. Now I look back and I feel blessed to be able to play the blues. Back then, pianists only had very few bass players in the city. There was Jamil Nasser, who used to be George Joyner, he used to play electric bass too, and Shelly Walker. We had a limited number of bass players so we had to walk the bass line. In doing that, that builds your rhythmic concept, you know how to swing, you know how to play the blues. Years ago, I was playing with Joe Williams, Jimmy Witherspoon came to see us for the first set and asked Joe to play the blues. 'It's too early for the blues', said Joe. And Jimmy said 'It's never too early for the blues'. I feel blessed that I can play the blues.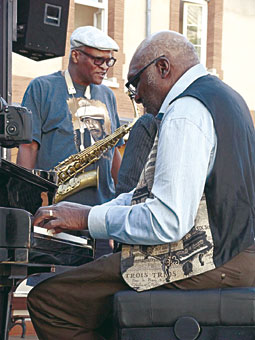 Do you feel that blues musicians are underrated?

The blues is more important than jazz. Jazz comes from the blues. The blues doesn't come from jazz. You can't teach the blues. Charles Mingus used to say 'I wish I could write like Duke Ellington and play the blues'. The great Dizzy Gillespie said: 'The difference with me and Bird is that Bird could play the blues and I couldn't'. Everybody can't play the blues. Blue Mitchell could play the blues on his trumpet, Clifford Brown could play the blues, Stanley Turrentine, Coltrane, Oscar Peterson could play the blues. John Coltrane's solo on 'Blue Train' has that sound because he played in those rhythm and blues bands. Clifford Brown and Richard Powell played with Chris Powell and the Blue Flames. Stanley Turrentine, Benny Golson and Coltrane with Earl Bostic. George Coleman played with B.B. King. Sam Jones and Bill Hardman played with Tiny Bragshaw. Ahmad Jamal played with George Hudson's blues band. But playing the blues was never recognized. I have never done one blues concert in New York representing Memphis. Maybe we are not searched as blues musicians as we thought. It makes you wonder that only one musician from Memphis has been very successful. That's Charles Lloyd.




What made John Coltrane such a unique character?



He was a greater human being than a musician. Don't get me wrong he was a great musician. But he had an aura. He was Christlike. It was like being around Buddha or a great personality like Dr. Martin Luther King. He was never loud, never boisterous. We used to call him Chief. Phineas Newborn and Coltrane could have been the greatest egomaniacs in the world and they were the opposite.



Before moving to New York, you live in Chicago. Could you give us an idea of the atmosphere of this city?



I lived in Chicago from 1954 to 1959. Every night there was something going on. Each club would have different musicians playing different music. If you wanted to learn how to play fast, you would go see Johnny Griffin at the Flame Show Bar, that's where George Coleman and I would go to. If you wanted to learn how to swing and groove, you could go see Eddie Harris. For bebop, you'd go downtown to see Dizzy Gillespie. When Bird came to Chicago, he didn't have to bring a rhythmic section because at the Beehive everybody could play the music. Three musicians knew all the songs that Bird was playing then. It was Bill Lee, Spike Lee's father -who's a true musical genius-, Chris Anderson and Billy Wallace. When Norman Simmons would be playing with Bird, during the intermission, Billy Lee would be teaching them those songs, 'Will You Still Be Mine', 'Let's Face Music and Dance', 'Begin The Beguine'. That's the fakebook, that's what I say to my students at William Paterson College.
Discography (download)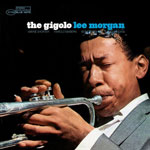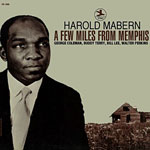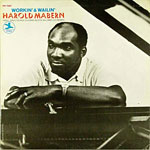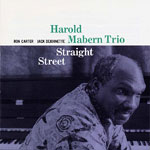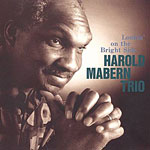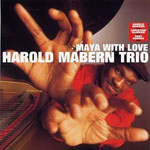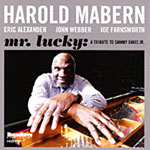 Videos

Concert live à Smalls : John Webber (g), Harold Mabern (p), Paul Sikivie (b), Joe Farnsworth (dm), août 2013

Hommage au jazz de Memphis : Harold Mabern (p) et George Coleman (ts), New York, octobre 2012

For Carl : Harold Mabern et Geoff Keeze (p)

Mr Stitt : Harold Mabern (p), Ron Carter (b), Jack DeJohnette (dm)

How Insensitive : Harold Mabern (p), Nat Reeves (b), Joe Farnsworth (dm), Eric Alexander (ts)

Phineas Newborn Jr. Trio

Phineas Newborn, Jr. Solo : Lush Life