Lia Pale


© Jazz Hot n°665, autumn 2013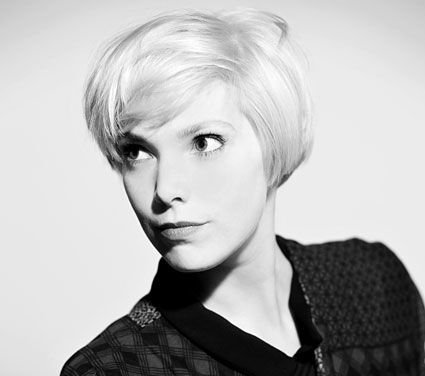 In her first album, Gone Too Far, singer Lia Pale – who also plays the piano, the flute, percussion and dances – delivers an intercrossed blend of contemporary music. The 27 year-old Austrian sings in English the poems written by Wilhelm Müller that are featured in Winterreise (Winter Journey) by Franz Schubert, the great Viennese figure. Neither jazz nor pop nor classical music, Lia Pale avoids being trapped into a concept-album or a mere imitation and provides us with a truely creative piece of work. Supporting her is Mathias Rüegg (Jazz Hot n° 592, 639, 654), the creative force behind the Vienna Art Orchestra that mixed tradition and American popular music, jazz and its derivatives. Oddly enough, he too was eager to arrange those deep, overwhelming lieder.
Lia Pale's clarity and expression can also be appreciated in a series of videos published online in which she often sings standards a cappella or accompanied by a percussion instrument, such as the piano or her handclap.
Interview by Mathieu Perez





Jazz Hot: Why did you choose to adapt Schubert's music for your first album?





Lia Pale:

It was a coincidence. I always knew I would work on Schubert's music. Mathias Rüegg was my teacher at school. I was working on a classical crossover piece. I went to see him for advice. We talked and he helped me out. At that time, he had already arranged songs by Schubert and we thought we could write some more. A year ago, in October, we played three songs at a concert at the Porgy & Bess. Then I left for Sweden to pursue my studies.



How did you collaborate on the album?



Mathias and I decided to make a demo and started skyping as I was living in Sweden. He liked the way I sang and he always wanted to arrange some of Schubert's music. I think he had already arranged three songs of the Winterreise when he was at the Vienna Art Orchestra. We found a label. Although they were very supportive, I think they weren't really sure how the album would turn out, but we did it!



How did you pick the songs?



I listened to the Winterreise and picked what came naturally to me.



Were you always surrounded by Schubert's music?



I started as a classical musician, studying the piano. In Vienna, when you start playing the piano, you learn these kind of songs. This musical environment was familiar but I never pictured myself as a classical singer. I wanted to have a different voice. And not using a classical voice in a jazzy way. Sometimes classical melodies feel like standards. Some of Schubert's songs were standards before there even were standards. But why sing the songs the way they did? Although I'm not a classically trained singer, I thought I could interpret the songs but in my own way. And Mathias is a great arranger.



How was it working with Mathias Rüegg?



Mathias was very inspiring. He opened up a whole new world to me. I came from a small town near Linz, about two hours away from Vienna. I didn't grow up listening to jazz at all. I didn't even know the genre existed. I discovered it when I started working with him. That's why I enjoyed working with Mathias so much. He's lived in the jazz world for the last 30 years. With him, I could just soak it up and learn.



Did you always want to be a singer?



I was fascinated by people on stage. I wanted to be a part of it but I didn't know how. I started singing when I was 14 or 15. And I knew immediately that I never wanted to stop. There was this one girl in my school who could sing. She was 2 or 3 years older than me. When I heard her sing her solo in the school choir, I immediately wanted to sing songs. She wasn't famous and wasn't singing on a big stage but I could identify with her. After that, I knew.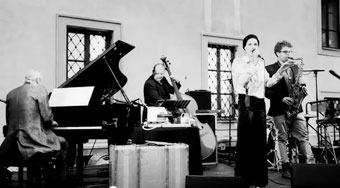 The songs of the Winterreise are so sad. How did you get over that?

So sad! (laughs). It's about loneliness and death. Sometimes the melodies helped me drive the heaviness away. It's worth noting that Schubert's songs are never only in a minor key. They have the same parts in major. Schubert has written over 700 songs, he wrote so much and died so young! And he was so poor and with no recognition! We're talking about a genius. It's very inspiring to see people stick to their ideas. And working for a whole week at the studio for the recording session was magical. But I still had so much to learn and the songs are so fragile. They take so much out of you. After the recording, we suggested that I take some time off. It was my first time in the studio and it was intense. It's weird, the next day I went to see Schubert's grave. Maybe for closure or just to say goodbye. I don't know. During the next two weeks, I felt empty. I had nothing to hold on to. At that point, I wasn't sure of the result after working on that project for a year. I know it sounds like a cliche but the songs just came to me. I didn't really choose them. I always knew we would do this album and that it would be the Winterreise. I never even looked at other things. With these kind of songs, you can't hide. If you do, the music will suffer. You have to forget about your ego and just sing the songs. It's all about the songs. So they forced me to let go. This experience changed me.



Did you study the original compositions first?



Absolutely. I started listening to the music while sitting down at the piano trying to figure out my own way to interpret them. Then I added the lyrics and worked on the melodies, choosing the right key and tempo to sing them in.



How did you work with Mathias?



We would sit down and exchange ideas. I would sing and we would talk about it. Once the form and the ideas were clear, the arrangement became clearer.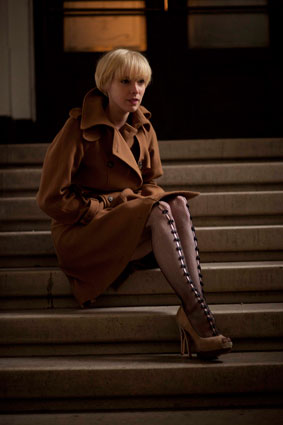 Would you say that Gone Too Far is a crossover album?

Yes, it's a crossover (laughs). I hate that word! I remember the first time I sang that way, it's when a great piano teacher of mine had asked me to sing Manuel de Falla's songs with a classical quartet. It was the first time that I sang classical music with a non-classical voice. For the album, I wasn't particularly interested in crossovers, it's just that it didn't make any sense not to combine jazz and pop.

What kind of advice did Mathias give you while working on the Winterreise?

He always wanted to know where I was in my process, if I had changed my direction, so he could do the same with the arrangement. I would sing before him or we would hear my voice recordings, and make observations. He knows me very well. He always wants the best for the music. But stylistically, he let me do what I wanted to do. He knew it would make no sense if he told me to sing a song in a specific way. It would be like telling somebody how to walk. It does not help someone to find their voice.



Before working on the album, did you know about Mathias' interest in arranging Schubert's music?



He started 20 years ago. He did a first arrangement of a Schubert song but he felt like it was too early. He wasn't ready for it. He felt it was too much about himself and not about the arrangement. He told me he needed more time for Schubert. Now the time is right. He always wanted to do it in an intimate way. We kind of helped each other out. He gave me a chance and trusted me to do this. He never doubted me. When I met him in 2010, the Vienna Art Orchestra had just ended and he didn't know which direction to take. We met at the right time for both of us. That's also why we never doubted. We didn't have any other choice.



You give more and more concerts, has Mathias been a part of the touring?



Yes and in fact he plays the piano. He started to practice again in 2010. He stopped when he was 25. And the songs get clearer each time we play them live.



What has been the album's critical reception in Austria?



We were concerned about its classical aspect and by the fact that it's a 27-year-old singer who interpretes Schubert's music. But we tend to forget that Schubert was 30 when he died. The classical audience was very opened about it. In Germany, we got great reviews. More so than in Austria. They liked that it wasn't pretentious.



Are you already thinking about the next step?



I'm thinking about getting to know Schumann's music better. If I were to stick with this direction, it would be the next step.


www.liapale.net
CD 2012. Gone Too Far, Emarcy 0602537296613 (Universal)
You will not hear me leaving