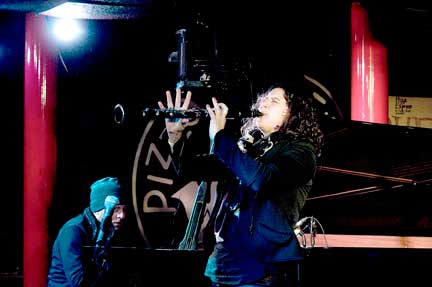 March

was a month of top notch music. It began at Ronnie Scott's with a superb booking. Two nights of Chick Corea and his group "The Vigil", members of whom were Marcus Gilmore (dm), Hadrien Feraud (b), Charles Altura (g) and Tim Garland (sax). Sold out! Audiences loved it! Followed by two sold out nights of master guitarist John Scofield's "Organic" with Larry Goldings (keyb) and Greg Hutchinson (dm). Almost every night now, Ronnie's is "Sold out". So be forewarned to book in advance. The excitement continued, as the next two nighter saw Courtney Pine with his "House of Legends" outfit, including Robert Fordjour (dm), Cameron Pierre (g), Chris Cobbson (g), Darren Taylor (b) and Samuel Dubois (steel pans). Courtney and his band brought down the house. Then, for me, a new venue, KOKO in Camden Town, where I saw a band that was new to me, Snarky Puppy. A Texas based jazz/fusion group playing a wide range of musical instruments, led by bass guitarist/composer Michael League. Back at Ronnie's for three nights of Latin explosions from Tito Puente, Jr., son of the legendary mambo king. Ace guitarist Marc Ribot, who has worked extensively with Tom Waits and John Zorn amongst many others, played a surprising but interesting one night solo session at the Café Oto, a small club, offering a rare opportunity to be close to a master. Another master, this time on alto and soprano saxes, is Kenny Garrett, whose playing always gives me great pleasure. This time it was at the Pizza Express. He was as amazing to listen to as usual. I was very lucky to catch a double gig at the 606 Club, firstly when a trio of Patrick Bettison (gtr), John Parricelli (g) and Nic France (dm) produced a neat set, followed by a really enthused set from pianist Neil Angilley, with Davide Mantovani (g) and Davide Giovanni (dm). I didn't know much about Angilley previously, but was very impressed by both his playing and some of his personal compositions. One night only, but an inspired night, at Ronnie Scott's from Swiss born French national trumpeter Erik Truffaz who came with his usual group of Marcello Giuliani (b), Marc Erbeta (dm), Patrick Muller (keyb), plus Anna Aaron (voc). As you can see, this month was full of exhilarating performances. I think my greatest pleasure was at the Pizza Express when I discovered a musician I had neither seen nor heard of before. The clarinet happens to be my favourite instrument, but sadly there are so few who handle it any more, so I was transfixed when I heard the Israeli clarinettist Anat Cohen play! (She also plays soprano and other reeds) With a smart quartet including Jason Lindner (p), Joe Martin (b) and Daniel Freedman (dm), it was an outstanding evening, certainly my highlight in March.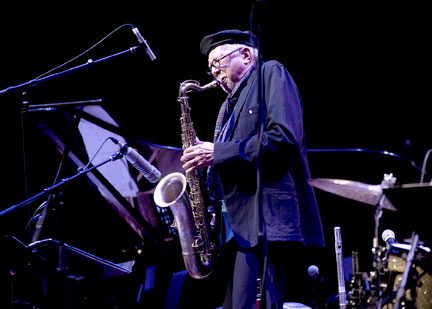 April

began with guitarist Antonio Forcione at Ronnie Scott's. Over to the Queen Elizabeth Hall to find young group "Phronesis", who are Jasper Holby (b), Ivo Neame (p), and Anton Eger (dm). Very interesting and original band, this time playing two sets, with guests in the second set, Jim Hart (vib), Dave Maric (keyb) and Olivia Chaney (voc). All most enjoyable. Ronnie's again where veteran tenor master Pee Wee Ellis brought a small group including another tenorist, Josh Arcoleo. A few days later at the club, master of the Hammond Georgie Fame and his band gave a full week of pleasure to a sold out audiences. The band members were as always Guy Barker (tp), Alan Skidmore (t/s), Anthony Kerr (vib), Alec Dankworth (b), Tristan Powell (g) and James Powell (dm). At the 606 Club, I had the pleasure of seeing and hearing young Scottish pianist Alan Benzie for the first time with his trio, Dylan Coleman (b) and Marton Juhasz (dm). I am sure he will succeed in the music business. The jazz reviewer for the Financial Times, Mike Hobart, is an accomplished tenor sax player and brought a fine quartet in to The Spice of Life. I don't know if anyone came to review him, he deserved to be highly spoken of. Some superb singing from Kurt Elling filled the room at Ronnie Scott's for a full week to the delight of his adoring fans. Top class band with him led by Laurence Hobgood (p/music director), John McLean (g), Clark Sommers (b) and Kendrick Scott (dm). The following week in the club, for three nights, US singer/bassist Meshell Ndegeocello performed to a delighted set of listeners while up at the Pizza Express young Norwegian sax player sounded even better than the last time he played there. Ronnie's again and great joy to see Cuban piano maestro Chucho Valdes returning with his "Afro Cuban Messengers", featuring Reinaldo Melian (tp). Chucho is a true legend at the club and for three nights there was a notable desire for most of those present in the packed club to get up and dance! Another legend, this time on saxophone, is Charles Lloyd who celebrated his 75th birthday at the Barbican. Terrific backing for him from Jason Moran (p), Greg Hutchinson (dm) and Reuben Rogers (b) joined later by Greek singer Maria Farantouri. Altogether a very fine evening. Highly regarded UK free jazz pianist Keith Tippett played an unusual solo evening at the Café Oto. He tells me he is in the process of writing a lot of new material, which will please his many fans. The month ended very pleasantly at Ronnie Scott's when the lovely US vocalist/guitarist Madeleine Peyroux charmed sold out audiences, not only for three nights, but also for two separate shows each evening.

Finally,

May

. First stop at Ronnie's for a night with the delightful China Moses, lively as ever, with a very good backing band, Raphael Lemonnier (p), Luigi Grasso (as), Robert Meuniere (dm) and Fabien Marcoz (dm). This was followed by a top class US jazz quartet for three nights, the Mike Stern/Bill Evans Band, featuring Dave Weckl (dm) and Tom Kennedy (b). Pizza Express rocked from an extremely energetic display on vibes from Brian Culbertson. I have no idea where he gets his energy from. A quieter and more relaxing gig at the 606 Club was Jeff Young's (voc/g), with Frank Mead (sax), Geoff Dunn (dm) and Paul Carmicheal (b). Back to Ronnie's for two nights from each of the following 4 acts. Firstly, Grammy Award winning pianist from Dominican Republic, Michel Camilo, with Lincoln Goines (b) and Cliff Almond (dm). Once again, strong desire from the fans to dance. Then, master vibes artist Gary Burton with his "New Quartet", including Julian Lage (g), Scott Colley (b) and Antonio Sanchez (dm). Wonderfully followed by 80-year-old drumming legend Roy Haynes and his "Fountain of Youth" band, with Jaleel Shaw (as), David Wong (b) and Martin Berjerano (p). After opening with his usual tap dancing routine, Roy proceeded to show that all his skills are still to hand. Finally, one of Europe's top pianists, Julian Joseph, accompanied by Mark Hodgson (b) and Mark Mondesir (dm). Highly talented outfit who have played regularly together for several years. Pizza Express was lucky to book US songstress/composer Sheila Jordan, who, even at 84 years of age, looks and sounds great. With her usual backing from bassist Cameron Brown, they were also joined by another singer, Jay Clayton, and Jack Wilkins (g). One night at Ronnie's from four well-known individual singers who sometimes get together under the title "BLINQ": Liane Carroll, Ian Shaw, Natalie Williams and Brendan Reilly. All wonderfully accompanied by ace pianist Gwilym Simcock. On the way home, nothing but good news at the 606 Club, who are holding a 12-day celebration of their 25th anniversary, with 3-4 bands each night. That evening, everyone, including me, wanted to see one of the top world guitarists, Pat Martino. None of us were disappointed. When Ronnie Scott's announced that jazz iconic trumpeter Tom Harrell was coming for two nights, the phones went wild and all the seats were booked immediately. With a career spreading from membership of the Stan Kenton and Woody Herman bands to the present day, his history is as formidable as his playing. His quintet was Wayne Escoffery (ts), Jonathan Blake (dm), Ugonna Okegwo (b) and Danny Grissett, all in fiery form. Further pleasure from a later night visit to the 606 Club to catch their continued celebrations of the 25th anniversary with a choice of three vocalists, Sarah Gillespie, who also plays the guitar, Tammy Weiss and the wonderful Gwyneth Herbert with her ukulele, accompanied by Sam Burgess (b). Then, the highlight of getting a really good photo of the club owner, Steve Rubie, giving a great performance on alto sax. Finally, to end the month, Monty Alexander came back to Ronnie Scott's, for only one evening, after a two or three year absence, to the delight of two separate, sold out houses. His trio had his ever present bassist Hassan Shakur and Obed Calvaire (dm). On the way home, I stopped to catch a final bit of the celebrations at the 606 Club with the Paul Carmichael band, followed by a set from soul vocalist Imaani and her group. Sadly I had to leave before more good music was due to come on.

David Sinclair
Photo credit and caption, click on photo